Spartans Feed the World
Spartan researchers are working with key stakeholders around the globe to improve livelihoods through innovative research and sustainable solutions that address some of the world's most pressing challenges.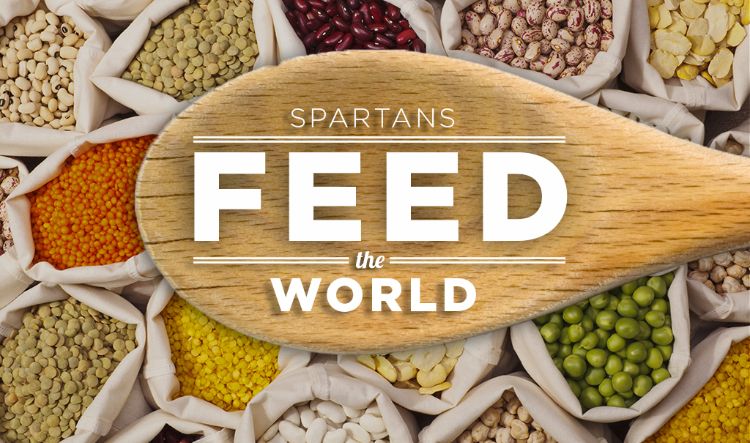 Feeding the Future
As part of Feed the Future, the federal government's global hunger and food security initiative, MSU is using a $10 million grant from the U.S. Agency for International Development (USAID) to strengthen developing countries' abilities to fight hunger through improved food policy. The Feed the Future Innovation Lab for Food Security Policy is led by MSU's Food Security Group, partnering with the International Food Policy Research Institute in Washington, D.C., and South Africa's University of Pretoria. MSU also leads the USAID's Feed the Future Innovation Lab for Collaborative Research on Grain Legumes—a mouthful of a name for a lab with a simple goal: help developing nations find sustainable and secure food sources. The lab seeks to increase the productivity of beans and other grain legumes—like cowpeas and chickpeas—by small-farm owners and to enhance the nutritional quality of diets of the poor in sub-Saharan Africa, Central America, and the United States. "The lab continues the incredible legacy of MSU's commitment and scientific leadership," says Irvin Widders, horticulture professor and director of the lab, formerly known as the Dry Grain Pulses Collaborative Research Support Program. "We are tackling new changes resulting from population growth, climate change, and persistent malnutrition, especially among young children and women around the world."
Cultivating the Next Agricultural Scientists
Sustaining the momentum African and Asia are making in improving food security and nutrition will require a new generation of trained agricultural scientists. MSU is expanding its role in training members of this future cohort with a $16.3 million federal grant from the Borlaug Higher Education Agricultural Research and Development program.
Funded by the USAID Bureau for Food Security, the program is part of Feed the Future and aims to strengthen agricultural research institutions and support long-term training of agricultural researchers at the master's and doctoral levels. The program got its start in Ghana, Uganda, Mali, Mozambique, and Bangladesh, and has since expanded into Kenya, Liberia, Malawi, and Rwanda.
"MSU faculty is well versed in planning, designing, and managing training and human capacity-building programs, especially in plant breeding, food science, and food security, which are key areas of Feed the Future," says Eric Crawford, codirector of MSU's Food Security Group and professor of agricultural, food, and resource economics.
A new gender-inclusive Master of Science program recently launched by MSU and the University of Rwanda with funding from USAID aims to prepare women for the country's growing agribusiness opportunities. A team from MSU trained the faculty and developed the curriculum for the Women's Leadership Program, which began classes in February 2015.
For more information on how Spartans are feeding the world click here.