Start summer off with a sampling of fresh herbs: Basil, lavender and rosemary
Herbs are easy to grow and most of them are deer-proof. Plant them now to enjoy their flavor year-round.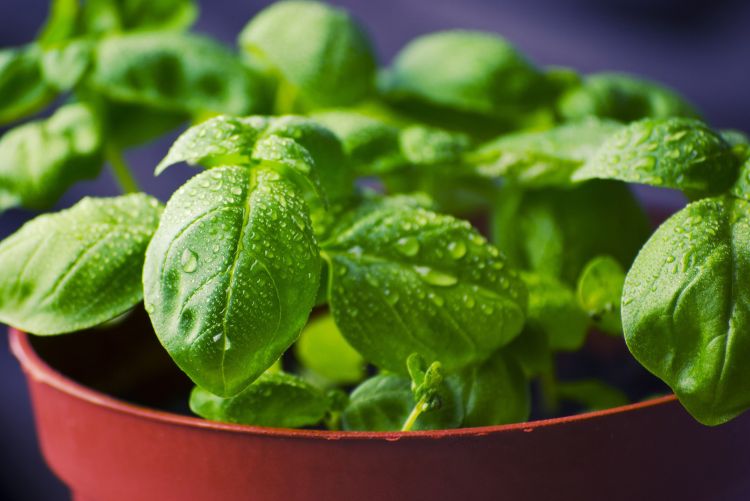 Herbs add flavor to grilled and roasted meats, vegetable dishes and salads prepared from your garden. They can be used in baked goods or to make refreshing summer drinks. Some can be directly sown outdoors, while others are best grown as transplants. Herbs are best harvested in the morning, after the dew has evaporated, but before the heat of the day. Herbs for culinary use should be harvested before they flower. Today's article focuses on three favorites of the Mediterranean region, where many culinary herbs have their origins. When you consider the cost of dried herbs at the supermarket, you may find that growing your own herbs is well worth it.
Nothing says summer like a Caprese salad made with tomatoes ripe from the garden and freshly picked basil. Or, make your own pesto to add bright flavor to pasta, soups or sandwiches. Basil is a popular annual herb that comes in a range of colors and flavors, with ruffled leaves or flat, fine textured or larger leafed. The purple leaved varieties add interest to the garden border or containers. Now that the weather has warmed, seeds can be sown directly in the ground. Most basil seed germinates in five to 10 days and is ready to harvest in 60 to 80 days. For seeding outdoors, sow seeds about 2-3 inches apart and thin to 8 inches. Space transplants about 8 inches apart. Basil needs full sun and well drained soils. For variety, in addition to the traditional basil, try lemon basil, lime basil, cinnamon basil or Thai basil, which has a spicy, anise-clove flavor. Each one has a slightly different flavor, and can be a wonderful addition to your herb garden. Basil grows well in containers, as long as it has full sun and a well-drained potting mix.
Lavender has a number of uses for both fragrance and beauty preparations, as well as in the kitchen. Even when not in bloom, the beautiful gray-green foliage provides a pleasant, spicy scent. English lavender (L. angustfolia) and its cultivars are most commonly used for culinary purposes. Lavender is native to the Mediterranean region and prefers loose, well-drained soils and low humidity. Optimum soil pH should be between 6.5 to 7.5. Lavender is best purchased as potted plants and grown in beds or containers. Essential oil levels and flavor are generally highest once flower buds have appeared but flowers are not yet open. Most lavender has purple flowers but there are cultivars with white or pale pink flowers. Two purple-flowered cultivars that are good for culinary use include Munstead and Hidcote. White Ice and Rosea have a milder fragrance, but are also good for culinary uses.
Rosemary is a small perennial evergreen shrub that can be difficult to grow from seed. It is most commonly grown in containers from started plants. At the end of the growing season, pots can be taken indoors before frost and grown in a sunny window for use over winter. Keep plants in a cool location and on the dry side for best results. Rosemary is native to the Mediterranean and is not hardy in Michigan. It grows best in full sun and well-drained soils. It is used fresh or dried in soups, stews, salads and sauces. Fresh rosemary adds a delightful flavor to roasted vegetables drizzled with a small amount of olive oil. The stems, with leaves removed, can be used as skewers when grilling meats or vegetables.
Want to learn more about growing herbs and how to use them to enhance your cooking? Enroll in the "Grow it! Cook it! Eat it!" series of classes to get firsthand tips on growing herbs and vegetables, taste and learn how to prepare many simple and delicious new recipes and take home recipes to try at home. The first in the series of four classes, "Healthful, Homegrown Herbs," is on August 23, 2016, 6-8 p.m. at the Livingston County Extension Office, 2300 E Grand River Ave, Howell, MI 48843. Other classes in the series include "Go for the Greens" (September 20, 2016) and "Root for the Root Vegetables" (October 11, 2016) held at the Ingham County Nutrition Office, 5303 S Cedar St, Lansing, MI 48911 and "Pumpkins and Their Kin" (November 15, 2016) held at the Livingston County office. To register for classes, visit http://events.anr.msu.edu/growit2016/.