Sturgeon education website brings fisheries science and technology into the classroom
A new Great Lakes sturgeon science website features the research of an MSU team of fisheries scientists and the threatened Lake Sturgeon of northern Michigan.
A new Great Lakes Sturgeon Education website explores how the prehistoric and threatened Lake Sturgeon + fishery scientists = one amazing teaching opportunity for Michigan
educators! The Michigan State University Department of Fisheries and Wildlife, in partnership with the Michigan Sea Grant, the Michigan Department of Natural Resources, and others, have developed and launched a Great Lakes sturgeon education website designed to bring fisheries science and research to interested educators and youth. Through educational lessons, this site features the collaborative fisheries science investigations led by Dr. Kim Scribner and Dr. Ed Baker working with Lake Sturgeon on the Cheboygan River Watershed in Northeast Michigan. This wealth of research, ranging from science, technology and math, has been refined and organized for use by educators and youth to explore as part of their school learning experience. This website opens a window to real-world sturgeon research, sharing access to data sets paired with lesson plans designed to guide youth in exploring sturgeon as future budding scientists themselves.
This website offers an opportunity to enhance youth learning opportunities through real-world fisheries resources of our Michigan and Great Lakes waterways. It is difficult not to love, or at least be amazed by, a prehistoric looking sturgeon – a great way to hook kids into learning! Once on the line, the learning can be endless:
Math: Exploring fish survival, growth rates, and populations sizes
Science: Biology of fish, life cycles, habitats, and ecosystem food webs
English, Language, Arts: reading, writing, and drawing
Social Studies and History: fishing and fish management policies, history and local history and heritage ties with this fish
Technology: exploring research equipment and techniques used by researchers to collect this information
Exploring experiments and data from a diversity of sturgeon research examples, teachers and students are able to understand, better, the science and the scientific process. Organizing data, interpreting these data through graphs, and trying to derive answers to questions through these actions give new meaning to applications for learning mathematics. Through sturgeon learning, students can learn to connect fish with quality and habitat connections, interactions within aquatic ecosystems, human impacts, history and heritage ranging to today, exploring threatened and endangered species, river studies.
A website for educators, developed in partnership with educators. Setting the stage for development of this science based website, fourteen educators from ten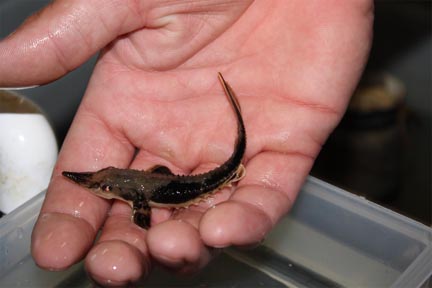 different schools convened as part of COSEE Great Lakes-sponsored Sturgeon Research Workshop for Educators held on August 11-12, 2011. At this workshop, they learned about lake sturgeon research, while exploring educational linkages and opportunities related to this amazing and charismatic fish. Working first hand with Dr. Kim Scribner and his Michigan State University Department of Fisheries and Wildlife research team, teachers not only learned about sturgeon research through presentations, but also enjoyed the opportunity to get their feet wet experiencing sturgeon research in a hands-on way. This was an amazing opportunity resulting from scientists and educators working together; and Quincy Elementary educator, Ben Braymer, shared his own amazing experience through a video he prepared for his students.
Throughout the next year, this partnership explored educational lessons and opportunities in support of this website. A couple of these educators continued working with Michigan Sea Grant and Dr. Scribner's research team, including graduate student John Bauman, to develop curriculum connections ultimately expanding the reach and impact of this research to broader audiences through this website an even great opportunity. This website also cross-connects with other fisheries-related curriculum, like Project FISH and Project FLOW (Fisheries Learning on the Web), among others. Several other agency and community partners have also supported this multi-year investment in sturgeon education, including: U.S. Fish and Wildlife Service; Michigan Department of Natural Resources; Huron Pines; Sturgeon for Tomorrow (Black Lake Chapter); the Northeast Michigan Great Lakes Stewardship Initiative network; and the Great Lakes Fishery Trust.
For more information about this project partnership between MSU Dept of Fisheries and Wildlife, Michigan Sea Grant, and MSU Extension, visit the Great Lakes Sturgeon Education website.