Summer lasagna
A healthy recipe for summer fun.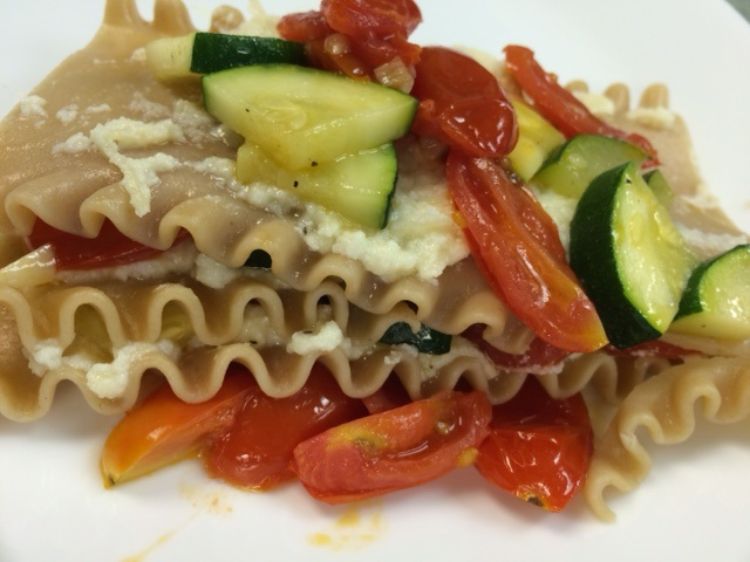 With summer just around the corner, most everyone is getting anxious and excited for the warm weather. This of course means wardrobe changes, park re-openings and delicious summer recipes. Kick this season off with a tasty, no-bake, summer lasagna that is both nutritious and easy to make for any occasion.
This recipe tastes good and has many health benefits including:
By choosing fat-free ricotta cheese, you work towards maintaining a healthy body weight and lowering blood cholesterol levels, decreasing risk for heart disease.
Extra virgin olive oil contains monounsaturated fatty acids, which are healthy dietary fats when consumed in moderation. It is a great alternative to butter and lard.
Choosing whole wheat lasagna noodles increases your intake of B-vitamins, minerals and your overall satiety.
While shopping for your vegetables, pick ones with diverse colors which will provide different types of vitamins and minerals. Don't like zucchini? No problem! Pick up mushrooms or broccoli and replace the zucchini or add them with it for variety of not only taste but also nutrients.
Find the ingredient list and instructions below to begin your summer fun. Remember that the health benefits when making any summer dish are endless when taken in moderation. Enjoy!
Ingredients
1/2 cup fat-free ricotta cheese
3 tablespoons parmesan
Extra-virgin olive oil
Salt
Pepper
8 whole wheat lasagna noodles
1 clove of garlic
2 pints grape tomatoes
2 zucchini
1 tbsp torn fresh basil leaves
Instructions
Using a small sized bowl, combine parmesan, ricotta and 2 tsp of extra virgin olive oil. Season with a dash of salt and pepper.
Boil a pot of water and cook whole-wheat lasagna noodles according to the package instructions. Drain.
Get a skillet and heat 2 tbsp of extra virgin olive oil over medium-high heat. Add chopped garlic and tomatoes, and then season with salt and pepper. Cook, stirring for about 3 minutes then transfer contents to a small bowl.
Add 1 tablespoon extra-virgin olive oil in skillet again along with chopped zucchini and stir until tender (about 4-5 minutes. Transfer to a separate bowl and stir in basil.
Place tomatoes on four plates, top with lasagna noodle and small spoonfuls of ricotta cheese, zucchini and more tomatoes. Repeat, layering twice, then top with remaining noodles and tomatoes. Garnish with basil.
For local nutrition education programs and resources within Michigan State University Extension, visit: http://msue.anr.msu.edu/topic/info/food_health.