Summer vacation finds teachers in school exploring Great Lakes science on Lake Huron
Lake Huron educators and Great Lakes scientists explore opportunities to enhance student learning through Great Lakes science stewardship opportunities.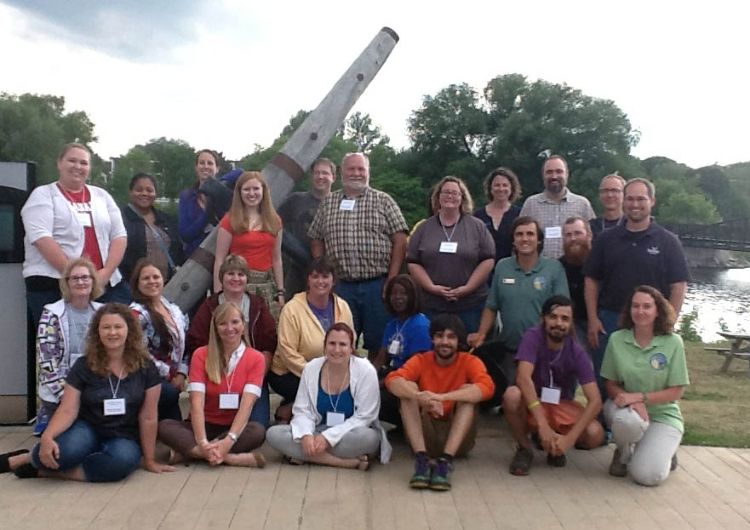 Alongside Great Lakes scientists, twenty enthusiastic teachers hiked schoolyard wetland habitats, investigated invasive species, explored water quality in the Thunder Bay River watershed, sampled aquatic food webs from invertebrates in the river to Lake Huron fish populations, and explored marine archeology and maritime history. These teachers, from across the Lake Huron watershed, participated in the 2014 Lake Huron Place-Based Education Summer Teacher Institute, hosted July 14-18th at the NOAA Great Lakes Maritime Heritage Center in northeast Michigan.
The Lake Huron Place-Based Education Summer Teacher Institute offered a chance for educators to get their feet wet with Great Lakes science experiences while learning about place–based education (PBE) strategies and best practices. One goal in this experience was to advance Great Lakes literacy or a better understanding the Great Lakes and our interconnections with these water resources. Another goal was to help enhance student learning and involvement in Great Lakes stewardship. It was an exciting week for teachers, exploring Great Lakes literacy and learning through place-based education stewardship practices.
Michigan Sea Grant and Michigan State University Extension educators teamed up with Great Lakes scientists and youth education partners in offering this four-day teacher workshop. Taking part in this experience were teachers from across the Lake Huron watershed representing the Northeast Michigan Great Lakes Stewardship Initiative (NEMIGLSI) network and the Southeast Michigan Stewardship Coalition (SEMIS). Funding for this workshop was provided through the Great Lakes Sea Grant Network and the Center for Great Lakes Literacy, with support through the Great Lakes Restoration Initiative, and the Great Lakes Fishery Trust's Great Lakes Stewardship Initiative.
During the week, teachers experienced opportunities to work and learn alongside leading Great Lakes scientists. Along the way, they reflected on opportunities to energize their students through Great Lakes education and engage their students in environmental stewardship projects. Teachers shared experiences with Michigan Sea Grant educators and U.S. Fish and Wildlife Service researchers who study Lake Huron Fisheries. With Huron Pines ecologists, they studied wetland habitats (and invasive plants threatening these habitats) and explored maritime history with experts from the NOAA Thunder Bay National Marine Sanctuary.
Making meaningful connections to schools and the student learning environment, education experts from the Alpena-Montmorency-Alcona/Iosco Math Science Center and Eastern Michigan University challenged educators to consider how place-based education, as a teaching and learning process, could be used to engage youth in making Great Lakes stewardship and community connections. Providing a classroom perspective were mentor teachers Cassandra Suszek, Cheryl Mack from NEMIGLSI, and Amy Laraowicz from SEMIS Coalition. As experienced teachers who successfully apply place-based education strategies to enhance learning with their own students, these mentor teachers shared best practices, lessons learned, and advice through their real-world experiences. Launching into the Institute, they offered a few kick-off reflections:
PBE empowers students allowing them to play a role in their own learning while serving in stewardship of their community and environment.
PBE combines core subject areas easily, allowing for cross curricular integration. Investing in PBE projects affords teachers flexibility to adaptive to wide ranging learning objectives
PBE, as a teaching strategy, initially requires more time than traditional education. However the impacts from PBE are much greater than traditional educational strategies and last a lifetime.
Start simple! PBE can begin as a simple project and expand into new opportunities at a pace comfortable to the teacher.
You're not alone! PBE thrives when teachers work together as teams, and recognize how willing community partners are to assist in projects.
Engage your community! PBE does not require the teacher to be the "expert". You'll be surprised by the wealth of community partners, resources, and opportunities available and ready to assist.
With these reflections, the Lake Huron PBE Teacher Institute was underway! Stay tuned to learn more about the adventures of these teachers exploring PBE and Great Lakes stewardship opportunities on the shores of Lake Huron.