Annual Lake St. Clair workshop to return in 2015
Lake St. Clair is widely regarded as one of North America's greatest fishing lakes. You can discover why while also learning about new research findings and fishery trends.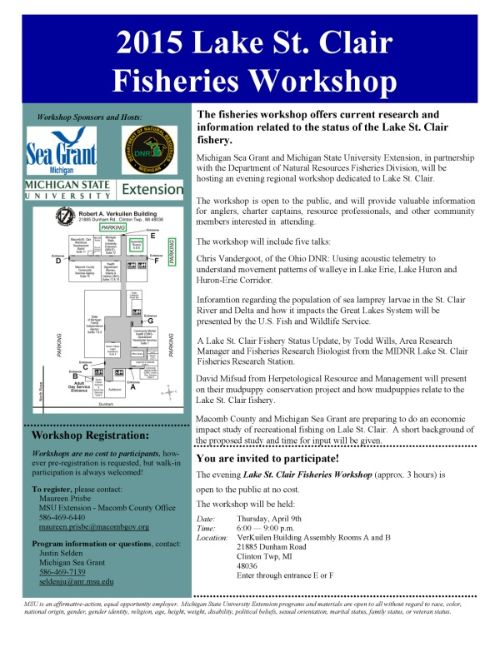 Information session regarding updates in Lake St. Clair's fish populations
Angler catch data
Understanding walleye movements using acoustic telemetry
Sea lamprey populations in the St. Clair River
Mudpuppy conservation and their relation to the Lake St. Clair fishery
Economic impact of Lake St. Clair recreational fishing.
This workshop will offer valuable networking and educational opportunities for all who attend. Recreational anglers will learn scientific approaches to improving their craft. Attendees will gain valuable insight about the current state of Lake St. Clair. This could provide businesses that depend on its natural resources with helpful information to assist in their business marketing decisions and tactical strategies.
Research and management agencies will share informational updates and offer valuable input to help anglers and community stakeholders with various fishery management decisions. The effectiveness of fisheries research and management are greatly enhanced through this collaboration.
Although this workshop is open to the public at no cost, pre-registration is requested. To register, contact Maureen Prisbe at 586-469-6440. For program information or questions, contact Justin Selden via email at seldenju@anr.msu.edu. begin_of_the_skype_highlighting end_of_the_skype_highlighting The location will be the MSU Extension Assembly Room, 21885 Dunham Road, Clinton Township, MI. Additional workshop details and a downloadable descriptive flyer with map directions are also available on the Michigan Sea Grant website.
Michigan Sea Grant, a collaborative effort of the University of Michigan and Michigan State University, promotes knowledge of the Great Lakes through research, outreach and education. Michigan Sea Grant is part of the NOAA-National Sea Grant network of 33 university-based programs in coastal areas around the country, including Guam and Puerto Rico.
---