The Great Storm of 1913 Remembered (Part 2)
The gales of November and weather forecasting – 1913 to 2013.
The Great Storm of 1913 was the greatest maritime disaster on the Great Lakes in recorded history. Ships across the region were assaulted by waves as high as 35 feet, wind gusts of 90 miles per hour and blinding snow. Twelve ships were sunk, another 31 stranded, and 250 sailors were lost. How could so many experienced sailors have been caught unaware of a storm of such magnitude?
Using data dating back to 1860, meteorologists point to November as the month of most unstable and unpredictable weather across the Great Lakes region. The gales of November are legendary. Hundreds of shipwrecks littering the bottom of the lakes—from the 12 sunk during the Great Storm of 1913 (November 1913) to the sinking of the Edmund Fitzgerald (November 10, 1975)—attest to that fact.
In November 1913, the unprecedented convergence of two weather systems caught U.S. Weather Bureau forecasters by surprise. By the time lifesaving stations were able to hoist warning flags, scores of ships were already on the lakes sailing unaware to the danger. In this era, ship-to-shore wireless communication was in its infancy and few ships were equipped to send or receive information once underway. None of the sunk or damaged vessels were equipped with wireless. The captains of the doomed ships simply did not have enough information about the storm that was developing.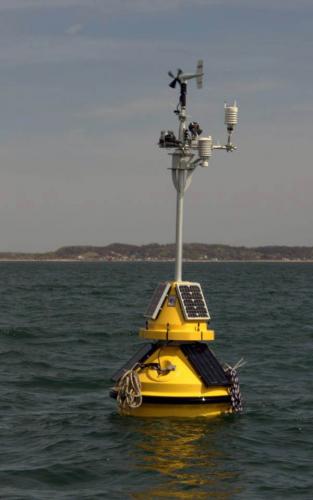 Today, the National Weather Service (NWS)—part of the National Oceanic and Atmospheric Administration (NOAA)—employs 21st century technology to predict meteorological systems days in advance. Current NWS marine forecasts are updated throughout the day and extend out to five days. These forecasts are available in a variety of formats, from traditional text and graphic presentations to mobile apps. NOAA weather radio is available nationwide, 24 hours a day, 7 days a week.
This information is readily accessible to all shipmasters in real time thanks to:
A network of highly sophisticated Doppler radars, which constantly scan the skies for developing storms, allowing mariners to see these storms as they form.
NOAA satellites high above the earth's surface send images of cloud structures, thunderstorms, hurricanes, and other developing storms to the ground.
Mid-lake buoys report wave height, wind speed and direction, and air and water temperature.
Weather observations are recorded aboard freighters and other vessels, and all mariners can access this weather information.
Weather balloons are launched from several locations around the Great Lakes twice a day, rising to an altitude of more than 20 miles to collect temperature, moisture, pressure, and wind information.
Numerical Weather Prediction (NWP) models perform calculations based on observed weather conditions and known theory of atmospheric processes to create a forecast of various weather parameters. Forecasters combine NWP output with current observed conditions, conceptual understanding of various weather patterns, and past experience to develop forecasts.
In 1913, the vast majority of Great Lakes maritime traffic was commercial. In 2013, hundreds of thousands of recreational boaters also benefit from these forecasts throughout the Great Lakes. Michigan State University Extension and Michigan Sea Grant collaborate with the National Weather Service in many ways, including our presentation, "Wind, Waves and Weather," on our Summer Discovery Cruises. We also work with the NOAA Thunder Bay National Marine Sanctuary, within which lie the remains of the Isaac M. Scott, a vessel that sank in 1913. While climate change and variability will continue to influence weather patterns, these new technologies and the National Weather Service will help mariners make more informed decisions to better prepare for nature's uncertainties, even in the month of November.
---