The Lake Michigan paradox: Fewer kings but more charter trips
The latest stats on charter fishing show charter trips on Lake Michigan are on the rise despite a decline in Chinook salmon catch rate.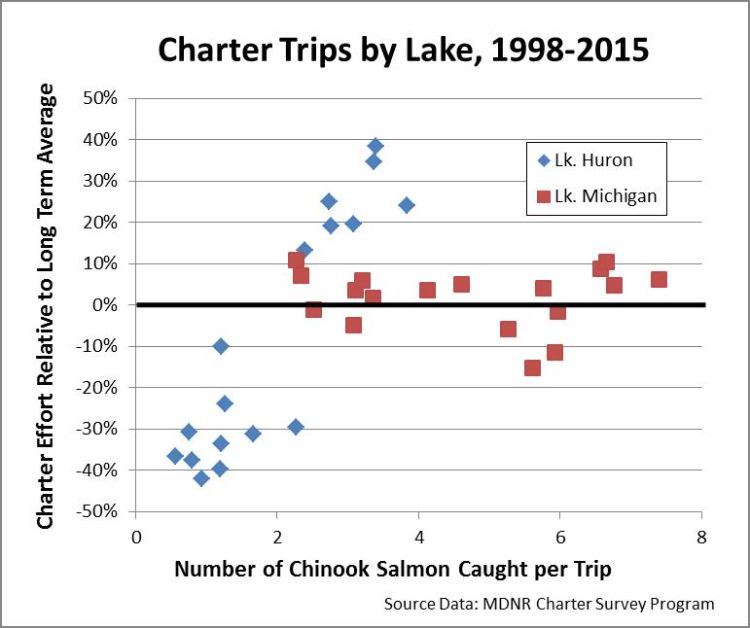 In lakes Huron and Michigan, Chinook salmon have earned a reputation as the kings of the charter fishery. Although other trout and salmon species also provide food and fun, the Chinook salmon (aka king salmon) is widely considered the premier challenge due to its large size and fighting ability.
Last year, a study documented what charter captains had long expected. The decline of charter fishing in Lake Huron during the mid-2000s was linked to the decline of Chinook salmon more than any other species or combination of species. When charter fishing effort dropped by half, related tourism and economic impacts along Lake Huron's shore also declined.
Decline of Chinook catch rate in Lake Michigan
A decade after the decline of Lake Huron, communities along Lake Michigan are wondering if history is repeating itself. Charter boat catch rate for Chinook salmon fell by more than 50 percent in 2013 and has shown no sign of recovering since. In fact, the Chinook salmon catch rate in 2015 was the lowest since 1995, when salmon were plagued by bacterial kidney disease (BKD).
How can this be?
If Chinook salmon drive charter fishing effort and catch rates have fallen, then the number of Lake Michigan charter trips should have fallen in 2015. This was not the case, though. Instead, according to the Michigan DNR Charter Boat Survey Program, Lake Michigan charter captains logged 12,758 trips in Michigan waters last year—the highest number of trips recorded since 1991, and an increase of 565 trips over the previous year.
Other factors
One explanation for this seeming paradox is that other factors might be at work. The Lake Huron study found that economic factors were also important in driving the decline of charter fishing, with the rising price of gas being most important.
Also, there was a lag-time effect, which means that charter fishing effort did not decline immediately as catches declined. Instead, charter customers tended to stop showing up the year after catch rate declined.
Lake Michigan still provides good fishing
Another explanation is that Lake Michigan still provides decent fishing for Chinook salmon despite the decline in catch rates, and good fishing overall when all trout and salmon species are considered. According to the Michigan DNR Charter Boat Survey Program, Lake Michigan catch rate averaged over 5 Chinooks per charter fishing trip during the 2000s, peaked at 7.3 Chinooks per trip in 2012, and fell to 2.3 Chinooks per trip in 2015.
Compare this to Lake Huron, where a party of anglers could expect to catch 3 Chinook salmon per trip in 2000-2004 and only 1 Chinook per trip in 2005-2009. The glory days of Lake Huron were never close to what anglers have experienced on Lake Michigan in 2012, at least as far as Chinooks are concerned. Both lakes saw a decline of Chinook catch rates, but the bottom end for Lake Michigan may not be the same as Lake Huron.
Multispecies fun
Chinook salmon may be the main draw, but they are not the end of the story. Lake Huron's charter fishing has quietly been picking up steam over the past five years with a mixed-bag fishery featuring a variety of trout and salmon species along with walleye.
In Lake Michigan, charter anglers averaged more than 7 salmonines (trout and salmon of combined species) per trip in 2015. This is even better than the 6 salmonines per trip average experienced by Lake Michigan charter anglers in the 2000s. The difference is that over half of the salmonines caught in 2015 were lake trout while up to 80 percent of salmonines caught in the 2000s were Chinook salmon.
For charter customers, this means that Lake Michigan still provides quality fishing. In 2015, a typical group of four anglers could expect to catch at least two fish per person. Each customer also had a 50/50 chance of catching a Chinook salmon.
Maybe this will be enough to keep anglers happy and hotels full, not to mention striking a better balance for the long-term ecological health of Lake Michigan.
NOTE: In this article the term "catch rate" indicates the number of fish caught and kept. Released fish are not included in these catch rate figures.
Michigan Sea Grant helps to foster economic growth and protect Michigan's coastal, Great Lakes resources through education, research and outreach. A collaborative effort of the University of Michigan and Michigan State University and its MSU Extension, Michigan Sea Grant is part of the NOAA-National Sea Grant network of 33 university-based programs.