The Michigan Food Innovation District is introduced to the community
More than 100 community members met in Okemos, Mich. to learn more about a new community food initiative intended to establish mid-Michigan as a premier location to conduct food-related business.
On Tuesday, October 29, 2012, more than 100 community members gathered in a warehouse being renovated to house Cherry Capital Foods' new distribution center to learn more about plans to develop a food innovation district (FID) in the region. According to Michigan State University Center for Regional Food Systems and the Northwest Michigan Council of Governments, an FID is "a geographic concentration of food-oriented businesses, services, and community activities that local governments support through planning and economic development initiatives in order to promote a positive business environment, spur regional food system development and increase access to local food."
This initiative is being led by a local real estate development company, T.A. Forsberg, Inc., consultants from Independence Innovations, LLC and Michigan State University Extension. However, the FID is envisioned as being community-owned by additional stakeholders such as producers, adjacent property owners, food-related businesses, the MSU Product Center, potential investors, local and regional government, and others who wish to advance food innovation and markets in Michigan.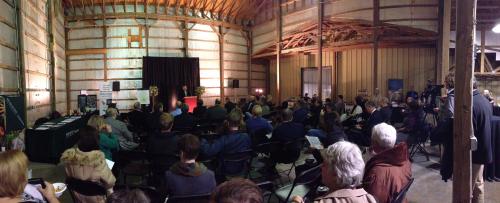 Photo credit: Truscott Rossman
The district is geographically located along Jolly Road, which defines the border between Alaiedon Township and Meridian Charter Township in Ingham County. Its boundaries are fluid, but are drawn to include a variety of parcels and existing buildings, some of which are already home to complementary food sector operations. Cherry Capital Foods, Earthy Delights and Honey Boy Bob, all distributors of local regional and Michigan food products, have already located in the proposed district.
The FID is attractive to distribution companies due to its convenient location to major transportation routes, specifically with adjacent access to I-96, which, through links to other highways, connects to other key locations including Detroit, Grand Rapids, Ontario and the states of Ohio, Indiana and Illinois.
This transportation network is also very important to producers who grow over 200 different Michigan agriculture commodities. Using this network, most, if not all of these commodities are a maximum of a few trucking hours from the proposed FID. This can reduce costs and carbon emissions of transporting food out of state for processing or packaging.
Other potential food-related businesses that may be attracted to locate in the district include markets, incubators, food processing and co-packing facilities, breweries and wineries, food industry research and development, investment and venture capital companies, and businesses that serve the food industry with machinery, supplies or raw materials. All would be subject to existing zoning and land use policies.
According to an MSU Extension study conducted by myself and Jeanette Eckert, Urban Collaborators intern, an FID in the region would potentially increase economic revenue by creating a supportive environment for growing food sector businesses; help to create a regional food identity; increase market opportunities for regional producers; shorten the distance between producers and consumers; and foster a sense of community about food.