The WIC program provides nutritious food to Michigan families
This federally-funded program helps assure that moms, babies and children under 5 have nutritious food to address nutrition-related health problems and increase healthy development.
You may have noticed food items in your grocery store aisles labeled, "WIC Approved" and wondered, "What exactly is WIC and why are only certain foods approved?" According to the Michigan Department of Community Health (MDCH), the state's federally-authorized WIC agency, "the Special Supplemental Nutrition Program for Women, Infants, and Children (WIC) is a federally-funded program that serves low and moderate income pregnant, breastfeeding, and postpartum women, infants, and children up to age 5 who have a nutrition-related health problem." The primary interventions provided by WIC are nutrition and breastfeeding education, benefits to purchase WIC-approved food and referrals to other health services.
Here are some facts about the WIC program in Michigan provided by MDCH. Each month, more than 200,000 moms, babies, and children less than age 5 receive nutritious foods from the Michigan WIC Program. WIC foods are worth $30-$112 or more per month for each participant. One out of every two babies born in Michigan receives WIC benefits. A family of four may earn $40,000 per year and qualify for WIC.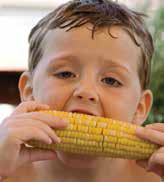 Photo Credit: Michigan Department of Community Health website – Michigan WIC Food Guide
Often, the image of federally-funded "free" food is formed by the Supplemental Nutrition Assistance Program (SNAP), sometimes referred to as food stamps. There are fundamental differences, however, between SNAP and WIC, both in eligibility requirements and the types of food that can be purchased with the benefit. SNAP benefits can be used to purchase almost any food item except beer, wine, liquor, cigarettes as well as other specifically prohibited, primarily non-food items.
The WIC program is much more specific as to what kinds and brands of food can be purchased with provided benefits. Federal law governs what is contained in WIC food packages and these have recently changed to reflect new guidelines and practices. MDCH implemented changes as recently as October 2013 to its list of what can and cannot be purchased with WIC benefits. These changes include more approved whole grain products and fewer starches and sugar-sweetened products, to name a few.
The Michigan WIC Food Guide, published in English, Spanish and Arabic versions, is much more than a list of what is allowed or not allowed to be purchased. It contains buying tips, charts for converting standard pound measures to specific package sizes, healthy eating tips and which organic products are allowed (only fresh fruits and vegetables).
Additionally, Michigan State University Extension provides Project Fresh, by which WIC recipients receive coupons permitting them to obtain locally-grown, fresh produce at farmers markets to supplement their grocery purchases. MSU Extension also provides a list of eligible produce to program recipients.
With WIC, the stereotype of assistance clients filling their shopping baskets with expensive cuts of meat, soda and junk food is not perpetuated because WIC only pays for food items on its approved food list. Additionally, MDCH maintains a vigorous anti-fraud program to seek out and remove retailers who engage in defrauding or abusing the program.
Because half of all babies born in Michigan receive WIC benefits, the federal investment is substantial. MDCH reports that for every dollar spent by WIC, more than three dollars in subsequent health care costs are saved. They have found that the earlier a pregnant woman receives nutritional benefits from WIC, the more likely she is to seek prenatal care and deliver a normal weight infant. Finally, local communities benefit from this investment, too. In Michigan, local communities are supported with more than $120 million yearly when WIC foods are purchased at grocery stores and pharmacies.