Three 4-H volunteers receive Michigan 4-H Salute to Excellence Awards
Outstanding Michigan 4-H volunteers are recognized with Salute to Excellence Awards for their dedication to county and state 4-H programs.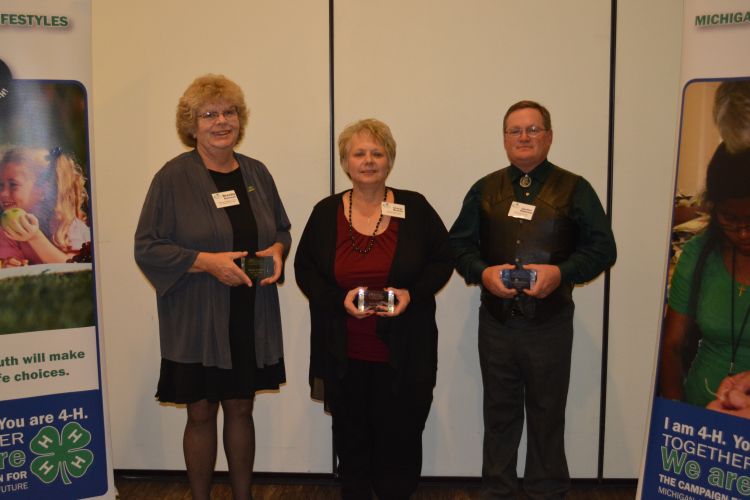 Three remarkable Michigan 4-H volunteers were named 2018 Michigan 4-H Salute to Excellence Award winners for their outstanding contributions to both county and state 4-H programs: Brenda Alverson of Genesee County, Gordon Ridenour of Cass County and Cheryl Barton of Shiawassee County. These individuals join an elite group of 4-H volunteers who have dedicated their time to serve Michigan 4-H youth and help make the best better.
The Michigan 4-H Salute to Excellence Awards highlight the important work of 4-H volunteers across the state. As the heart and soul of 4-H, volunteers give their time, energy and commitment to 4-H every day and improve the lives of the youth they serve. Through the Michigan 4-H Salute to Excellence Awards, Michigan State University (MSU) Extension's 4-H Youth Development program honors outstanding volunteers annually for their unwavering dedication to 4-H and Michigan youth. As part of the award process, each county 4-H program is invited to nominate up to two outstanding individual volunteers for consideration, and the winners are selected through a statewide review process.
This year, Brenda Alverson of Grand Blanc is one of two individuals to receive the Michigan 4-H Salute to Excellence 4-H Volunteer of the Year award, an award bestowed on outstanding Michigan 4-H volunteers with 10 years of service or less. Alverson actively volunteers for two Genesee County 4-H committees where she encourages youth to take part in the governmental processes as a way to learn problem solving and decision-making skills. Those who know Alverson also indicated that she encourages and empowers youth to pursue project areas they are passionate about and is committed to helping youth explore all that 4-H has to offer.
"Brenda's dedication and teaching exemplifies all that 4-H has been and can be," said Jen Skornicka, Genesee County MSU Extension 4-H program coordinator and Alverson's nominating staff person. "As she shares these life skills in programming and through various outreach events, she acknowledges 4-H's historically rural, deep agricultural roots while branching out to reach suburban and urban youth. She refers to dogs, rabbits and cavies as gateway animals that can help pique a youth's interest in further 4-H programming, including financial literacy, entrepreneurship, veterinary science, agriculture and other STEAM-related (science, technology, engineering, arts and math) program areas."
Joining Alverson in receiving the 4-H Volunteer of the Year award is Gordon Ridenour of Niles. Ridenour has served as a role model to many youth in his county while presiding over the Cass County 4-H Leader's Association. Nominators said Ridenour encourages members to present and share their ideas and is never afraid to take leadership of projects. He also shares his passion for welding, carpentry, electricity, plumbing and cooking with local youth by organizing project meetings, recruiting new members to participate in these categories and mentoring youth to help them complete their projects.
"Gordon is an asset to the Michigan 4-H program in Cass County, to other leaders and, most importantly, to the youth in the program," said Stephanie Consford, former Cass County MSU Extension 4-H program coordinator, who nominated Ridenour. "He forms positive relationships with youth, takes advantage of every opportunity to advocate for 4-H and is willing to try new programming efforts."
Receiving the Outstanding Lifetime Volunteer award, which honors a 4-H volunteer with more than 10 years of service, is Cheryl Barton of Owosso. She has been involved with Shiawassee County 4-H for more than 40 years and during that time, has made a tremendous impact on the county's dog program and local youth. In her years as a volunteer, Barton has shared her knowledge and skills by teaching 4-H Exploration Days sessions, Kettunen Center 4-H workshops and 4-H Companion Animal Camp, influencing thousands of youth. Barton has also served as chair of the State 4-H Companion Animal Programming Committee and played an integral part in the State 4-H Dog Show, fulfilling the volunteer and judges coordinator positions for many years.
"Cheryl inspires kids to be the best that they can be, pushes them to work as a group and helps them make the best better," said Nikki Hersch, Shiawassee County MSU Extension 4-H program coordinator and Barton's nominator. "She wants the youth to succeed and will do anything to help them get there. She truly reflects the 4-H motto."
The 4-H Salute to Excellence awards are supported by the Michigan 4-H Foundation, which honors the many hours of service each of these individuals has given to 4-H by recognizing them at the 4-H Emerald Awards Ceremony. This year, the event will take place Friday, Oct. 5, at the Kellogg Hotel and Conference Center in East Lansing. As honorees, each will receive a brick engraved with their name to be placed in the 4-H Salute to Excellence trillium walkway at the Kettunen Center in Tustin, as well as a mini-brick replica. Salute to Excellence awardees are also given the opportunity to select a Michigan 4-H program at the county or state level to receive a $400 recognition grant in their honor, made possible by the Michigan 4-H Volunteer Recognition Fund at the Michigan 4-H Foundation.
To learn more about the 4-H Salute to Excellence Awards and past honorees, on the Michigan 4-H Foundation website.