Through the Ice: Ice fishing means more than catching fish (Part 2)
Ice fishing in northern Michigan promotes community and economic development opportunities.
In the Great Lakes region, the winters can be long and cold. However, for many anglers—and communities—the annual freeze represents opportunity. Ice fishing reflects a way of life for many Michigan residents. In part one of this series, we explored community ice fishing events as an opportunity to inspire young anglers, spend time with family and friends, and promote aquatic stewardship education. Now, we take a look at how these community ice fishing festivals and events contribute as coastal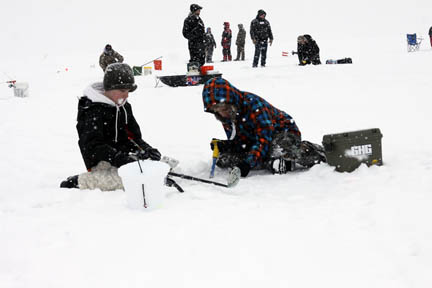 community and economic development opportunities.
While ice fishing shares some similarities to open-water fishing, the pursuit of fish through the ice also offers its own unique character. Ice fishing offers an opportunity to get outside during the cold months of the year. Fishing through the ice may provide access to areas that are usually weedy or off-limits to anglers without boats during the summer. Ice fishing may provide anglers a chance to catch different species, as some deep-water species venture shallower and closer to shore during these winter months. Finally, ice fishing offers a chance to pursue fish using different equipment and techniques. The iconic ice shanties that dot the ice provide shelter from wind and cold, and ice anglers can use tip-ups (set lines that pop up a flag when fish bite), hook and line, spears, and different baits and lures to catch fish through the ice.
While data on ice fishing participation and its economic contribution is not comprehensive, the numerous shantytowns, season-specific tournaments and community of anglers that crop up during the winter months seem to indicate a vibrant industry.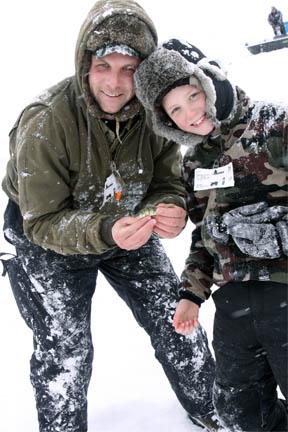 For northern Michigan communities, ice fishing festivals and events serve as valued community development opportunities. Each February, East Tawas, a coastal Lake Huron and Tawas Bay Area community in Iosco County, celebrates Perchville USA, deemed as one of the longest running winter festivals in Michigan. It started as an ice fishing tournament, but has grown to be much more. Beyond the fish, the tournament is now a much broader winter festival offering ice events, paired with the tradition ice fishing, and contributing important community development opportunities. The festival benefits both local citizens and acts as an economically valuable coastal happening that attracts visitors to the region.
Similarly, The Reel Fun Ice Fishing Tournament focuses on the community, encouraging family fishing and local community camaraderie. This event also doubles as a fundraising opportunity for City of Alpena Wildlife Sanctuary Board, investing funds generated in support of environmental education and stewardship projects throughout the year.
Ice fishing offers a unique fishing experience, and reflects a strong sense of heritage and tradition for many Michigan communities. A great day on the ice may mean a limit of fish caught, and can mean much more when these fish become the center of winter festivals and events contributing community and economic development values.
A recent Michigan Sea Gant publication, The Life of the Lakes: A Guide to the Great Lakes Fishery, further explores the heritage and the many social, ecological, and economic values of these fisheries of the Great Lakes region. Visit the Michigan Sea Gant website for more information about Great Lakes fisheries or this publication.