Tips for being at home with your dog
Are you home more often and not sure what to do with your dogs? Here are some tips for keeping them engaged and learning.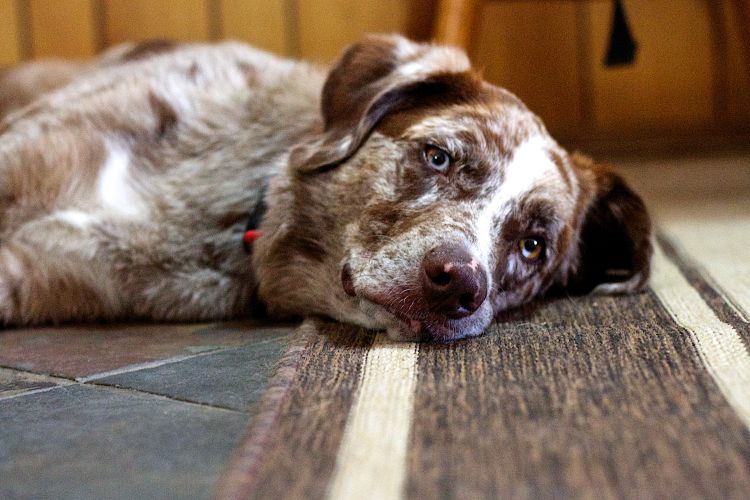 Have you been spending more time at home lately? Are your dogs at home with you begging for attention? The truth is they are probably missing getting out of the house, going to 4-H practice and learning just as much as you are. Finding ways to keep your dog engaged and learning while being home more often is a good practice for both of you. Here are some tips on how to spend constructive time with your dogs.
Tip 1: Try a new trick
Training your dog to do a new trick, simple or complicated, is a great way to keep their minds engaged with learning. Dogs need activities to keep their brains and bodies active, so it is important to give them something to focus on. There are many tricks you can teach your dog, some you might never have thought of. The AKC Trick Dog website has great resource videos with training tips for some fun new tricks, like carrying a basket or jumping through your arms.
Tip 2: Strengthen current skills
It's always fun to try new tricks but what about the skills you and your dog already know? Keep on top of the skills your dog is solid in so that when you are back in the show ring your performance is top notch. Whether it is setting up an agility course in your backyard, practicing showmanship with your parents as the judge or working on your obedience skills, it's always good to keep practicing the skills you have mastered.
Tip 3: Get out of the house and your yard for exercise
Dogs like to explore, too! Find your closest dog friendly park or nature trail and spend some time exploring, getting some exercise for you and your dogs. Check the rules for bringing your dog to the park before going to make sure you are following the park protocol. When exploring new environments, give your dog plenty of time to sniff around and not move them too quickly down the trail. Time to explore their surrounds through their sense of smell is really important for dogs to know what other animals have been around.
Tip 4: Try a new dog treat you can make at home together
Your dog loves treats, so why not make some together at home? Check out the Michigan State University Extension article "Growing fruits and vegetables for your dog" for recipes you can make right from your kitchen.
Tip 5: Give your dog some alone time
It is important to remember that you won't be home all the time like you might be now. Your dog may have grown accustomed to having you home all the time. While they are most likely loving this time together, it's important to still give them their alone time. Don't take your dog with you every time you go outside, give them their own space. Have them take a nap in a different room to get them used to not being by your side 24/7. Making small adjustments now and over time will decrease the likelihood of your dog experiencing separation anxiety.
To learn more about the Michigan 4-H Companion Animal Program, please visit Michigan State University Extension's Companion Animal page or check us out on Facebook at Michigan 4-H Dog Program.