Tips for marketing your charter fishing business
Word of mouth and online resources are the top sources of information used by charter boat clients when booking a trip. Creating positive experiences, partnering with other businesses in your community and using social media can help to spread the word.
The annual business conference of the Michigan Charter Boat Association (MCBA), in cooperation with Michigan State University Extension, was recently held in Grand Rapids. Several presentations touched on aspects of marketing charter fishing businesses.
Brandon Schroeder, of Michigan Sea Grant, kicked off the morning with a discussion of marketing ideas informed by a survey of charter customers regarding the experience of Lake Huron coastal businesses in adapting to changing fisheries. One theme was the importance of providing a clear, attractive, and diverse menu of fishing options available to customers. Light-tackle options, grand slam trips, and targeting unique species available in a certain area were among the ideas presented. Promoting diverse options including discounted or premium-priced off-season, research, sight-seeing, instructional or other specialty charters could help broaden the appeal of your business. Communicating choices in the range of fishing and pricing options available and before the trip is booked can empower customers to be part of creating the experience they will value.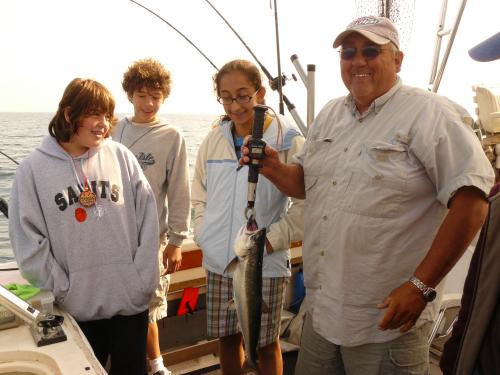 The importance of appealing photos and images photos was also stressed. Visuals convey strong messages, and one message involves expectations. Marketing photos consisting of limit catches displayed hanging near the cleaning station may convey an emphasis on filling coolers with meat. While this is an important part of the fishing experience for some customers, much of the discussion involved promoting the experience and aesthetics of each catch. Photos depicting happy clients displaying their catch while still out on the water convey the full experience of fishing better than a dockside cooler shot at the end of the day.
Captain Denny Grinold added another opportunity to the suite of marketing options with an update on the Catch & Cook program, which received the Governor's Award for Innovative Tourism Collaboration in spring of 2013. Catch & Cook allows clients to take their fish to a local restaurant for preparation – a great way to promote community tourism connections and enhance the customer's experience.
Sharing a great experience is now easier than ever, too. Stephanie Ariganello of Michigan Sea Grant shared social media perspectives as both a small business owner and professional communicator. To set the stage, she mentioned that 1.4 billion users are now on Facebook and over 2.9 billion hours are viewed on YouTube each month.
Charter customers are already sharing their experiences via social media, and Stephanie provided some insight for businesses interested in building their presence. She suggested setting up a page (as opposed to a profile) on Facebook for starters. Stephanie stressed that it is surprisingly easy to get started, and that the goal is to "delight" people. Talk to your customers, not at them, and have fun with it. If every post is a blatant advertisement you will only turn people away.
A desire to share your passion for the Great Lakes and great fishing is why you got into this business in the first place. Let it shine through in your marketing!