Transplant production: Timing and crop types
Widely fluctuating temperatures, extreme light levels, unpredictable moisture, and wind pressure can all cause transplant mortality.Having a properly mature, hardened off transplant can help growers overcome these challenges and achieve higher yields.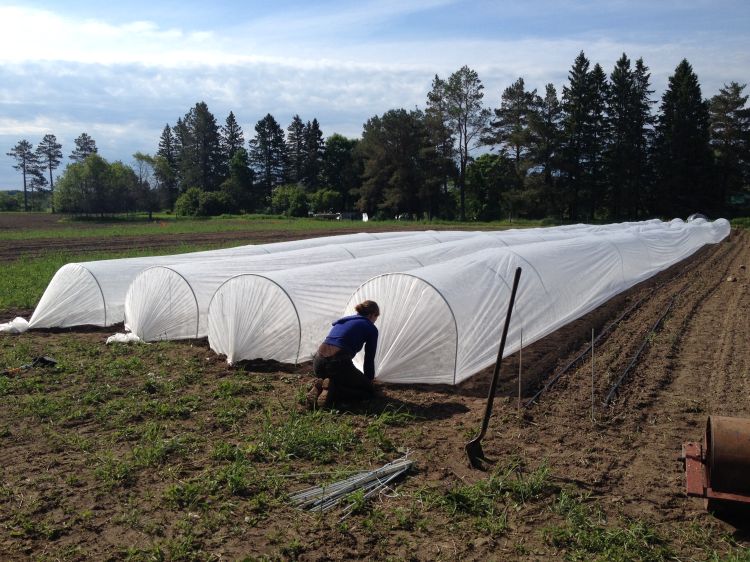 Before diving too deeply into a transplant production plan, it is important to know which crops perform well when transplanted. Some crops perform better being direct seeded into the field, whether this is due to greater density of establishment, sensitivity to excessive handling, or unnecessary costs associated with greenhouse sowing. In the chart below, you will see a column outlining whether the crop type performs best when direct seeded into the field (DS) or grown as a transplant in a greenhouse or other protected environment (TP).
For the crops that are sown in a protected environment for later transplanting, it is important for them to reach the proper point of maturity. Seedlings that are transplanted prematurely may not transplant well due to a limited root system and inability to adapt to changes in environment. Seedlings that are transplanted too late may suffer from bound roots or nutrient deficiencies. Additionally, larger transplants with sensitive foliage can be more susceptible to wind damage. The chart below provides guidelines on how long common garden varieties should be grown in a protected environment before being set out as transplants.
In order to hit these targets, a grower must work backwards from the date of transplant. This is determined based on local environmental conditions and a crop's natural hardiness. The primary consideration tends to be cold tolerance, as many garden varieties can be transplanted before the threat of frost has passed. However, some crops cannot tolerate sub-freezing temperatures and will need to be transplanted later in the season. When growing quickly maturing crops, a grower can use a target harvest date instead. While the reasoning for selecting a date is different, the method of working backwards is identical.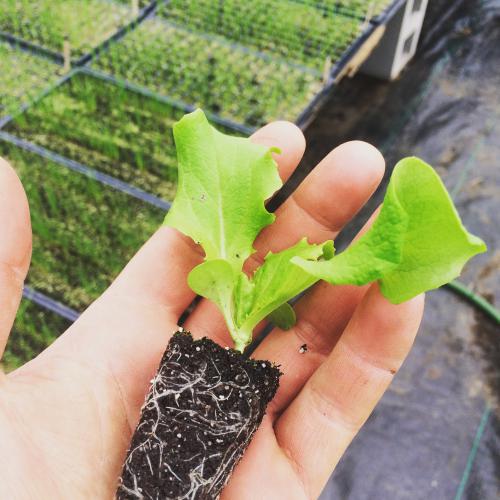 One final, critical step that all seedlings must go through prior to transplanting is called hardening off. Hardening off crops is the process of slowly exposing sensitive transplants to harsher environments to allow them to acclimate to field conditions. These conditions often consist of more intense light levels, wider fluctuations in temperature, reduced water access, or more aggressive wind speeds. Many growers will acclimate seedlings by setting transplants outside for short periods of time in the week leading up to the transplant date. Ideally, the amount of time these seedlings are exposed to harsher conditions would increase daily. Some growers will also reduce watering within protected environments to allow seedlings to grow accustomed to reduced moisture levels. Regardless of technique, having a properly hardened off transplant can mean the difference between survival and loss.
In a situation where hardening off is not possible or sufficient, there are steps growers can take to help sensitive transplants survive. Covering recently transplanted crops with floating row cover can protect seedlings from excessive light levels and wind pressure. Light weight covers (0.55 oz/sq yd) can provide protection from the elements without large reductions in light transmission and water infiltration. Another option is to protect seedlings with a kaolin clay coating. This is often used as a protective barrier to certain insect pests on cucurbits, but it has the added benefit of providing protection from excessive solar radiation. This fine clay is mixed with water to create a slurry. Transplants are then dunked into the solution or it is sprayed on the foliage to create a protective film. While effective against some insects and the sun, it does reduce photosynthetic activity and can be washed off by rain or irrigation.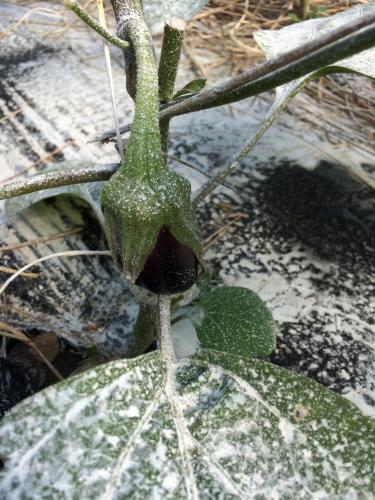 As an example of the scheduling process, The MSU North Farm, located in the central Upper Peninsula, has a last frost date of approximately June 7. If tomatoes are to be planted in the field according to the chart below, we can anticipate a transplant date of June 14 or June 21. Our information also notes that at transplant, tomatoes should be 6-8 weeks old, meaning our seeding date in a protected environment would be April 19-May 3. Assuming the weather permits, we would benefit from exposing our tomato transplants to outdoor conditions for the last week leading up to transplanting, while also slightly reducing our watering. This will ready the crop for the field conditions, giving it a better chance of survival.
By using these guidelines and tools, a grower can create a simple transplant production calendar that will help make decisions on when to start, harden off, and set out transplants of various crop types.
| | | | |
| --- | --- | --- | --- |
| Crop | Direct Seed (DS) or Transplant (TP) | Safe Set Out Date (relative to last frost) | Age at Transplant |
| Basil & Sensitive Herbs | TP | 1 week after | 4 weeks |
| Beans | DS/TP | 1 week after | 3 weeks |
| Beets | DS/TP | 2 weeks before | 4 weeks |
| Broccoli & Cauliflower | TP | 2 weeks before | 3-4 weeks |
| Brussels Sprouts | TP | 2 weeks before | 3-4 weeks |
| Cabbage | TP | 4 weeks before | 3-4 weeks |
| Carrots | DS | 2 weeks before | - |
| Celery & Celeriac | TP | 1 week after | 10-12 weeks |
| Corn, Sweet | DS/TP | 0-2 weeks after | 3 weeks |
| Cucumbers | TP | 1 week after | 3 weeks |
| Eggplant | TP | 2 weeks after | 8 weeks |
| Greens, cooking | TP | 3-4 weeks before | 3-4 weeks |
| Greens, salad | DS | 3-4 weeks before | - |
| Lettuce, head | TP | 3-4 weeks before | 3 weeks |
| Onions | DS/TP | 4 weeks before | 8-10 weeks |
| Peas | DS | 6-8 weeks before | - |
| Peppers | TP | 1-2 weeks after | 8 weeks |
| Potatoes | DS | 5-7 weeks before | - |
| Summer Squash & Zucchini | TP | 1-2 weeks after | 3 weeks |
| Turnips & Rutabagas | DS | 2 weeks before | - |
| Tomatoes | TP | 1-2 weeks after | 6-8 weeks |
| Watermelon & Melons | TP | 1-2 weeks after | 3 weeks |
| Winter Squash | TP | 1-2 weeks after | 3 weeks |
Be sure to keep an eye out for the fourth article, Transplant production: Light considerations.
Collin Thompson is the Farm Manager of The North Farm at the Michigan State University Upper Peninsula Research and Extension Center in Chatham, Michigan and a Community Food System Educator with Michigan State University Extension.