True 4-H science teen leaders: Iosco County
Iosco County has a true 4-H science teen leader in Miranda Hall.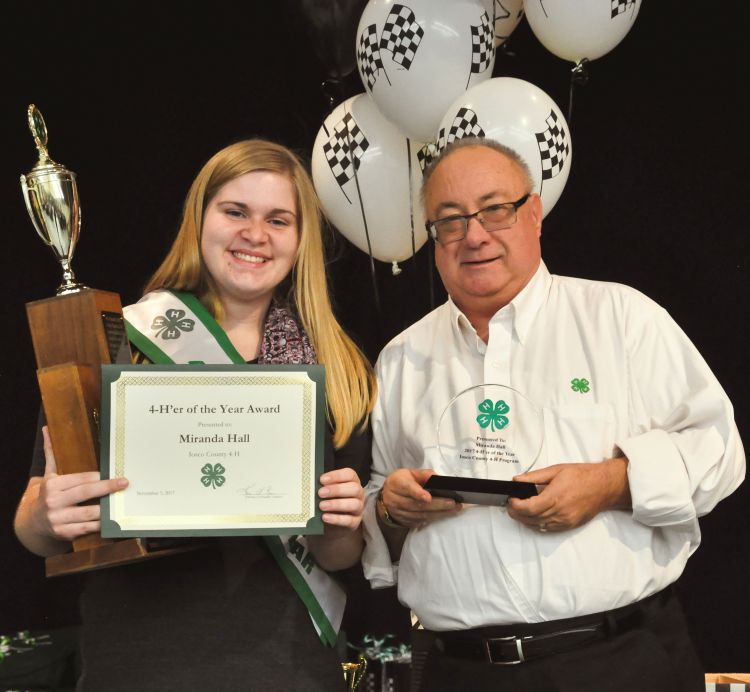 This article is part of a series featuring true 4-H science teen leaders from around Michigan. We started 2018 featuring a pre-teen in Isabella County 4-H. In 2017, 4-Hers were highlighted in almost every Michigan State University Extension district. This year, the series will continue highlighting individuals from every 4-H county. In District 4, there are many youth in Iosco County 4-H that are excellent examples of True science teen leaders. Kelli Rau, Iosco County 4-H program coordinator, felt one particular youth came to mind as a true 4-H science leader: Miranda Hall.
Hall has been in 4-H for six years in the animal science project areas of swine and beef, and the project areas of community service and leadership. She received the Junior State Award in the category of Leadership and Personal Development, the Iosco County 4-H Award of Excellence, the Michigan 4-H Key Club Award and the 2017 Iosco County 4-Her of the Year Award.
Hall has held the position of president of the Iosco Oinkers Swine Club, president of Iosco County Junior Market Livestock Association, summer camp counselor, cloverbud teen leader and teen embryology instructor. She also helped coordinate the "Iosco Feeds the Need" project, a market broiler project where 4-H members raised 100 market broilers and donated the meat to a local food pantry.
Rau commented on why she believes Miranda is a true teen leader.
"Miranda Hall is an active 4-H member in the Iosco Oinkers 4-H Swine Club, Iosco County Junior Market Beef Club and serves as a teen representative on the 4-H Leaders' Council," Rau said. "In addition, Miranda has made a lasting impact on Iosco County 4-H through her work as a teen instructor in the 4-H Chicken Embryology School Enrichment Project."
After attending a training in East Lansing, Michigan, Miranda, along with another teen member, helped Rau spearhead the introduction of the school enrichment program that would soon spread to every school in the county and reach more than 300 youth annually. Hall facilitates classroom lessons on the lifecycle of chickens, how to properly care for newly hatched chicks and proper incubation methods.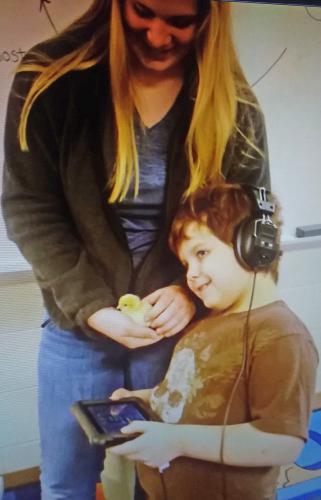 "One of the most significant moments in my career occurred while watching Miranda interact with a student at the local elementary school during an embryology lesson," Rau said. "Miranda was able to develop a positive relationship with an autistic first grade student at Whittemore Prescott Elementary. This student did not participate in any lessons prior to the day the chicks hatched in his classroom, yet on that day with the encouragement of Miranda, he was able to overcome his sensory issue and embrace the new life hatching in his classroom. Throughout the day Miranda reassured him, and before the chicks left to go to the farm, the student was able to pet and hold a chick. This experience helped me to understand the power a teen leader can have on their fellow members and peers."
In addition, Miranda has been on the for-front of helping to transition the Iosco County Junior Market Livestock Association from an adult-led committee to one with a youth board that is adult supported.
"Miranda and her fellow teen leaders worked together for the past few years to instate by-laws and an executive board made up of solely of youth," Rau said. "Today, Miranda currently serves as the president of the Association and has helped to engage her fellow members in meetings by instructing parliamentary procedure workshops and teaching educational sessions from the 'Youth Business Guide to Success.'"
Hall shows what a true 4-H teen leader is in a local community and national involvement. She has attended and been on the teen steering committee for 4-H Capitol Experience and attended 4-H Exploration Days, National 4-H Congress and numerous Kettunen Center workshops. Outside of 4-H, Hall is actively involved in her FFA chapter, serving as the chapter president and regional vice president. She is also involved in the National Honor Society and serves as a class officer.
Rau offered advice for other youth interested in becoming a 4-H teen leader.
"Don't be afraid to step out of your comfort zone," Rau said. "Some of my best 4-H teen leaders are those that do not follow in others footsteps, but rather take chances and pave their own path. When you finish your 4-H career, you should be able to look back and reflect upon the legacy you have created to make your county and state 4-H program a better place for those younger members.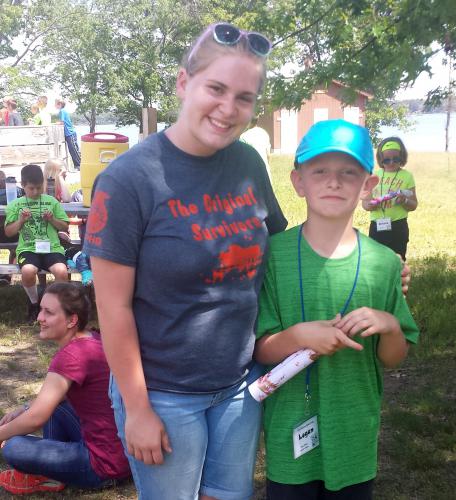 "Miranda's experiences with 4-H and FFA enabled her to choose a future career path. In the fall of 2018, Miranda will be attending Michigan State University to study animal science. Without the hands-on experiences 4-H has provided her, Miranda may not have been able to uncover her passion for working with animals and helping people."
Iosco County is growing a true 4-H science teen leader in Miranda Hall!
Michigan 4-H is proud to be part of the National 4-H tradition of supporting and growing true leaders. The next generation of empowered 4-H true science leaders continues growing in Michigan.
Michigan State University Extension and the Michigan 4-H Youth Development program helps to create a community excited about STEM (Science, Technology, Engineering, and Mathematics). 4-H STEM programming seeks to increase science literacy, introducing youth to the experiential learning process that helps them to build problem-solving, critical-thinking and decision-making skills. Youth who participate in 4-H STEM are better equipped with critical life skills necessary for future success.
To learn more about the positive impact of Michigan 4-H youth in STEM literacy programs, read our 2016 Impact Report: "Building Science Literacy and Future STEM Professionals."
Michigan 4-H has many 4-H science programming areas for youth to explore. Science is everywhere with many questions to ask and discoveries to be made. For more information about 4-H learning opportunities and other 4-H programs, contact your local MSU Extension office.