Using programs like Zoom or Skype for 4-H advisory groups
While virtual meetings are not ideal, they may be the only way to conduct necessary business until a face-to-face meeting can occur. Follow these steps to ensure fairness to all members and meeting participants.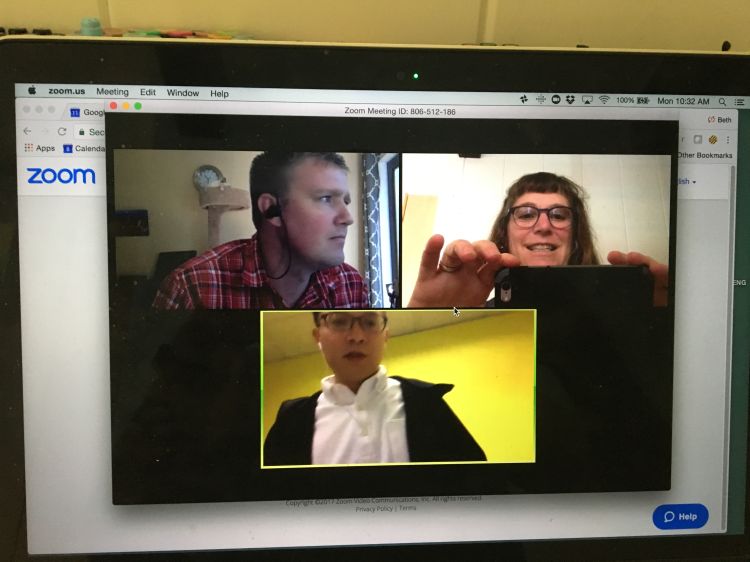 Living in Michigan can present some challenges when trying to hold advisory group meetings. The weather can be unpredictable, and groups sometimes have to cancel their meetings due to poor weather during the winter months. It's during times like this that advisory groups may consider hosting a virtual meeting using programs such as Zoom or Skype.
While virtual meetings are not ideal, they may be the only way to conduct necessary business until a face-to-face meeting can occur. A virtual meeting is the better choice when compared to conference calls or a call-in option. Generally, Michigan 4-H discourages voting on issues via conference calls, proxy voting or absentee voting. To read more about these type of voting processes, see "Voting techniques not recommended for 4-H use" from Michigan State University Extension. Therefore, if a group must resort to a virtual meeting, follow these steps to ensure fairness to all members and program participants.
Every committee member should have access to a video feed connected through their computer with a working microphone and camera.
Every committee member should keep their camera on so participants can see each other while engaging in discussion. This maintains the closest experience to an in-person meeting because non-verbal communication can also be shared.
If a larger group is meeting at the normal meeting place, make sure a camera is showing the complete room and all the participants so those on the computer can see and engage with each of them. This may require multiple cameras or those in the room to log into the meeting with their computers in front of them. An external microphone will also be necessary. Mute all of the computers and only use the external microphone for the meeting so you do not have feedback.
Consider putting minutes and an agenda on a cloud-based, synchronous storage such as Google Docs so everyone can follow along as the meeting takes place. This helps the lines of communication, which can be challenging when virtual.
Take roll call or a show-of-hands vote for every motion because it is so difficult to hear if you have a majority vote on the computer. You can also use the chat feature to record votes for a virtual meeting.
Sometimes it is difficult to hear a person due to feedback or a poor connection. If this is true of the president who is participating virtually, it might be a good idea to move the president duties to the vice president or another member who is not having those challenges for this meeting.
For some people, it is easier to get distracted in a virtual meeting than in a face-to-face meeting. Regular check-ins, either through votes or discussion, can help ensure the group is engaged.
Share the revised meeting format along with the link to your entire 4-H membership so they, too, can log in and participate if they choose to do so as they could for any face-to-face meeting.
Use virtual meetings only when all other options have been exhausted but official business needs to take place. 4-H advisory groups work best when the members can have open discussion, hear all the discussion clearly and can easily see the nonverbal communication of the other members. Being in person also allows everyone to easily see when a group is not speaking or seems disconnected from the discussion, which might point to concerns with the motion. Additionally, 4-H advisory groups are encouraged to utilize youth-adult partnerships and it is easy to lose sight of the youth members and their voice when not in person.
For further information regarding 4-H groups in the areas of bylaws, parliamentary procedure or leadership, please contact the 4-H Leadership and Civic Engagement team at 4HLeadership@anr.msu.edu. Other helpful articles may include "Following parliamentary procedure guidelines for ballot voting," "Kick off your committee's success by starting with the membership" and "Parliamentary Procedure: Frequently asked questions."