From Camp to Career
Author:
Michigan State University Extension
Liz Seifert, a 4-H'er turned volunteer shares the experiences as a camper and as a counselor at 4-H Great Lakes Natural Resources Camp that shaped her life and career.
May 6, 2019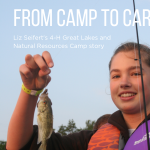 ---
From Camp to Career Transcript
Jeff Dwyer: Each year, hundreds of Michigan youth head off to summer camp experiences all over Michigan. The award-winning Great Lakes and Natural Resources Camp in northeast Michigan is for teens ages 13-15 and it focuses on science and environmental education and leadership development. I'm Jeff Dwyer, director of MSU Extension, and you're listening to Partnerships and Peninsulas.
From where I'm sitting right now, I can hear the waves on the water. I've been spending the last two days at 4-H Great Lakes Natural Resources Camp. This camp teaches young people about Michigan's diverse natural resources, environmental science, the Great Lakes ecosystems and management issues. And also a great deal about related career exploration and opportunities. It's been a whole lot of fun too. My guest today is Liz Seifert. Liz came to this camp in 2008 and this is her ninth year. She first came as a 13 year old transitioning from eighth to ninth grade as a 4-H member, and today she is one of the lead counselors. Welcome, Liz, to Partnerships and Peninsulas!
Liz Seifert: Thank you. I'm very excited to be talking with you today.
Dwyer: Tell me about the first time you came to this camp and why you chose to do that.
Seifert: The fisrt time I came to this camp, I was going from eighth grade to ninth grade. That was about my eighth or ninth year of 4-H involvement. My 4-H leader found out about it and he said, "Hey, I think this would be a cool opportunity for you. I think you'd really like it."
So two or three of us came up here and I fell in love with the camp. I've come back as many years as I could between now and then. I love being outside, I love the water. I love the environment here.
Dwyer: Have you made friends that you think are lifelong friends here?
Seifert: Absolutely, I have several friends that I am still in contact with. Trip, who's the co-head counselor with me this week, he and I were campers together on one of the first two years I was here. I've actually known him since I was in middle school, so we've had a long friendship and it's a pleasure working with him. There are several other people I still keep in contact with.
Dwyer: That's fantastic. I know from my time here over the last couple of days, there are just so many things to experience. I mean, we've been out on the water with nets to see what fish we could catch, we're going to go out sailing today. I think we're going to have sea lampreys stuck to us at some point today. But there's also been campfires and leadership development activities – those sorts of things. Tell me about some of the things you remember most throughout the years. Maybe first as a camper and then as you evolved into a camp counselor.
Seifert: So I would say that my favorite thing I did as a camper was just being out on the water. I did kayaking, sail boating and canoeing as much as I absolutely could. I loved that experience. It was the first time I was able to kind of experience those individual water crafts. That was excellent. I always remember that and that has carried through with me since I have been a counselor. I also enjoy watching, now as a counselor, watching all the campers experience all these activities, like you said, for the first time.
Dwyer: That's terrific. You know one of the things that I've learned over the last day or so that I hadn't thought about before is the long-term impacts a camp and experience like this can have. You're about to graduate from Eastern. You're going to teach and you're going to teach elementary school students. Tell us a little bit about how you think this camp influenced your choices and the things you're focusing on in your teaching credentials.
Seifert: My degree is in elementary education, and I have a double certification in reading and integrated sciences. So I'll be able to teach middle school aged students both reading and science. My experiences at camp fully and completely led to my choice to do the integrated science minor. I am very passionate about getting students outdoors whenever possible with every subject. This camp has given me a lot of tools I can use and I have used in the time I've been at college to integrate math lessons, reading, writing, into the outdoors and getting students up and moving in the classroom. I'm planning on doing that for the rest of my career.
Dwyer: That's terrific. We need more teachers like you so it's wonderful that this camp has had a part in shaping your future career choices. So along these same lines, as director of Extension, it's been fun to learn that some of the staff we have here that you know well, it turns out, their first experiences were also at this camp that were related to natural resources. A lot of times I think we think of 4-H as providing great experiences during the period that a youth is the right age to be in 4-H and forget that those experiences may also shape the rest of their life. So you're a great example of that. Tell me a little bit about that experience. I know we don't pay you. Because nobody asked me to write a check. But I know that not everyone want to be a counselor, nor does everyone who wants to be a counselor get chosen to be a counselor. There's a sophisticated application and training. Tell me a little bit about that.
Seifert: I knew I wanted to be a counselor after my first day here as a camper. I adored my first counselor. She was a fabulous role model. She was also extremely passionate about being in the outdoors and I absolutely loved spending the week with her. I knew from that point on that once I was old enough, I wanted to apply and be a counselor, and I was fortunate enough to be chosen a couple years later. It's been a really great leadership opportunity for me, and I've been able to watch other campers and other counselors grow, in their positions, grow from camper to counselor. A lot of that is through the leadership opportunities that we have at camp here during the week. During the programs and activities is a great time for people to learn more leadership skills and use them, and then take them elsewhere too.
Dwyer: I was impressed last night, part of the leadership development opportunity was Darren Bagley leading a session where people could make widely different choices about their opinions on many different topics. Some of them were not simple topics and the conversation was very thoughtful, very insightful. Do you think that's an important part of this experience? Providing that context for having those kinds of discussions so we can learn how to talk to each other in a respectful and civil manner?
Seifert: Absolutely. That is one of the activities I like participating in as well as observing each year because it does give the campers both the chance to have a voice about their opinion, but also observe how others are voicing their opinions. I think that's important for students, especially at this age, and campers to learn because it gives them the tools to carry that later in life. That's a skill that's constantly developing for many people, but getting a start with such a great leader here, especially Darren, he does a fantastic job with that every year, it's just a great opportunity for the campers to practice that.
Dwyer: I was impressed with the whole experience last night around that activity, but I will say too, I can't imagine being as articulate as many of the people who spoke and shared their thoughts last night were at that age. I suspect that I'm not that articulate now. But it's been a real terrific experience to see the full range of opportunities that people have here at the Great Lakes 4-H Natural Resources Camp. I know that we hav staff and volunteers here who've been at this camp 10 years, 15 years, I think there's one that's been here over 30 years. Can you imagine making this a part of your experience as you start your full time work life and adult life and keeping this something you remain attached to?
Seifert: I'm really hoping so. I've fallen in love with this camp and I love 4-H as well. I would love to keep coming back because I have loved being able to give back to the program that helped me develop into the person I am today, and I've very grateful for that. So I'm hoping that I will absolutely am able to continue up here.
Dwyer: Well that's fantastic. We look forward to that and we certainly hope to stay connected to you through 4-H, this camp and many other activities. Next spring, some of these youth, their friends and other youth in the State of Michigan will be looking for camps. Parents will be looking for camps. What would you say as your brief sales pitch for those who are looking for a natural resources experience in 2019?
Seifert: I would start by saying: If you're ready to spend a week outside on a beautiful lake surrounded by passionate people, this is the place for you. If you want to learn more about the outdoors or just get your toes wet with it, it's a great place to be. I would say it's well worth the week up here and you will likely fall in love with it.
Dwyer: That's terrific. Well, as Liz and I are sitting here in the background, we can hear and see a number of kids playing, I think it's called "gaga ball?" I'm not exactly sure what that is, but it's certainly keeping a people entertained and having a lot of fun. There are others sitting with staff and counselors talking. And we can see Lake Esau through the trees here, Lake Huron is not far away, and there are others getting ready to go sailing and learn more about sea lampreys. Others are going out to the lighthouse, some are going scuba diving, so the range of opportunities is just fantastic. Liz, we really thank you for the opportunity to talk today and share your experiences and share how it's impacted you but also how you've impacted this place. I think that's a really important part of the story as well. So this is Partnerships and Peninsulas, and we thank you for joining us today.