Valentine's Day twist
Turn the traditional Valentine's Day into a day of creative and healthy fun for your soul and body.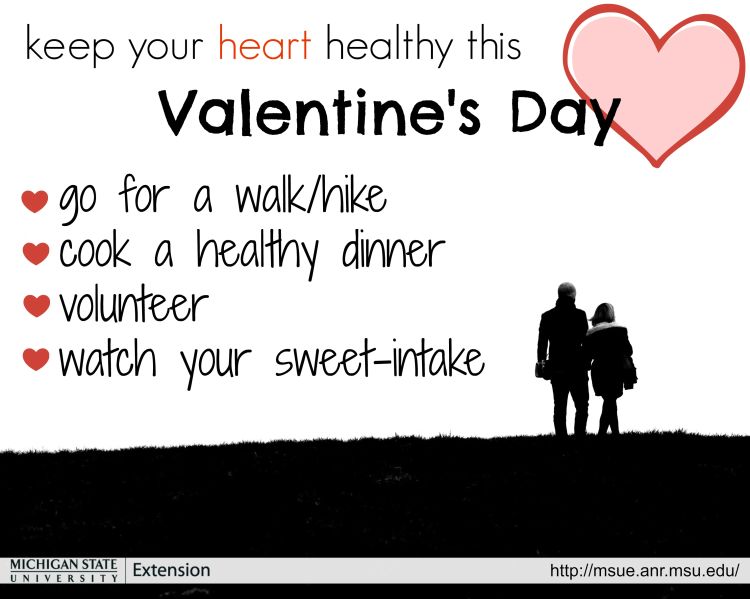 Today, Valentine's Day is advertised as showing our love for someone with cards, flowers, jewelry and chocolate. February has long been celebrated as the month of romance and how it became so popular is unclear to many. There is actually history behind this special day. One legend talks about St. Valentine who, considered a martyr was imprisoned for performing marriages when they were illegal. He met a young woman whom would visit him while he was in jail. The story states how he wrote her a letter and signed it "From Your Valentine" before he died. This expression is still used today. St. Valentine was known to be empathetic, heroic and romantic, attributes that still today align with this popular holiday.
Showing someone how much you love them does not always have to be expressed through chocolates and sweets. You may have the heart of your loved one, but healthy lifestyle choices can be the key to keeping their heart healthy. Put a twist on Valentine's Day and indulge your loved one with a heart healthy gift or date recommended by Michigan State University Extension.
Plan a physical activity that you may have never tried before. This may include sledding, snow shoeing, cross country skiing, ice skating or visiting an indoor trampoline center.
Plan an evening that includes a homemade dinner using heart healthy recipes. Be sure to include fruits, vegetables and whole grains, creating a delicious representation of My Plate.
Give back to your community. Volunteer together at a local charity. This is a nice way to boost your mood and relieve stress while helping others.
A romantic dinner for two can include sharing an entrée. Many restaurants serve enough food in one entrée for two. This choice can help keep you from overindulging.
Don't forget about your four-legged friend. Give your special canine a Valentine gift that includes a daily walk that will benefit you and your dog, also providing a chance to bond with them.
Enjoy slowly. If you are given a box of chocolates, make a plan to have them last at least three weeks. You can separate them into baggies and put them into the freezer. Mark on your calendar when you can have a chocolate treat. And, eat it slowly.
Begin a new tradition for Valentine's Day by including healthy options to keep your heart and your loved one's heart healthy. For more ideas to keeping healthy lives, please visit www.msue.msu.edu.