VHS Project results presented at North Central Region Aquaculture Conference
Fish farmers develop biosecurity measures to prevent the spread of VHS.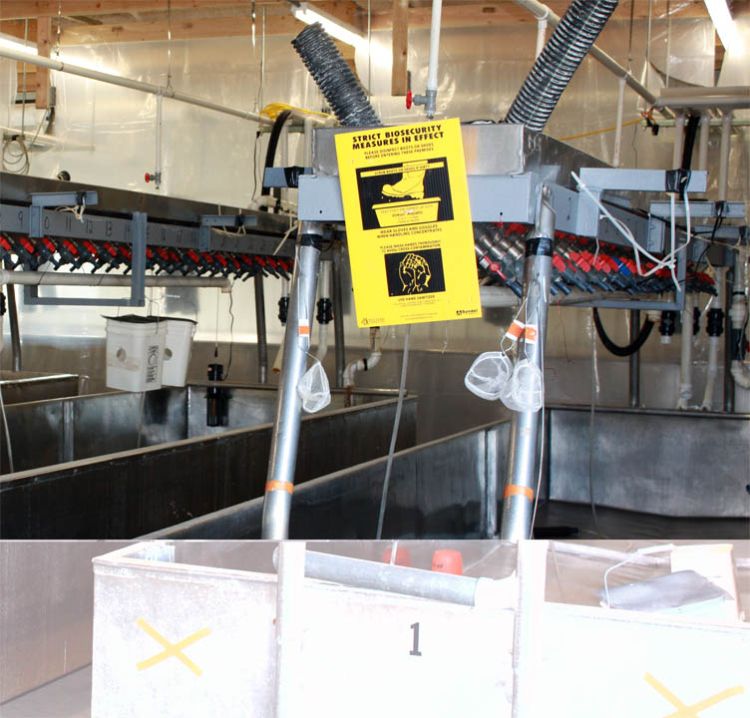 When Viral Hemorrhagic Septicemia (VHS) entered the Great Lakes, the North Central Regional Aquaculture Center (NCRAC) funded a project to help manage and prevent the spread of this fish disease in the region. Participants in this project included Michigan Sea Grant, Michigan State University Extension, the Upper Midwest Environmental Sciences Center-U.S. Geological Survey, Iowa State University and the University of Wisconsin-Stevens Point.
Representatives from U.S. Geological Survey and Michigan Sea Grant presented the results from this project at the recent North Central Region Aquaculture Conference in Toledo, Ohio. The U.S. Geological Survey found egg iodophor disinfection appears to eliminate, effectively, VHSv (strain IVb) from the surfaces of walleye and northern pike eggs. Although certain iodophor disinfection regimens reduced egg hatch in this study, similar iodophor disinfec­tion regimens applied shortly after fertilization (~5 min) to walleye eggs in previous studies did not alter egg hatch. Incorpo­ration of iodophor disinfection at 100 parts per million during gamete collection from nonsalmonid fishes immediately (less than 5 min) postfertilization for 30 minutes or at 90 minutes after fertilization for 10 minutes may reduce VHSv (strain IVb) transmission without affecting egg hatch.
As part of this project, eight VHS-biosecurity workshops were conducted at aquaculture facilities in the North Central Region. Michigan Sea Grant partnered with local and regional animal health professionals to present information on fish disease transmission, and VHS and Hazard Analysis Critical Control Point (HACCP) planning specific to developing a biosecurity plan for aquaculture facilities. HACCP plans were developed for each of the hosting facilities with special emphasis on system type (pond, recirculating, or flow-through) and business activities (wild stocking, egg and fingerling production, or grow out for food). Utilizing the existing Aquatic Invasive Species (AIS) HACCP Training Curriculum, specific fish disease HACCP plans for each of the facilities involved in the workshops were developed. Evaluation of the workshops indicated that participants found the information presented extremely helpful and presented in an understandable format. The majority intended to use the information at their own facilities.
To date, there have been no reports of VHS having been found in any North Central Region fish farm or hatchery, nor is there any evidence suggesting that VHS has been spread via fish movements into or out of any fish farms. VHS has changed how fish farmers do business in the NCR, whether farmers are located in a state directly impacted by the Federal Order or a state that has farmers doing business in the Great Lakes states. Through workshops and educational materials on biosecurity, farmers have become aware of the risks and potential hazards diseases from outside sources bring. Biosecurity was not a common vocabulary word in the past, but is now incorporated as part of their business plan. State agencies have responded with their own set of rules requiring additional testing and fish certifications. Farmers have been able to utilize biosecurity strategies to minimize the impacts these rules have or they have been able to continue business by complying with requirements in new rules when biosecurity plans are mandatory.