Volunteers report that wild salmon dominated catches in 2014
Anglers enrolled in the Salmon Ambassadors program found that wild Chinook Salmon made up 57-82 percent of the total catch in areas around Lake Michigan and northern Lake Huron.
May 8, 2015 - Author: Dan O'Keefe, Michigan Sea Grant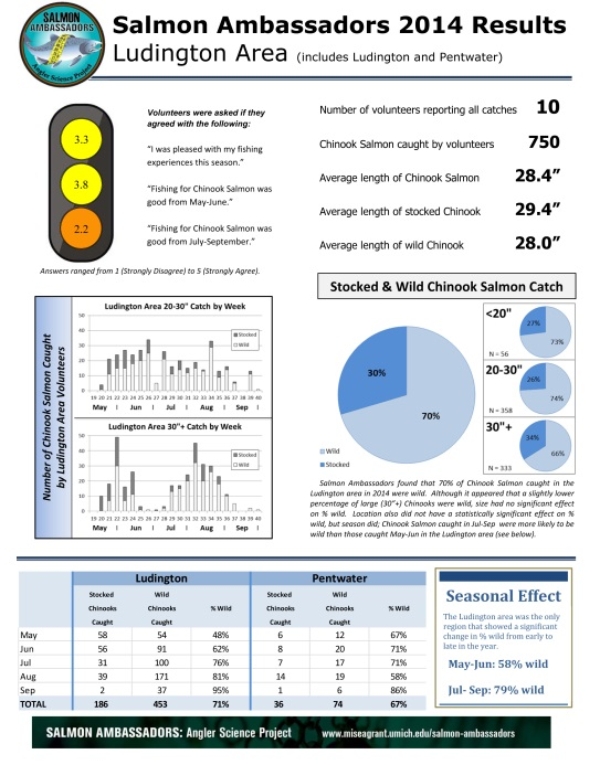 The modern Great Lakes salmon stocking program began in 1966 and for many years anglers and fishery biologists lived by a simple equation: more fish stocked equals more fish caught.
By the late 1980s the situation was more complex. Chinook Salmon catches dropped off as bacterial kidney disease (BKD) took its toll, and biologists realized they had come close to the limit of salmon that Lake Michigan can support.
Another wrinkle to the equation was the increase in natural reproduction of Chinook Salmon. Hydroelectric dams and stream habitat improvements led to successful spawning of salmon in Michigan rivers. The gradual colonization of new rivers by this non-native species led to what has been called a "runaway freight train" of young salmon produced by reproduction in streams of Michigan and Ontario.
Anglers might be surprised to know just how many wild Chinook Salmon they are catching. Thanks to an angler science project led by Michigan Sea Grant and Michigan State University Extension, anglers can now share information on wild and stocked catches with each other and with trained biologists.
Volunteers of the Salmon Ambassadors program track the length of each Chinook Salmon caught and look for a clipped fin (the adipose fin) that indicates a stocked fish. Last year, 125 anglers signed up for the program. At the end of the 2014 fishing season, 59 volunteers provided useful data on 3,460 Chinook caught from Lake Michigan and northern Lake Huron. Wild Chinooks made up the majority of the catch in the following areas:
75% - wild in Manistee
70% - wild in the Ludington area (including Pentwater)
74% - wild in the Grand Haven area (including Muskegon and Holland)
65% - wild in South Haven
74% - wild in St. Joseph and Benton Harbor
62% - wild in Door Peninsula, Wisconsin
57% - wild in southern Wisconsin (Illinois border to Port Washington)
67% - wild in Illinois
82% - wild in northern Lake Huron (Straits of Mackinac to Alpena)
Each area included at least four volunteers reporting complete results. At least 200 Chinook Salmon were caught in each of the areas above, with the exception of Illinois where only 63 Chinooks were reported in volunteer catches.
Some of the results were expected. For example, volunteers in the Ludington area saw an early-to-late season increase in wild salmon (from 58 percent to 79 percent). Nearby spawning rivers like the Pere Marquette and Pentwater rivers probably contributed to the increase of large (30 inches and up) wild salmon in August.
Other results were a bit more surprising. St. Joseph and Benton Harbor do not offer as much high-quality spawning habitat, but even here in southwest Michigan nearly ¾ of all Chinook Salmon caught were wild. However, most Chinooks caught by St. Joe area volunteers were taken early in the season.
Across the lake in southern Wisconsin the situation was different. Southern Wisconsin ports don't offer much spawning habitat either and volunteers here reported the lowest contribution (57 percent wild) of naturally produced Chinook Salmon. Although southern Wisconsin volunteers reported a low level of satisfaction with the late-season Chinook Salmon fishery, they did find that large (30 inches and up) stocked salmon were an important contribution to fishing in August and September.
A detailed report on Salmon Ambassadors results by port is now available at the program web page. Results provide anglers an in-depth look at how stocked and wild fish contribute to fishing success at their favorite port.
The results are also available to biologists and fishery managers faced with the difficult task of maintaining the delicate balance of predators and prey. The old equation, "more fish stocked equals more fish caught," is obsolete but this one is timeless, "more information equals better decisions."
---