Water enthusiasts can ID invasive plant species with helpful guide
"A Michigan Boater's Guide to Selected Invasive Aquatic Plants" can assist boater and paddlers in identifying plants that may be harmful in our local waterways.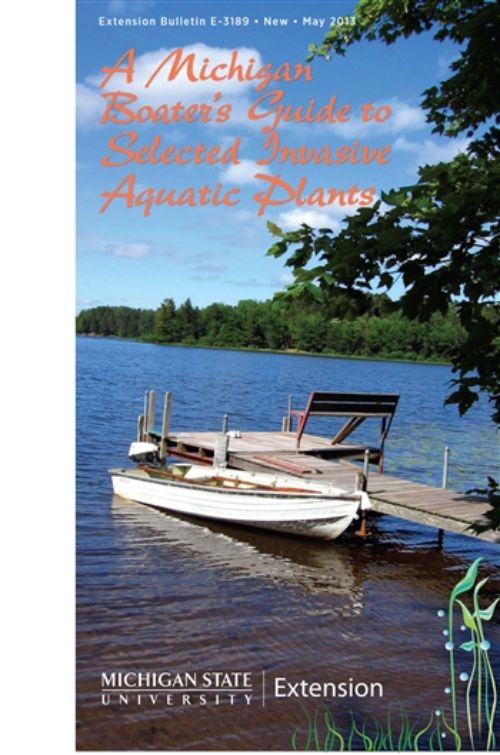 While summer is winding down, there's still plenty of nice weather and great waters for residents to get out and enjoy boating, fishing, paddling or just wading in the local lakes, rivers and streams. The more people know about and understand these resources, the more interested and better able they are to help protect them.
Michigan State University Extension developed A Michigan Boater's Guide to Selected Invasive Aquatic Plants to assist anyone who works, lives or plays on local water resources with identifying and learning about a variety of invasive aquatic plants. The National Invasive Species Management Plan defines the term "invasive" as "a species that is not native to the ecosystem under consideration and whose introduction causes or is likely to cause economical or environmental harm or harm to human health."
Although the guide is not a comprehensive list of all invasive aquatic plants, some of the plants featured are widespread in Michigan lakes while others are not found at all in Michigan. However, many of the plants are on either Michigan's prohibited or restricted lists. Prohibited plants are either not naturalized or not widely distributed while the restricted species are naturalized and widely distributed. Invasive plant species have the ability to take over areas choking out native plants, degrade lake habitats and ecosystems and create a number of problems for water users. All of the plants identified in this guide have been identified by the state of Michigan as species of concern and when found should be reported to the Midwest Invasive Species Information Network (MISIN) website at www.misin.msu.edu If you want to report a sighting, some things to help with reporting are:
A GPS unit to identify the exact location by latitude and longitude where the plants are located.
A digital photo of the plant uploaded to the site to help in exact identification.
If you become a regular reporter, you can create an account with MISIN to make reporting easier, and iPhones users can download the app to their phone at www.misin.msu.edu/tools/apps.
Filled with colorful pictures, the water-resistant Guide identifies nearly a dozen of the most common aquatic invasive plants found. It gives both the plant's common and scientific name along with a detailed description of the plant, its likely habitat and some control and management information. A map is included for each plant to indicate where the species is most prevalent in the United States. The Guide also has a section on prevention and monitoring, plant terminology and additional website references for more information.
A Michigan's Boater's Guide to Selected Invasive Aquatic Plants (Bulletin E-3189) is available for purchase through the MSUE Bookstore at http://www.shop.msu.edu or by visiting your local MSU Extension office. It is also available to download free through the MSUE Bookstore.
For a more complete listing of aquatic and shoreline invasive species, the Michigan National Features Inventory has produced A Field Guide to Invasive Plants of Aquatic and Wetland Habitats for Michigan available as a free download.