Web-based corn growing degree day tool helps with planting decisions
The best laid plans can change with the changing weather. A new corn growing degree day tool uses historical climate dates to help producers make informed decisions when plans change.
Another cool, wet spring in Michigan leaves farmers waiting for good conditions to plant crops. Variable weather in the spring always dictates planting schedules. This year is no different. Recently, a web-based decision tool was developed that allows farmers to compare current conditions to a 30-year historical perspective. Using historical climatology-based data, the tool offers trend projections through the end of the growing season.
The U2U Decision Support Tool for Corn Growing Degree Days (GDD) allows the producer to select their geographic area; the start date for GDD, this could be the date corn is planted or emerges; the year the grower would like to compare; corn maturity days; and the temperature for killing frost (28 degrees Fahrenheit). Example 1 was developed for Clinton County with a start date of April 30 and 103-day corn. The middle 20 years of data were used, removing the five highest and lowest years from the range. Finally, we are comparing projected averages to actual data from 2009, the coolest growing season in the last five years according to Michigan State University's Enviro-weather data.
What the graph shows is that given these inputs and average conditions, the corn should escape the last killing frost of spring and reach black layer before the first killing frost in the fall. However, if we have a growing season similar to 2009, the corn may not accumulate enough GDDs to reach black layer. In 67 percent of the seasons, one would expect between about 2,500 and 2,850 GDDs by late fall. We don't always get average years, and at this location with corn planted April 30 based on observations during the past few decades, we could expect a killing frost about two out of 30 years.
Example 2 uses the same inputs, but pushes the planting date back to May 15. In this example there is a greater likelihood of a killing frost prior to the corn reaching full maturity, about eight out of 30 years on average. This might be great enough to encourage changing the hybrid maturity to decrease the risk.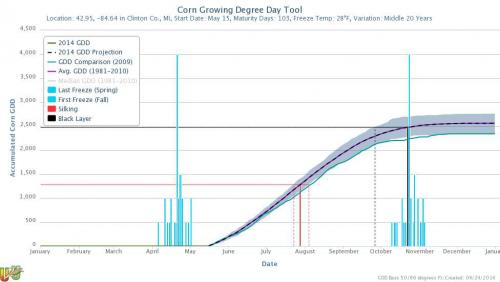 Using the U2U Corn GDD tool, growers can run any number of scenarios to answer questions unique to their situation. Changing the inputs of planting date and corn maturity days are easy with this tool. Using current projects of weather, knowledge of the growers system and 30-years of historic data, growers can make informed decisions in a cool, wet spring.
The corn growing degree day support tool was developed by Useful to Useable (U2U), a team made up of faculty, staff and students from nine Midwestern universities working to develop decision support tools, resource to support resilient and profitable crop production. U2U is funded by a grant from USDA.
Additional information