Welcome Mike Reinke, IPM Educator for Fruits and Vegetables based in Berrien County
Mike Reinke is the new IPM Educator for fruits and vegetables based in Berrien County and housed at the Southwest Michigan Research and Extension Center.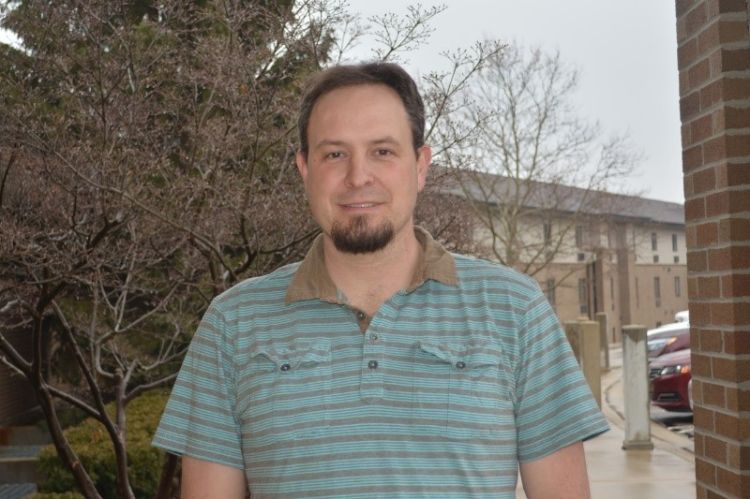 Within MSU Extension's Agriculture and Agriculture Business Institute, Mike is a member of the fruit and vegetable teams. His position is funded by Berrien County and he is working to connect with Berrien County growers. With just over three months under his belt, Mike has a good understanding of what his role with Extension will be, "I am a conduit between the researchers, both on MSU's campus and others, and the farmer. I help translate research into something growers can use and apply on their operations, while expressing the needs and concerns of the growers to our researchers." Mike has already jump-started his position by attending a number of meetings and building a local network of growers and industry representatives.
"Mike has already gotten off to a great start, his experience in the industry is a valuable asset for his role and Berrien County growers", says Joanne Davidhizar, long-time Educator with MSU Extension. Originally from Missouri, Mike completed his bachelor's degree at Truman State University, where he worked in an entomology lab, a job that he only took to make some extra cash and because he had an "in" as a buddy already worked there. Following graduation, Mike worked at two different labs for the USDA in California and West Virginia. Looking to expand his abilities, Mike moved back to Missouri, thirty minutes from where he grew up, to complete his master's degree at the University of Missouri, he then continued his education at Michigan State University where he received his PhD. Mike continued his involvement within the industry, with roles of salesperson and research and development for different companies. Coming back to his passion of supporting growers and providing education, Mike took the position with MSU Extension.
With various different roles in the industry, Mike's experience will be a valuable asset to the growers, both locally and in the state of Michigan. When asked about what he can bring to his role as an IPM Educator Mike says, "I have had experience with different crops and areas of the United States, I also have interacted with people from all walks of life, I think that this will help me communicate with growers and better understand the challenges they are facing." Putting his experience to use from working in allied industry, as a researcher and from his own experience growing vegetable on a small scale, Mike is excited about becoming invested in Berrien County and building a network for growers.
A career learner, Mike has various different hobbies outside of his interest in agriculture. He enjoys camping, hiking and playing a few rounds of golf. Mike also likes to put his skills to work in the kitchen, creating dishes from various different cuisines. A self-proclaimed "Do-It-Yourselfer", Mike and his wife Amy are currently working on refurbishing the old home that they sought out and purchased in Stevensville, Michigan. They have one child, Katie, who keeps them busy and well-entertained. They enjoy taking family trips and seeking out the interesting spots locally and around the state.
Mike's vast array of knowledge and proficiencies will be an advantage to Berrien County growers as they can look to him to provide them with solid scientific-based information and things that he has learned from his past experiences. Growers are welcome to stop in and visit with Mike at the research station or invite him out to their operations, to share what their needs are and how MSU Extension can assist them.
Welcome Mike to Berrien County!