West central Michigan small fruit update - August 9, 2022
Michigan's blueberry harvest is advancing rapidly with few problems except for those caused by unusually high summer temperatures and limited precipitation.
Blueberry harvest has continued with few problems caused by insect or disease infestations. However, limited precipitation and unusually high summer temperatures are causing some concerns in relation to the fruit size and the expected harvest volume.
For the past two weeks, daily temperatures in west Michigan have remained unusually high, especially in counties at central and southwest Michigan. For the past seven days, the average minimum and maximum daily temperatures have remained unchanged. Average minimum and maximum registered at Ottawa, Allegan and Van Buren counties were 67 and 85 degrees Fahrenheit, respectively. However, there were days when afternoon temperatures reached 95-98 F. In addition, there has been a lack of substantial rains in the region that could mitigate the impact of high temperatures on blueberry fruit quality and volume.
Over the past 15 days, scattered rain showers left no more than 1.25 inches of precipitation in some areas but less than 1 inch in most places. That amount of rain is not enough to supply blueberries with the required amount of water to secure a healthy crop. Plant evapotranspiration under the mentioned hot weather conditions was greater than the amount of water plant roots could pull off from the ground. This is having an impact on the size of the blueberry fruit and on the fruit quality, even with supplemental irrigation (Photos 1 and 2).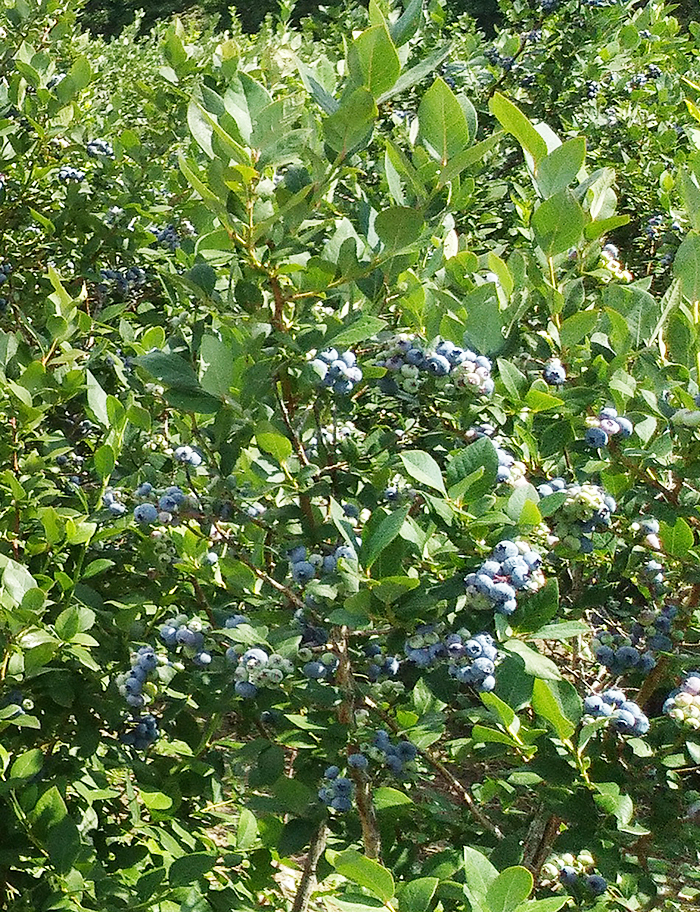 Currently, Duke and Bluecrop harvest is almost finished in Allegan and Van Buren counties. However, some Bluecrop fields still remain unharvested or partially harvested due to lack of labor. At the end, those fields will be mechanically harvested for processing.
Regarding insects and blueberry diseases, no substantial problems have been reported by growers. There are some reports of the presence of Anthracnose fruit rot aggravated by high temperatures and high relative humidity (rH) from rain showers. If you are having problems with fruit rots at harvest, please check the Michigan Fruit Management Guide for fungicides and doses recommendations (Michigan State University Extension Bulletin E-154).
On the issue of spotted wing Drosophila (SWD), so far insect populations have remained under control. The intense summer heat and low relative humidity have contributed to a decrease on the size of SWD populations. That has allowed growers to manage this pest and maintain a good control of its populations. However, be aware that as the season progresses, there will be a buildup of SWD populations that may cause management problems in late season blueberries. For SWD insecticides recommendations, please check the Michigan Fruit Management Guide.