West central Michigan small fruit update – May 11, 2021
The region continues facing below freezing temperatures at the time when most berry crops are more susceptible to spring frost damage.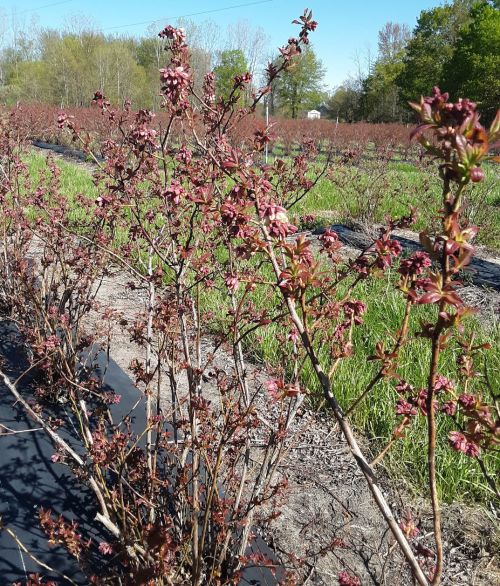 Unseasonal low temperatures continue affecting plant growth and development of berry crops across west central Michigan. After the April 12 and 22 freeze/frost events that affected some of the main fruit crops, including blueberries, during the last seven days, the region has experienced at least two more night with temperatures below freezing (see table below).
Temperatures (degrees Fahrenheit) recorded at Enviroweather stations in west central Michigan on May 11, 2021

Station

1-2 a.m.

2-3 a.m.

3-4 a.m.

4-5 a.m.

5-6 a.m.

6-7 a.m.

7-8 a.m.

Hudsonville

35

34.8

33.4

31

28.9

28.9

32.9

West Olive

35.9

34.9

33.3

31.2

30.3

29.8

34

Allegan

32.4

31.3

30.3

29.7

29

28.9

33

Fennville

37.8

36.4

35.7

33.3

33.2

34.1

36.6

Grand Junction

30.8

29.8

28.9

28

27.4

27.1

31.7
On May 11, 2021, nightly temperatures dropped below freezing for several hours at all three major small fruit growing areas starting around 2 a.m. and lasting until 7 a.m. Grand Junction, Michigan, was the exception, with below freezing temperatures starting at midnight and lasting until 8 a.m.
Currently, we have no data to estimate the impact of these low temperatures in all blueberry varieties. However, at least in counties north of Allegan County, we expect a minimal effect on flower bud development because most growers with fields with Bluecrop and other early season varieties used irrigation systems to prevent spring frost damage. Mid- and late season varieties, like Liberty, Elliott and Aurora, were in early to late pink stages. At those stages, flower buds can tolerate temperatures as low as 24 F (see blueberry critical temperatures).
At this time, our recommendation is to prevent disease infections, especially mummy berry, which may infect shoots and flower buds damaged by frost. For more information on mummy berry and fungicides for disease management, consult the Michigan State University Extension Bulletin E-2846, "Michigan Blueberry Facts: Mummy Berry." Also, check the MSU Extension Bulletin E-154, "2021 Michigan Fruit Management Guide," for the most recent fungicide treatment recommendations.
Finally, we would like to remind our growers about attending the free 2021 Pre-bloom Blueberry Webinar on May 14 from 1 to 5 p.m. Growers participating in this webinar will be awarded three RUP credits for the renewal of the Private Pesticide Applicator license.
Agenda
2020 Blueberry IPM evaluation: Results and recommendations for 2021 crop season.
Disease management: Twig blights and Anthracnose fruit rot
Use of Enviroweather: Models available for blueberry IPM, fruit worms (CBFW and CFW, Blueberry Stem Gall Wasp)
Insect Pest Update: Insecticides' update
Pollinators, pesticide applications, and the label.
Blueberry irrigation