West Central Michigan field crop regional report – May 1, 2014
Nearly all growers are still waiting for drier and warmer soils to plant spring crops.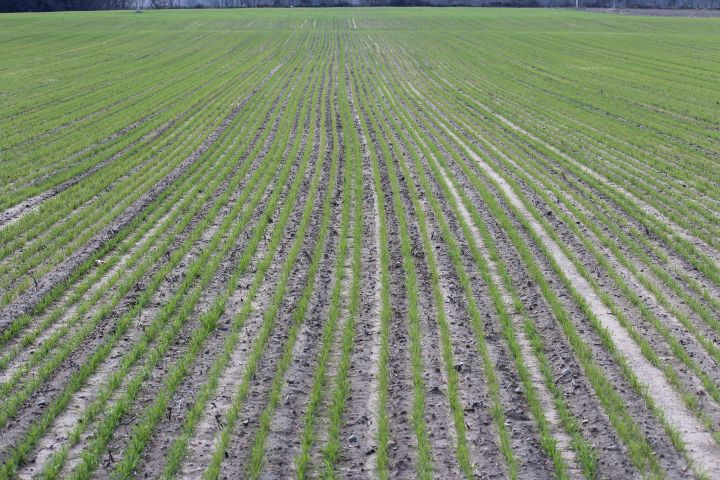 Weather
At the Montcalm Research Farm in Entrican, Michigan, 0.8 inch of rain was observed this week. Air temperatures have reached highs in the mid-50s most days with nighttime lows in the 30s. Low soil temperatures are in the mid- to lower 40s. High soil temperatures are reaching the low 50s.
Soil conditions remain wet across much of the region with a few growers able to work the sandy soils. Primary activities have been fertilizer spreading and other prep work while waiting for soils to warm up and dry out.
Seasonal weight restrictions on county roads were lifted for most of the area on Monday, April 28, 2014.
Crops
Wheat is being top-dressed with nitrogen and fields are being evaluated. Applicators should be cautious when making applications to fields as some fields do contain significant areas of soil erosion that can present a serious safety hazard to equipment and operators. Winter annuals such as chickweed are beginning to grow. In general, stand losses in the area are much less severe than in many other areas of the state.
A few new seedings of alfalfa have been planted with many more yet to go in this spring. Existing alfalfa stands should be evaluated for stand loss.
No significant corn or soybean planting has occurred. A small fraction of the 2013 corn crop was left in the field over the winter in much of the West Central region. Harvest of this remaining crop is closer to completion but a few fields remain to be harvested due to wet soil conditions.
No significant insect issues have been observed as emergence or arrival of many has been delayed.
Other Michigan State University Extension field crop regional reports from this week:
Did you find this article useful?
---
You Might Also Be Interested In