Wet and Wild Leadership Camp: Teens gain leadership and science skills
Seventh and eighth graders that participated in "Wet and Wild Leadership Camp" gained skills in leadership and science.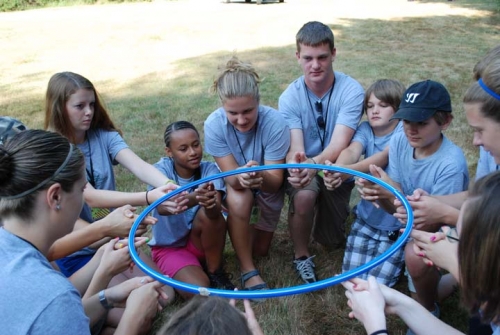 Seventh and eighth graders that participated in the new "Wet and Wild Leadership Camp" held at the Michigan State University (MSU) W.K. Kellogg Biological Station (KBS) Kellogg Bird Sanctuary gained skills in leadership and science. MSU Extension educators partnered with the KBS Environmental Education Coordinator for a successful event.
This first-time summer camp event proved to be a positive experience according to collected evaluation responses. The sanctuary is a beautiful place to explore nature and it is also part of a vibrant research community. The summer science campers were able to conduct experiments and utilize the expertise and instruments available to students and faculty at the biological station.
The theme, water quality and conservation, aimed at allowing campers to engage in:
Hands-on science exploration, from experiments to visits with KBS researchers
Field studies to learn about local watersheds, collecting and analyzing samples, surveying insects and birds
Leadership and team building activities
Global leadership
Working as a team to form hypotheses about land development and what makes a healthy watershed
Teens also enjoyed an overnights stay at the sanctuary and swimming in Gull Lake, fishing, canoeing along with other camp favorites.
"An unexpected outcome during the week of leadership camp was that it not only benefitted the participating campers, but all the staff and volunteers involved as well," said Kara Haas, Kellogg Bird Sanctuary environmental education coordinator. "The senior counselors that have been involved with camp for the past three years said that they learned a lot from the experience, and it helped to make them even better leaders for the following three weeks of camp."
Campers completed an evaluation that included questions about their environmental knowledge, their interest in the environment, whether they believed they could influence the solution of an environmental issue, and their interest in a career in natural resources. The questions were asked in regards to their knowledge and feelings before and after camp. For all questions, the campers rated their knowledge and feelings to have increased after a week at camp. Campers gained natural history knowledge and felt more empowered to have a positive effect on environmental problems facing our world.
The Leadership Camp proved to be an excellent training for teens and provided them with the tools and skills to become Jr. Camp Counselors (9th – 12th graders) in the future.
The camp was supported by a generous grant from Barry Community Foundation and private donations to the sanctuary's Camp Scholarship Fund.