Wet spring conditions create challenging turfgrass conditions
Warm temperatures and excessive rainfall have turfgrass growth surging.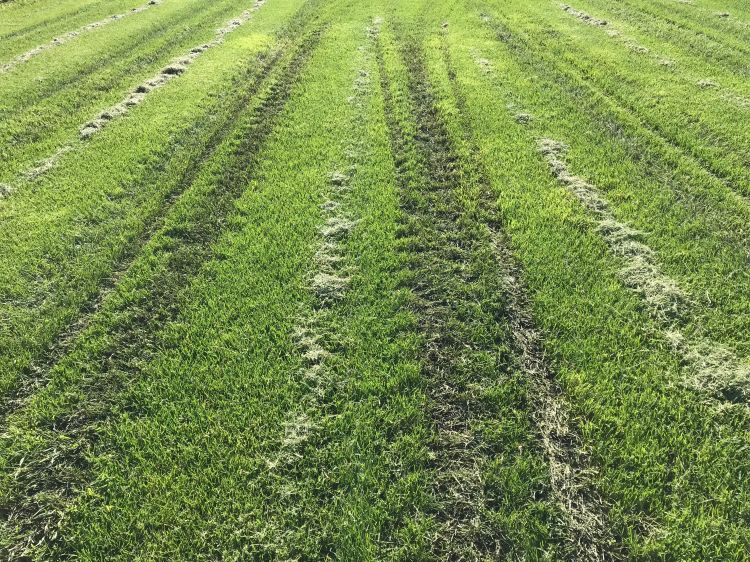 Excessive rainfall throughout May has created challenging conditions for managing turfgrass, whether it's golf courses, athletic fields or your own patch of green in your backyard. In addition to flooding and saturated soils, the rate of turf growth has made keeping up with mowing nearly impossible.
My best estimates for keeping up with the rule of removing only one-third of top-growth at any one mowing would probably have you mowing every three days. If you're mowing only once a week, then you're most likely seeing piles of clippings lying on the turf. This is the one time when I'd tell you to either collect these clippings or disperse them with a leaf blower so that they're not smothering the turf.
Another problem with mowing this spring has been mowing when the soils are saturated, which can create ruts and compact the soil. If standing water is present, of course it's best to avoid mowing, especially with large mowers, but it's also almost impossible to think that you didn't mow through some wet areas at some time this spring.
Turf in poorly draining areas where soils are saturated may be looking a little brownish or yellow. There are several reasons for the discoloration, but one of the main reasons is impairment of the root system. It doesn't take long once the soil is saturated for soil oxygen levels to decline and root hairs to begin to die. As the turf's root system becomes impaired, nutrient extraction and water uptake will be limited and the turf won't look emerald green anymore.
One simple practice that can help the turf in these areas, but will probably not completely eliminate the problem, is core aeration. Of course, before aerifying these areas you need to let them dry out. Core aeration will help get air and, most importantly, oxygen to the roots and it may also help water infiltrate quicker into the soil, thereby preventing puddle formation.
Golf courses solid tine aerate putting greens to provide oxygen to struggling root systems during the summer. Solid tine aeration is similar to traditional hollow tine aeration with the exception being that a core of turf and soil is not removed. Typically, the "best" time of year to core aerate is in autumn because it is more likely the soil will not be too wet and it also gives the turf plenty of time to recover from this rather invasive procedure during the cooler temperatures of autumn. Core aeration will increase oxygen in the soil, facilitate rooting, reduce soil compaction and improve water infiltration.
Disease activity
With temperatures forecast in the 80s, it's also likely we're going to see disease activity ramp up in the next week. Joseph Vargas, Michigan State University professor, has identified melting out disease occurring in Kentucky bluegrass, and if you haven't seen dollar spot already, you will most likely see it shortly.
The Smith-Kerns Dollar Spot Model is now available at GDD Tracker. All of the details of the model can be found at Smith-Kerns Dollar Spot Model. In brief, the model uses a five-day moving average of daily relative humidity and daily average air temperature to create a probability that dollar spot will occur on a given day. The model is not designed to tell professional turf managers when to spray for dollar spot, but rather it shows the probability of dollar spot occurring. As you can see, much of Lower Michigan now has a high probability for dollar spot occurring.