Wet weather delays wheat management practices
While wheat growers have repeatedly been sidelined by wet conditions, wheat continues to develop. This could spell difficulty for growers wanting to apply crop inputs on a timely basis.
Wet weather conditions have seriously hampered growers in conducting field operations, including the timely applications of various crop inputs to wheat. Despite the rainfall levels and cool spring, wheat continues to develop. Currently in Central Michigan (as of May 16, 2014), the growth stage of wheat in any particular field may be at first joint, growth stage 6; or second joint, growth stage 7. In a few days, the flag could start to emerge, signifying growth stage 8.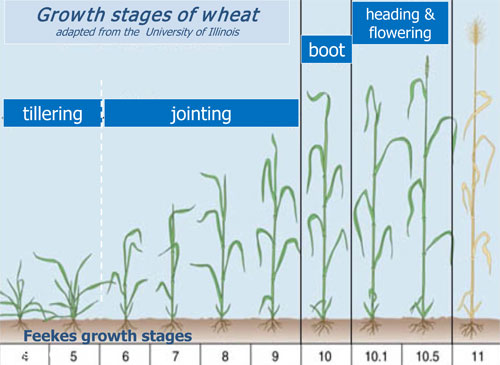 Fertilizer nitrogen (N) is one input that needs to be applied as soon as there is a weather window. In many cases this might represent a grower's second application of the nutrient. For wheat that has not received any N to date, the timing is becoming quite critical and by next week one would expect some yield reduction due to the delay. If for some reason the application is delayed until flag leaf, the total N rate should probably be reduced and streamer nozzles should be used rather than broadcast nozzles to minimize leaf injury.
Herbicides may be particularly important this season as thin wheat stands will likely find more competition from weeds. However, wheat has developed to the stage where some products should no longer be used. For example, 2,4-D and dicamba products, as well as PowerFlex, cannot be used once the first joint is pushed above ground, or growth stage 6. In the case of Huskie and Affinity BroadSpec, their label only allows use until the tip of the flag leave appears, or growth stage 8. Read "Early rapid wheat growth may change weed management plans" for more information on herbicides.
Fungicide applications for foliar diseases may still be timely, assuming better field conditions develop. Growers are encouraged to scout their wheat as persistent wet conditions can be favorable for fungal pathogens. However, if applications are not possible by the boot stage and leaves remain free of disease, growers might consider postponing fungicide use until an early flower application of Prosaro or Caramba.
Palisade growth regulator is a relatively new product that some growers intend to use to help prevent plant lodging. Michigan State University Extension recommends the product be used at the full-tillering or first joint stage at about 10 ounces per acre. Where weather doesn't allow an early application – Palisade application can be made as late as flag leaf emergence or growth stage 8 – growers might consider increasing the rate to about 12 ounces per acre if lodging is likely.
Additional information