What do we know from the Michigan Lake Assessment?
Fifty Michigan inland lakes were sampled as part of a national study. What can lakefront property owners and local governments learn from the findings?
The U.S. Environmental Protection Agency (EPA) coordinates a nationwide study of inland lakes every five years. As a state partner, the Michigan Department of Environmental Quality conducts a comprehensive study in collaboration with the EPA. As one might expect, it takes a while to process, validate and publish all of the findings. So even though data collection for the 2012 assessment was recently completed, Michigan lakefront property owners and local governments can learn from 2007 findings.
When looking at the summary of these findings, it's important to remember that sampled lakes were selected at random to represent the condition of the larger population of lakes across the nation and each ecoregion, such as the Upper Midwest (UMW). Michigan received 29 lakes as part of the original draw of lakes for the national survey, and then added 21 lakes to the survey design for the state-scale assessment.
Some of the most interesting findings for Michigan lakefront property owners, lake associations and local governments looking to manage their lakes are the "stressors of lake condition." According to the report, in natural environments such as lake ecosystems, a stressor can be anything chemical, biological or physical that has the potential to alter an organism's ability to thrive. Drought or rapid draw-down, contaminants (e.g., metals, pesticides, excessive nutrients), and human activities can be stressors.
Ten stressors were characterized using data from the Michigan Lake Assessment. Figure 1 illustrates the percent of sampled lakes in poor, fair and good condition for each of these ten stressors (listed along the left edge of the figure).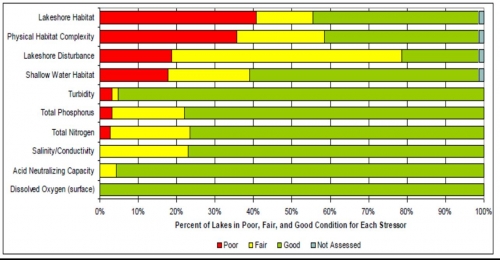 The top three stressors for Michigan inland lakes relate to shoreline development patterns and are referred to as physical stressors. Physical habitat condition was assessed based on observations of four indicators: (1) lakeshore habitat; (2) shallow water habitat; (3) physical habitat complexity; and (4) human disturbance, based on extent and intensity of human activity. According to the report, physical impacts to lakeshore and shallow water habitats can have a profound effect on lake biological health and, in comparison to the nation and the UMW ecoregion, these stressors are higher in Michigan lakes.
So, what can lakefront property owners, lake associations and local governments do with these findings? Support setbacks and overlay zones that preserve any natural shoreline and wetland areas that remain on your lake. If your lake's shoreline is fully developed, consider a natural shoreline demonstration area public or private frontage and educate your neighbors on the benefits of natural shorelines to lake health. Michigan State University Extension is a partner on the Michigan Natural Shoreline Partnership which is a great source of information and education.