Where are you located on the transect?
The "transect" is a land-use term that describes a location based on its relative density, natural and/or built form characteristics.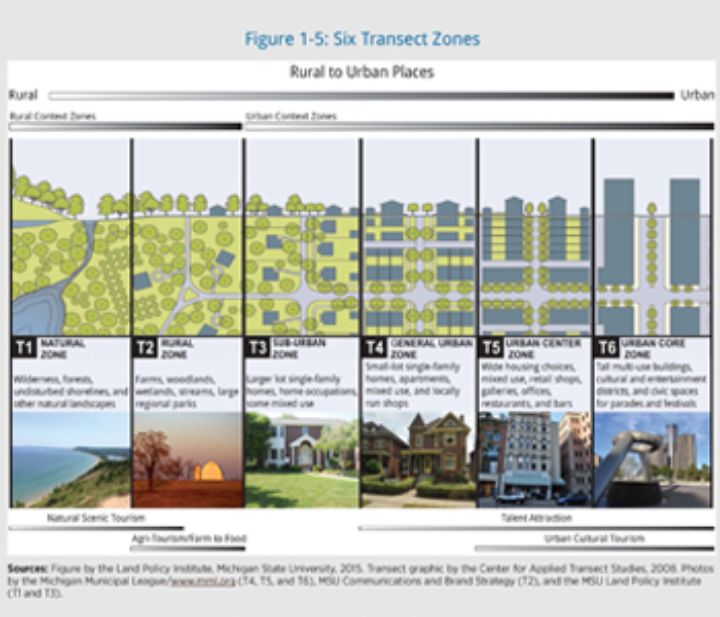 The "transect" is a land-use term that describes a location based on its relative density, natural and/or built form characteristics. All places fall into one of six transect zones, which extend from the most natural place (T1), such as Sleeping Bear Dunes National Lakeshore, to the most developed urban place (T6) like the property surrounding Campus Martius Park in downtown Detroit. Of course, there are transition zones between, but a quick look at the transect zones reveals common characteristics:
Natural Environment (T1): Wilderness, forests, undisturbed shorelines, water bodies;
Rural Places (T2): Working lands, agriculture lands;
Sub-Urban Places (T3): Most new development post-WWII, shopping malls, strip commercial;
Traditional Neighborhood Places (T4): Residential neighborhoods in small towns, big cities and first-tier suburbs;
Downtown Places (T5): Traditional centers in large and small towns of retail, office and other business activity; main streets, civic spaces like town squares; and
Urban Core (T6): Tall multi-use buildings, cultural and entertainment districts, civic spaces in the center of the largest, most dense cities.
A major roadway is often the backbone of the transect, running through each of the zones. Viewed collectively from T1 to T6, these six transect zones represent the wide array of growth and development throughout Michigan.
Why is the transect important to placemaking? Where a community is located on the transect determines the types of projects and activities that are appropriate in that zone. Much like a barn isn't appropriate in a city center or a high-rise building isn't appropriate in a rural setting, placemaking projects and activities need to complement their location on the transect.
A common misconception is that placemaking only applies to larger communities with high-density downtowns and active streetscapes. At its core, the goal of placemaking is to create quality places where people want to live, work, play, shop, learn and visit. In this sense, placemaking can be utilized in municipalities of any size (T1 to T6). Even in smaller, more rural villages and towns, there are elements of placemaking that can be incorporated to help them stand out in their region as a quality place.
The Land Policy Institute recently published Placemaking as an Economic Development Tool. In Chapter 9 of this guidebook, each transect is examined in detail to highlight examples of the types of placemaking projects and activities that could occur in each zone. This helps provide further context on how placemaking may apply in all communities.
Most regions contain a variety of transect zones within them. The more quality places in each zone in a region, the better able it will be to compete globally for talented workers, economic development and visitors. Placemaking strategies that enhance use and access, where appropriate, in the more natural, agricultural transect zones of T1 and T2 help them serve as key assets for the region. In the T3 and T4 zones (sub-urban and urban neighborhood zones), placemaking activities and projects that provide for connectivity between neighborhoods and rehabilitation of existing buildings can provide for more housing types and mixed-use development and create social opportunities, which will likely result in quality places. These same strategies, but on a larger scale, can apply to zones T5 and T6. And, of course, placemaking projects that connect all of the zones are key as well.
Throughout the Placemaking Guidebook placemaking across the transect is discussed in much greater detail. Chapter 5 also examines neighborhoods in T3-T6 zones, and how their location on the transect impacts placemaking opportunities. For a general overview of the transect, and how the zones are divided, see Chapter 1. For more about the connectivity of corridors along the transect, see Chapter 12.
To learn more, order your free copy today at: Placemaking Guidebook.
Did you find this article useful?
---