Dealing with storm-damaged trees
Deciding which trees to save after a storm often requires careful inspection. When in doubt, always consult with a professional arborist before working around damaged trees.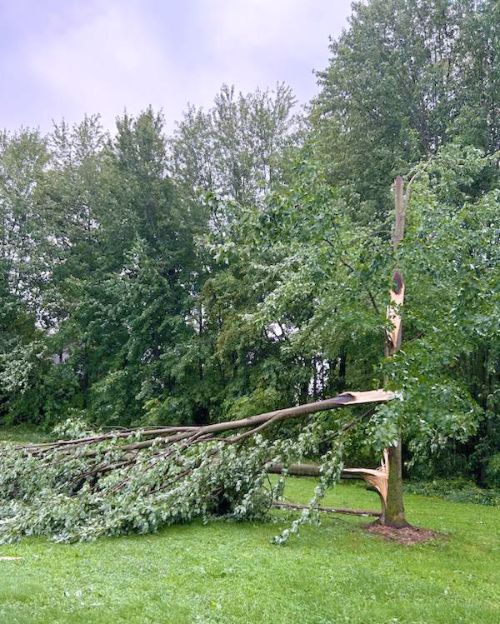 A powerful line of storms moved through Michigan last night, Aug. 24, 2023, bringing winds of over 60 mph and spawning several apparent tornadoes. The high winds and heavy rains led to widespread tree damage and power outages. Dealing with a yard full of damaged trees can be an overwhelming and sickening feeling for homeowners. In some cases, the decision of what to do with a damaged tree is obvious, but often the decision of whether to try to keep a tree can be difficult. If you are a homeowner or someone who advises homeowners, there are several good resources to assist with the process of assessing storm damage to trees after a storm.
The National Arbor Day Foundation has a storm recovery website that provides practical tips for dealing with storm-damaged trees. The website also includes resources for media including press releases and images that are useful for educating the public on steps to take during storm recovery.
The Minnesota Department of Natural Resources also has useful storm recovery information on their website.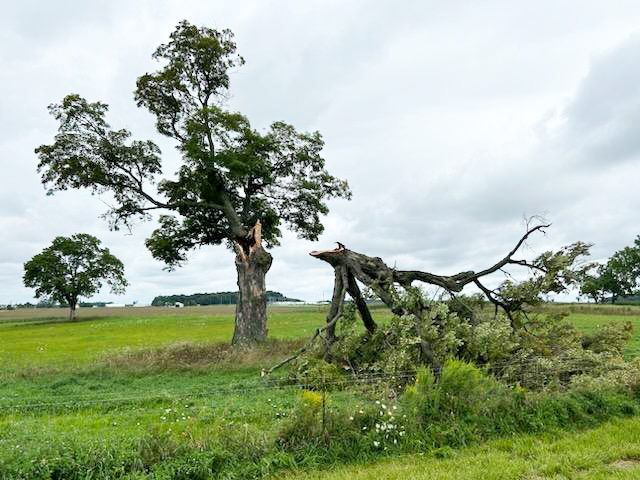 Michigan State University Extension advises homeowners and landscapers with damaged trees to keep the following points in mind.
Safety first! Stay at least 25 feet away from any downed power lines and contact local authorities to report downed lines. Downed trees and large limbs are often unstable and can move or pivot unexpectedly. Look for hanging, broken limbs that can drop from overhead. If you are unsure if you can work around a tree safely or if a tree is near utilities, structures, cars or people, contact a professional arborist to ensure a safe removal. Professional arborists are specifically trained in tree inspection and removal. The International Society of Arboriculture has a Find an Arborist feature on its website.
Beware of "doorknockers." Homeowners in storm-damaged areas may be approached by individuals offering to remove downed or damaged trees. Unlike professional arborists, these doorknockers do not have the specific training and expertise to work around dangerous trees or power lines and may not be insured.
Tree damage often reflects pre-exiting tree problems. Limbs or trees that come down in thunderstorms often have underlying defects that caused them to fail. Some examples include fungal decay, previous damage or poor root structure. If a tree loses a limb during a storm because of decay, it's possible other parts of the tree may have similar problems.
Does the damage make the tree a future hazard? Trees that lose major limbs may become unstable and may become prone to fail in the next storm.
Is the tree near any "targets?" In assessing hazardous trees, arborists look at targets—what will the tree or limb hit if it falls? Damaged trees located in native woodlots or windbreaks are likely to be less of a concern than a tree that overhangs a house or carport.
What is the overall condition of the tree? The National Arbor Day Foundation has an online tree recovery illustrated guide that can help homeowners perform an initial assessment of their damaged trees.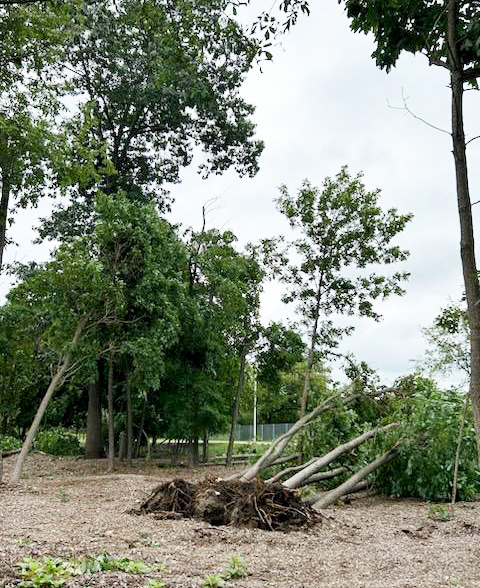 More information on storm-damaged trees