Why you should consider shopping at a farmers market
Consumers and communities benefit from farmers market transactions.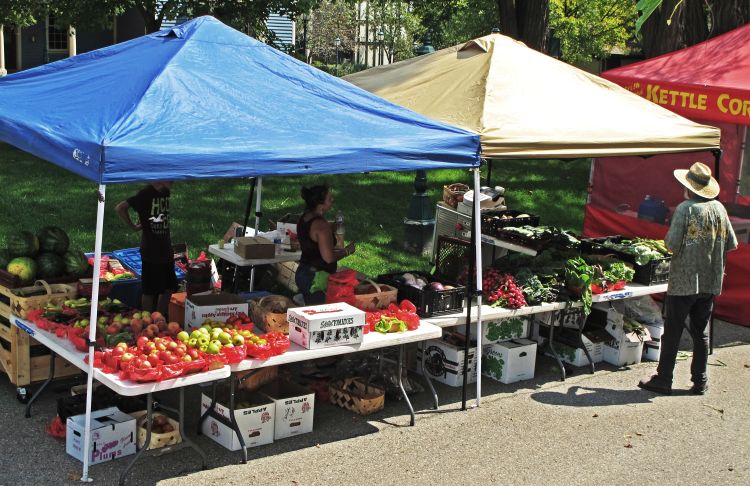 There are many benefits of buying locally-produced foods at a farmers market. These benefits fall under categories such as nutrition, economics and community. With the farmers markets in full swing for the season, one should be aware of these benefits and take advantage of everything the farmers market has to offer.
Nutrition
Freshly picked produce is guaranteed to be in season, ensuring the best flavor and nutritional value possible. Research, such as that conducted by the University of California, Davis, suggests that overripe produce may lose some of its nutritional value, leading to a decrease of micronutrients.
Fresh fruits and vegetables contain compounds, such as antioxidants, important to human health. Antioxidants are currently being studied for their potential role in cancer or other disease prevention.
The large variety of food available at the farmers market makes it easy to meet the government's recommendations for building a healthy eating style. It also makes it easy to try new foods and make eating a healthier diet more fun.
Economics
Buying from local farmers helps them compete in the food marketplace and stay in business. Buying directly from the farmer cuts out the middleman and increases profitability. Helping family farms stay in business is important to agriculture because, according to the U.S. Department of Agriculture (USDA) Economic Research Service (ERS), family farms still account for a majority of our nation's farms.
The most recent estimate by the USDA reports that local food sales totaled $6.1 billion in 2012. This money is being recirculated through local economies, benefitting the local community.
SNAP and WIC benefits are now accepted at many farmers markets. Not only does this benefit customers using these payment methods, but bonus incentives are being offered at select markets around the country to further improve the purchasing power of these customers and sales of producers. Examples of these are Project FRESH and Double Up Food Bucks.
Community
Supporting local farmers and the local economy builds a stronger community, both in finances and friendship. Shopping with your family and friends is easy and fun at the farmer's market, and you can get to know the farmers and producers themselves.
Michigan State University Extension published an article called Lessons learned from shopping at farm market stands and farmers markets, suggesting farmers market customers have conversations with the farmer or stand attendant:
"These people are often knowledgeable about the food and how to prepare the food if it is something new to you. They are often happy to provide additional information about how it was grown and picked and how to determine ripeness."
This makes the shopping experience more personable than shopping at a retail establishment and can make you feel at home at the farmers market. Talking with vendors at the market can give you a better idea of where your food comes from and how it is grown. This can help develop an appreciation and respect for how food is produced and the farmers who produce it.
Visit the Michigan Farmers Market Association to find a farmers market near you. There are a variety of different foods to choose from, making the market something everyone can enjoy. After your stop at the farmers market, be sure to visit Michigan Fresh for tips on storage and recipes!