Winter safety tips for kids
Tips to keep your children safe during winter play and outdoor activities.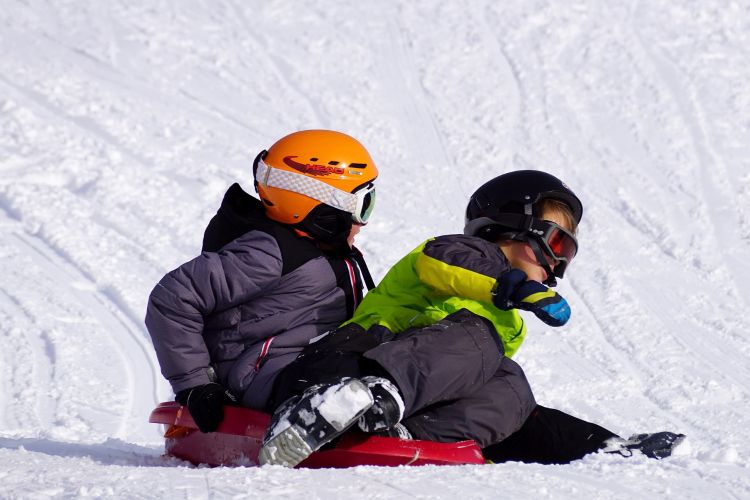 For many children, a snow day means time outside. Sledding, building snowmen, making forts and enjoying the freshly fallen snow. However, it is important for parents to exercise caution. Low temperatures can lead to dangerous conditions, and snow play can cause injuries. Michigan State University Extension offers the following tips to keep your children safe in the ice and snow.
Keep an eye on the thermometer. Winter winds can drive temperatures dangerously far below zero. Pay attention to both the air temperature and the wind-chill. While there is not a hard and fast rule about what temperature is too low, most Michigan schools use 0 degrees Fahrenheit as the guide for when to curtail outdoor recess and -20 degrees Fahrenheit, actual temperature or wind-chill, will cause most schools to close.
Layer up. To prevent frostbite, dress children in several layers and be sure their head, neck and hands are covered. Dress infants and toddlers in one more layer of clothing than older children and adults.
Check in on children. Tell children to come inside when they are cold and wet. Children will often want to keep playing outside when they really should come in. Keep checking on them during outdoor play and bring them in when you think they're done, not when they say they are.
Play safely. Winter play is fun, and children should be outside when they can in the snow. However, it's important to use caution and be aware of dangers. Children should wear helmets when sledding, skiing, snowboarding and ice skating. It is never safe to sled in the street, even when roads are closed. Do not allow children to dig into deep snow banks or to build snow forts due to risk of collapse. Avoid scarves and strings on hooded sweatshirts that can pose a risk of strangulation. Teach children how to play safely, and then have fun!
Use caution around fire. Fire places, wood burning stoves and outdoor fire pits are cozy and warm, but can pose a risk to children. Always keep a screen around an open flame. Never use gasoline to light an indoor fireplace. Do not close your damper when ashes are hot. If you've lost power, make sure your alternative heating sources are safe for use indoors and that you have working fire and carbon monoxide detectors. Regularly check and replace batteries in both fire and carbon monoxide detectors.
Know the signs of frostbite and hypothermia. Frostbite and hypothermia, while both involving cold temperatures, are different. Frostbite is the localized freezing of extremities, where hypothermia occurs when the body temperature is dangerously low. Frostbitten skin, typically on the fingers, ears, nose and toes, will be pale, gray and can become blistered. If you think your child has frostbite, bring them indoors and put the affected area in warm (not hot) water. Signs of hypothermia include shivering, numbness, a glassy eyed stare and unconsciousness. If you think your child has hypothermia, call 911 and gently move them to a warm location. See the MSU Extension article, "Protect yourself from hypothermia and frostbite while outside this winter," to learn more about the difference between frostbite and hypothermia, including first aid tips.
Know when to stay in. While it is great to get children outside to play, there is a time when the risks outweigh the benefits. As the polar vortex plunges deep into Michigan and wind-chills dive to -30 degrees Fahrenheit or more, frostbite can begin to set in in less than 15 minutes. Refer to the National Weather Service Wind-chill Chart for a good idea of how quickly cold weather can become hazardous. The elderly and young children are at greater risk. If you must venture out, take a fully stocked cold weather emergency kit with you that includes winter gear for everyone in the car, blankets for each person in the car, hand warmers, water, non-perishable food, road flares, windshield scraper, flashlights, jumper cables and more. Download a printable check list of what to pack in an emergency kit and how to prepare your car for cold weather.
With some precaution and preparation, winter outdoor play can be a lot of fun and provide much needed exercise for cooped up children on most snowy days. When the polar vortex arrives and it is too cold for school or outdoor play, check out these tips for indoor activities to do with your children from MSU Extension. Stay safe and have fun!