Witches and werewolves know the elements of great neighborhood form
Each Halloween, the scariest of ghouls and goblins invade the streets of every town. Watch where they stalk, for those neighborhoods crawling with the most monsters will demonstrate the best characteristics of traditional neighborhood design.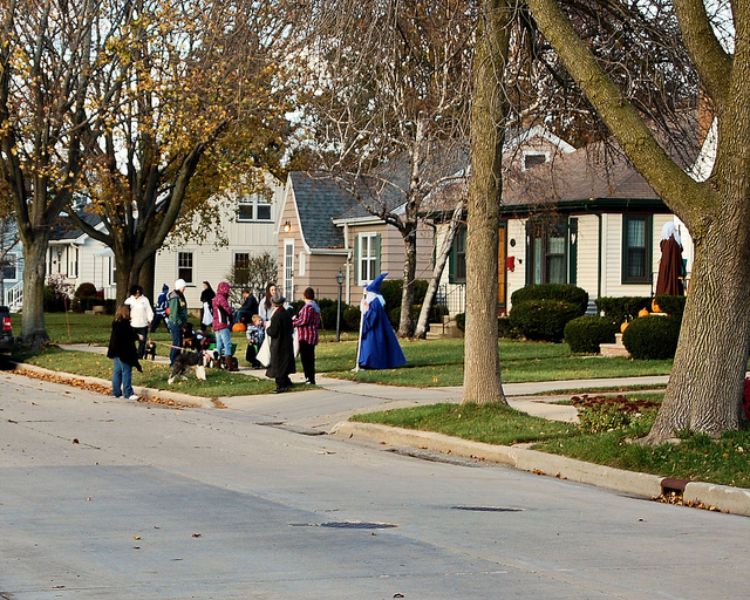 The elements of traditional neighborhood design are quite basic; the youngest of bipeds can figure out what makes a great walkable neighborhood. Perhaps the greatest example of this walkability test comes every fall on October 31st – Halloween. Annually, in every town across the nation, youth set out for the neighborhoods that promise the greatest return for the footsteps invested. These young 'urbanists-at-heart' know a few key characteristics of really great neighborhoods (for collecting the most candy):
Density: The best neighborhoods (for trick-or-treating) have densities where lot sizes are around 7,000 square feet or less. Lot sizes like this create neighborhood densities that allow residents (and trick-or-treaters) to walk easily to nearby destinations such as neighbors' houses, parks and retail areas.
Human-Scale: Neighborhoods that are appropriately human-scaled have a regular grid pattern of streets and blocks. This allows for streets that are relatively narrow and easily crossed at intersections (or in zigzag fashion from one lit porch to the opposite). A human-scaled grid of streets and blocks also results in streets with lower traffic volumes (which are elevated on Halloween when the kids from outlying areas beg their parents to drive them into town). On-street parking and street trees add to the human scale (and offer ample opportunity to jump out to scare your friends).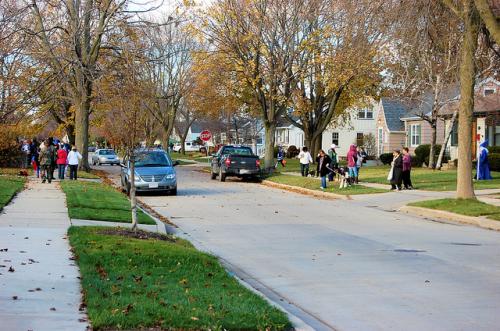 Walkable: In addition to the human-scale elements that contribute to great traditional (trick-or-treating) neighborhoods, infrastructure that supports walkability is critical. At the most basic level, this means sidewalks must be present and must create a complete network throughout the neighborhood. Neighborhoods where sidewalks are incomplete and end in a front lawn or woodlot are seldom used and fail to create the network of connectivity that makes a walkable neighborhood (for bagging the most loot).
Safe: Of course, part of being safe is having adequate lighting and eliminating blight. However, what really sorts neighborhoods out along the safety continuum is the degree to which there are "eyes on the street". Traditional neighborhoods have houses with front porches and picture windows that front the street, instead of garages being the dominant architectural feature "greeting" the street. When residents can see the street from inside their homes there is a deterrent to crime literally built into the design of the neighborhood (plus, little ghosts and vampires can see if someone is home and not waste time walking past the garage to find a dark front door).
Connected: Great walkable neighborhoods are not just walkable themselves; they are connected to other walkable areas of the community, including other similar neighborhoods and the central business district and/or other retail and office nodes. Besides allowing residents to walk or bike to/from work and perform basic errands, zombies and princesses find connected neighborhoods convenient for running from one concentration of candy bowls to another.
So, this Halloween, after reading this article, when walking with your young 'urbanist-at-heart' (or driving them in to trick-or-treat), you will not be able to stop yourself from thinking about the neighborhood characteristics of form that make a really great walkable neighborhood (to bag the most candy). Happy Halloween from the Michigan State University Extension land use educators!