Youth for Growth, Transforming Economies through Agriculture
A Report by Felix Kwame Yeboah, Principal Author (FSP C4a), sponsored by the Chicago Council for Global Affairs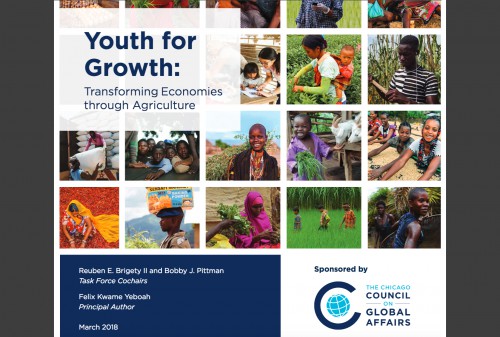 Youth for Growth TRANSFORMING ECONOMIES THROUGH AGRICULTURE,
March 2018
Reuben E. Brigety II and Bobby J. Pittman, Task Force Cochairs
Felix Kwame Yeboah, Principal Author (FSP C4a)
Sponsored by the Chicago Council for Global Affairs
KEY MESSAGES
Policy recommendations:

Commit to a long-term, global food and nutrition strategy
Revitalize and recommit to robust support for public-sector agricultural research and development
Invest in the human capital development necessary to advance rural youth and to drive agricultural transformation
Align programs that foster an enabling environment for business in strategic countrie

Agriculture is the largest employer of the youth labor force.
Agriculture productivity will significantly determine the rate of job growth in the off-farm economy.
Global population growth is the fastest in regions where threats of food insecurity are the greatest.
Youth livelihood in developing economies will largely depend on successful economic transformation of which agriculture is key driver. Successful agricultural and economic transformation will also require strong youth engagement.