Youth-based community gardens offer much more than gardening experiences
Gardening offers the opportunity for childhood discovery, learning and experience through doing.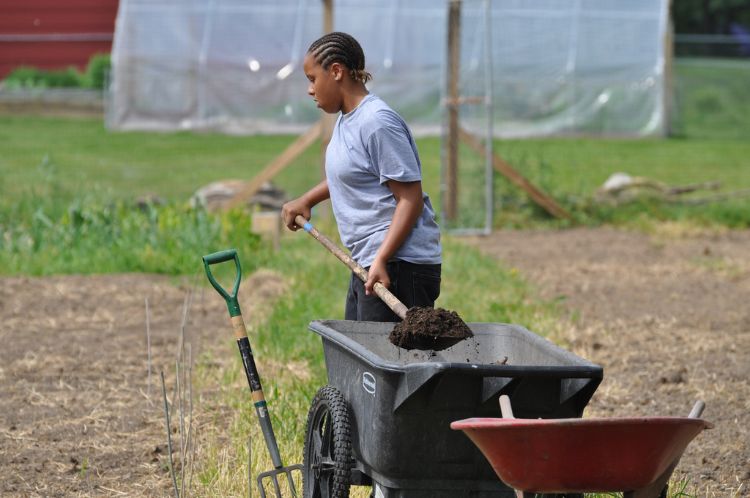 Gardening projects, whether for youth or adults, depend on many factors beyond the ability to put a seed in the soil. Community gardens for children's projects also demand organization, planning, problem-solving, science and math skills. Later, if they choose to sell their produce they will need financial management skills, communication skills, business skills, and marketing skills. In most cases adult participants share their knowledge and train each other, but youth need to be taught these skills or be guided in application of their skills as they go along by other knowledgeable people.
Along with knowledge and skills, youth also gain emotional intelligence such as compassion and empathy through caring for living things. They gain additional physical and mental health from exercise and being surrounded by the beauty of nature, they also experience increased dexterity through the use of tools. They will also learn about safe handling of garden tools and common household and garden chemicals.
Gardeners often keep records or a garden journal. This is important because maintaining daily records of the weather, for example, and accumulated rain fall can help them to determine if additional watering is necessary and how much to apply. Using a record to track growing degree days can provide useful information to help estimate potential problems or calculate time to yield. Monitoring and recording variety performance can influence future decision making for the next season. The practice of keeping a garden journal helps a young person develop the habit of entering data regularly and consistently. This helps the youth to develop self-discipline through a systematic approach to recordkeeping and scientific observation.
As children participate in community garden activities or volunteer in their school garden, they are contributing to their development in many ways that will benefit them now and later. They are also building the skills that can prepare them for exciting and rewarding careers in their future. Some careers that interest young adults who were interested in gardening as youth are: entomology; environmental science; farming; horticulture sciences, production, and marketing; agronomy; landscape architecture; plant breeding and genetics; plant science; recreation, natural resources, sales and marketing (of agricultural products), soil and crop management; turf management; and turf science. Helping our young people to discover what they want to do when they grow up only happens successfully if they are exposed to many different experiences, challenges and opportunities when they are young. They might even grow up to become an Extension educator.
For more information about community food systems and food hubs contact Michigan State University Extension Community Food System educators who are working across Michigan to provide community food systems educational programming and assistance.