Youth voices on Great Lakes, marine sanctuaries and more shared through film
Thunder Bay International Film Festival explores Great Lakes issues, ocean exploration, maritime heritage and more.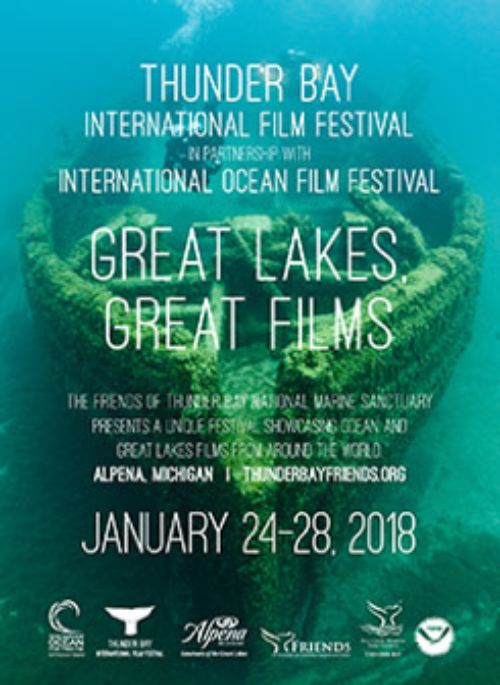 Film lovers, filmmakers, proud parents and students will be flocking to Alpena, Mich., this next week for the sixth annual Thunder Bay International Film Festival (TBIFF). The festival takes place Wednesday through Sunday (Jan. 24-28, 2018), at NOAA's Great Lakes Maritime Heritage Center and is hosted by Friends of Thunder Bay National Marine Sanctuary in partnership with the International Ocean Film Festival. Films will be featured from around the world exploring ocean and Great Lakes issues, and much more. Student films will be featured during the TBIFF's 3rd Annual Student Film Competition.
The Northeast Michigan Great Lakes Stewardship Initiative network and partnership, the Friends of Thunder Bay National Marine Sanctuary, Michigan Sea Grant, and others partner sponsor this student competition to inspire young filmmakers – and to promote deeper understanding of Great Lakes and ocean issues. The 2018 stewardship theme and film challenge for students was #SanctuariesAre, and 9 student films (grades K-12) explore our National Marine Sanctuaries – and other creative interpretations of sanctuaries - through the lens of these talented youth. Student films will be shown 3 p.m.-5 p.m. Saturday, followed a filmmakers' panel discussion. This portion of the festival is free and open to the public.
The entire TBIFF will screen nearly fifty films, ranging in length from one minute to feature-length at the NOAA Great Lakes Maritime Heritage Center. This is an opportunity for many to view films from the International Ocean Film Festival, a long-running, global festival of ocean-themed films, but which are largely unavailable to the general public. Films also will be shown at the Rogers City Theatre in Rogers City, Mich. (Jan. 24) and the Alcona County Library in Harrisville, Mich. (Jan. 25).
One festival film featured this year is "Immiscible: The Fight Over Line 5," a film produced by Dan Stephens, a Michigan State
University alumni. Stephens studied documentary production at MSU, but has an interest in natural resources leadership. In middle and high school, Dan was both a past camper and counselor at the statewide 4-H Great Lakes and Natural Resources Camp sponsored by Michigan State University Extension and Michigan Sea Grant. Stephens hopes to speak with and inspire this year's student film competitors to continue their journey to foster Great Lakes stewardship and educational opportunities through film.
In addition, a Michigan Sea Grant film titled "Fish Guts," created by MSU student Zachary Barnes and Extension educator Dan O'Keefe describes a Great Lakes predator fish diet study involving a citizen science effort where anglers help scientists better understand foodweb interactions among fisheries in Lakes Huron and Michigan.
Tickets are $30 for the Friday reception and films, $6 per program for films aired on Saturday and Sunday. The filmmakers panel and student films taking place 3 p.m.-5 p.m. Saturday are free and open to the public. A full festival pass (Thunder Pass) can be purchased at a discount. Call (989) 356-8805, visit thunderbayfriends.org, or come into the Sanctuary Store (500 West Fletcher, Alpena) to buy your tickets. For more information about the Thunder Bay International Film Festival or the Student Film Competition, call 989-884-6212 or email Stephanie Gandulla.
Michigan Sea Grant helps to foster economic growth and protect Michigan's coastal, Great Lakes resources through education, research and outreach. A collaborative effort of the University of Michigan and Michigan State University and its MSU Extension, Michigan Sea Grant is part of the NOAA-National Sea Grant network of 33 university-based programs.