Youth Watershed Summit report showcases student-led water stewardship in Northeast Michigan
Youth Watershed Summit Report reflects contributions of nearly 200 students from across Northeast Michigan counties to share their watershed studies and stewardship projects.
The first annual Northeast Michigan Youth Watershed Summit, held at Alpena Community College in May 2013, welcomed nearly 200 students and teachers from around the region who participated in local watershed stewardship education projects throughout the school year. This end-of-school event gathered students together to showcase their watershed studies and science projects, now featured in the newly released proceedings and final report for the Northeast Michigan Youth Watershed Summit. This report includes an in-depth look into the Summit activities and student presentations of their watershed-related projects that emerged as part of the NOAA Great Lakes B-WET Our Rivers, Our Future water education effort and the Northeast Michigan Great Lakes Stewardship Initiative network partnership.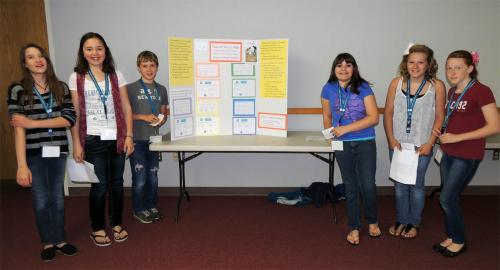 These youth gathered to celebrate water quality awareness across the region - after all, northeast Michigan is rich in water resources, from inland rivers and lakes to coastal waters of Lake Huron - and who better to communicate the health and status of these waters than the students who spent the school year studying their local watersheds. This effort provided a fantastic platform for students to share their water science studies and stewardship projects through displays and presentations. Ranging from fourth grade to high school, students were the experts as they presented data and outcomes resulting from their projects. These presentations ranged from chemistry and biological indicators to monitor river water quality to adopting coastal Lake Huron beaches, and from studying history and human connections with area fisheries and addressing issues such invasive species to stream bank erosion and exploring alternatives to bottled water.
Representing the growing network of watershed education efforts connected regionally through the Northeast Michigan Great Lakes Stewardship Initiative, eleven schools across seven counties co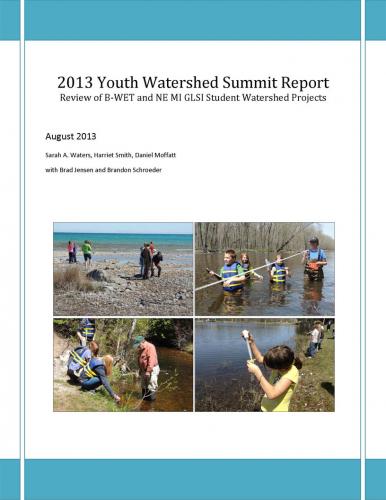 ntributed to the success of this first annual summit. This student leadership event was facilitated by NOAA Thunder Bay National Marine Sanctuary in collaboration with Michigan Sea Grant and Michigan State University Extension– among others– and funded by the Great Lakes Restoration Initiative through a grant secured by the Northeast Michigan Council of Governments and the Great Lakes region of NOAA Education's B-WET Program.
The regional Youth Watershed Summit experience provided a valuable, real-world learning opportunity for students. Events such as this provide incredible hands-on learning experiences for students and bring them into the community as valued partners who can address important environmental stewardship issues. Educationally, these projects reflect wonderful case studies of applied principles and best practices of place-based education - where youth, through their learning, engage in environmental stewardship leadership activities that enhance and provide community values.
Through their projects, students are promoting a better understanding on the social, economic, and environmental importance of Michigan's water resources, and realizing how these Great Lakes watersheds and people are inextricably interconnected. Throughout the day, the students were the primary audience and key contributors to the message of water stewardship. However, during the year, they had worked in important community partnerships with organizations such as NOAA Thunder Bay National Marine Sanctuary, Michigan Sea Grant, MSU Extension, 4-H Youth Programs, US Fish & Wildlife Service, Michigan's Department of Natural Resources, Huron Pines, and others partnering through the Northeast Michigan Great Lakes Stewardship Initiative network.
Visit www.nemiglsi.org for more information about the Northeast Michigan Great Lakes Stewardship Initiative network, NOAA B-WET water education partnership, and place-based, community-based education programming partnerships. A copy of the Youth Watershed Summit report is available online at: http://www.nemiglsi.org/media/partners/media/yws_bwet_report_final_v4.pdf