Guyer Scholarship
The Gordon and Norma Guyer Endowed Internship Program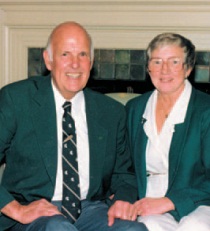 The Gordon and Norma Guyer Endowed Internship Program was established on May 8, 1997 at Michigan State University. The Program recognizes and honors the many years of service to Michigan State University by Gordon and Norma Guyer. Both touched a multitude of people in academia, the legislature, and in agriculture and natural resources. Education played a very important role for both of the Guyers. This endowment serves as a perpetual reminder of their commitment to MSU and to the larger community, as well as an expression of appreciation from the many constituencies they served over the years.
The Gordon and Norma Guyer Endowed Internship Program is intended to encourage MSU students who have demonstrated both interest in public policy careers and the capacity to achieve educational and professional goals. Through the program, scholarships are awarded each semester (Fall, Spring and Summer) to worthy applicants who plan to participate in public policy related internships, either domestically or abroad.
In 2007, administration of the internship program was transferred from the Vice President of Governmental Affairs to the Gordon and Norma Guyer and Gary L. Seevers Chair in Natural Resource Conservation, housed in the Department of Community Sustainability (CSUS).