Mark Ebener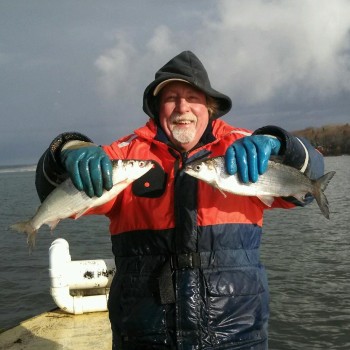 Quantitative Fisheries Center
Research Technician
Telephone: 517-242-8314

On Campus: 101C UPLA
Off Campus: Sugar Island, Sault Ste. Marie, Michigan 49783
Area of Expertise:
Great Lakes fish ecology and management; population dynamics; linking research and management
---
Education:
M.S. – Fishery Management, University of Wisconsin – Stevens Point, 1980
B.S. – Fishery Management, University of Wisconsin – Stevens Point, 1977
---
Background:
I have spent the last four decades as a fishery assessment and research biologist working for Native American Inter-Tribal organizations in the Great Lakes basin. I helped create research and assessment programs for two inter-tribal organizations with much of that work focused on monitoring commercial fishery harvests by tribal members exercising treaty-reserved fishing rights in lakes Superior, Huron, and Michigan. Information collected during the monitoring of commercial harvests has been instrumental in development of statistical catch-at-age stock assessments for lake trout and lake whitefish and projecting total allowable catch for both species.

I represented tribal governments on inter-agency technical committees for most of my career. I participated in activities of the lake Superior, Huron, and Michigan technical committees and was chairman of the Superior and Huron technical committees. The technical committees strive to monitor the status of fish populations and habitat in each Great Lake and conduct coordinated research activities that help evaluate progress toward achieving management objectives established by the lake committees.

I also spent a substantial amount of time participating in sea lamprey control activities. I helped establish an in-stream trapping program for adult sea lamprey that was used to extrapolate lake-wide abundance. I worked for the Great Lakes Fishery Commissions to quantify sea lamprey-induced mortality of fish in the Great Lakes and helped create the current sea lamprey marking targets being used to evaluate efficacy of the sea lamprey control program on the Great Lakes. While at the Great Lakes Fishery Commission I helped lay the groundwork for the current salmonid Mass Marking Program.
---
Research Interests
Fish stock assessments
Estimating sustainable harvest levels
Recruitment dynamics
---
Selected Publications:
Ebener, M. P., T. O. Brenden, and M. L. Jones. 2010. Estimates of fishing and natural mortality rates for four lake whitefish stocks in northern lakes Huron and Michigan. Journal of Great Lakes Research 36(Supplement 1):110-120.
Ebener, M. P., R. E. Kinnunen, P. J. Schneeberger, L. C. Mohr, J. A. Hoyle, and P. Peeters. 2008. Management of commercial fisheries for lake whitefish in the Laurentian Great Lakes of North America. Pages 99-143 in M.G. Schechter, W. W. Taylor, and N.J. Leonard, editors. International governance of fisheries ecosystem: learning from the past, finding solutions for the future. American Fisheries Society Symposium 62, Bethesda, Maryland.
Ebener, M. P., J. R. Bence, R. A. Bergstedt, and K. M. Mullett. 2003. Classifying sea lamprey marks on Great Lakes lake trout: observer agreement, evidence on healing times between classes, and recommendations for reporting of marking statistics. Journal of Great Lakes Research 29(Supplement 1):283-296.
Ebener, M. P., J. R. Bence, K. R. Newman, P. J. Schneeberger. 2005. Application of statistical catch-at-age models to assess lake whitefish stocks in the 1836 treaty-ceded waters of the upper Great Lakes. Pages 271-309 in L.C. Mohr, and T.F. Nalepa, editors. Proceedings of a workshop on the dynamics of lake whitefish (Coregonus clupeaformis) and the amphipod Diporeia spp. in the Great Lakes. Great Lake Fishery Commission, Technical Report 66.
Harvey, C. J., M. P. Ebener, and C. K. White. 2008. Spatial and ontogenetic variability of sea lamprey diets in Lake Superior. Journal of Great Lakes Research 34:434–449.
Stockwell, J. D., M. P. Ebener, J. A. Black, O. T. Gorman, T. R. Hrabik, R. E. Kinnunen, W. P. Mattes, J. K. Oyadomari, S. T. Schram, D. R. Schreiner, M. J. Seider, S. P. Sitar, and D. L. Yule. 2009. A synthesis of cisco recovery in Lake Superior: implications for native fish rehabilitation in the Laurentian Great Lakes. North American Journal of Fisheries Management 29:626-652.