Mitch McGrath Ph.D.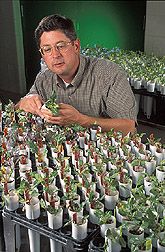 mitchmcg@msu.edu
Telephone: 517-353-0207

Department of Plant, Soil and Microbial Sciences
Adjunct USDA Professor - Developing enhanced sugar beet germplasm and discovering genes of agronomic importance for sustainable crop production.
Plant and Soil Sciences Building
1066 Bogue St., Room 494F
East Lansing, MI 48824
Developing enhanced sugar beet germplasm and discovering genes of agronomic importance for sustainable crop production.
USDA Website Faculty Profile Page
Click here to see a list of Mitch McGrath's publications on Google Scholar.

Education:
Ph.D. - Genetics, University of California, Davis. 1989.
B.S. - Plant and Soil Science, University of Massachusetts, Amherst. 1979.
General areas of expertise:
Plant genetics, genomics, and germplasm enhancement.
Overview of current program:
Dr. McGrath is the Research Geneticist (Plants) for USDA-ARS NP 301 (Plant Genetic Resources, Genomics and Genetic Improvement) CRIS Project entitled "Genetic Dissection of Traits for Sugar Beet Improvement" in the Sugarbeet and Bean Research Unit, East Lansing, Michigan. Research is to develop enhanced sugarbeet germplasm and to discover genes of agronomic importance, and to characterize fungal pathogens and diseases limiting sugar production in the Great Lakes growing region. We generate and integrate basic genetic knowledge, methods, and biological resources for efficient, effective breeding and selection for desired characteristics; discover genetic control, linkage relationships, and specific genes contributing to desired agronomic, morphological, biochemical, and physiological characters; and use genomics to explore development of the beet root, particularly of early season development.
Current research goals are to develop a genomic framework and biological toolkit for sugar beet, which include assembling and annotating the beet genome sequence, specifically that of the germplasm 'C869' which is the common seed parent of our Recombinant Inbred (RI) populations, as well as releasing these RI populations with high-density molecular maps.
Expected results are critical and fundamental knowledge on the genetics, biochemistry and physiology of domestication, agronomic, disease resistance, and stress tolerance traits in sugar beet, including development and validation of molecular markers linked to these traits. Release of enhanced germplasm combining existing and novel genes in new genetic combinations to industry is also expected. Research is expected to reduce crop and sugar losses by providing high-yielding, pest- and disease-resistant breeding lines showing superior stand emergence and persistence; generate biological and molecular tools and simplified phenotyping methods for germplasm evaluation; and annotated gene indices to reveal agronomically-relevant genetic variation and capacity to accumulate useful compounds (e.g., betalains, saponins, squalene, nutraceuticals, et al.).
Publications:
McGrath, J.M., Hanson, L.E., Panella, L.W. Registration of SR98 and SR98/2 sugarbeet germplasms with high levels of resistance to Rhizoctonia seedling damping-off and crown and root rot diseases. J. Plant Registrations (submitted).
Panella, L. W., Lewellen, R. T., and McGrath, J. M. Registration of 'FC1028', 'FC1038' and, 'FC1036' multigerm sugarbeet germplasm with Cercospora leaf spot and multiple disease resistances. J. Plant Registrations 7: 229-237. 2013.
Stevanato, P., Trebbi, D., Biancardi, E., Cacco, G., McGrath, J. M., and Saccomani, M. Evaluation of genetic diversity and root traits of sea beet accessions of the Adriatic Sea coast. Euphytica. 189: 135-146. 2013.
Hatlestad, G. J., Sunnadeniya, R. M., Akhavan, N. A., Gonzalez, A., Goldman, I. L., McGrath, J. M., and Lloyd, A. M. The beet R locus encodes a new cytochrome P450 required for red betalain production. Nature Genetics 44:816–820. 2012.
Hanson, L. E., and McGrath J. M. Rhizoctonia seedling disease on sugar beet. International Sugar Journal 113:584-589. 2011.
McGrath, J.M. Registration of EL54 and EL55 sugarbeet germplasms. Journal of Plant Registrations 5:1–6. 2011
McGrath, J.M. Assisted breeding in sugar beets. Sugar Tech 12:187-193. 2011.
Trebbi, D., and McGrath, J. M. Functional differentiation of the sugar beet root system as indicator of developmental phase change. Physiologia Plantarum 135:84–97. 2009.
McGrath, J. M., El-Awady, A., El-Khishin, D., Naegele, R. P., Carr, K. M. and de los Reyes, B. Sugar beet germination: Phenotypic selection and molecular profiling to identify genes involved in abiotic stress response. Acta Horticulturae 782:35-48. 2008.
Nagendran, S., Hammerschmidt, R., and McGrath, J. M. Identification of sugar beet germplasm EL51 as a source of resistance to post-emergence Rhizoctonia damping-off. European Journal of Plant Pathology 123:461-471. 2008.
Kuykendall, L. D., Murphy, T. S., Shao, J. and McGrath, J. M. Nucleotide sequence analyses of a sugarbeet genomic NPR1-class disease resistance gene. Journal of Sugar Beet Research 44:35-49. 2007.
McGrath, J. M., Trebbi, D., Fenwick, A. Panella, L., Schulz, B., Laurent, V., Barnes, S. and Murray, S. C. An open-source first-generation molecular genetic map from a sugarbeet x table beet cross and its extension to physical mapping. Crop Science 47:S-27-S-44. 2007.
McGrath, J. M. Registration of EL53 sugarbeet germplasm with smooth-root and moderate resistance to Rhizoctonia crown and root rot. Crop Science 46:2334-2335. 2006.
Haagenson, D. M., Klotz, K. L. and McGrath, J. M. Sugarbeet sucrose synthase genes differ in structure and organ-specific and differential expression. Journal of Plant Physiology 163:102-106. 2006.
McGrath, J. M. Plant breeding and the promise of genomics. Applied Biotechnology, Food Science and Policy 1:207-211. 2003.

Websites of Interest: