Roger E. Hamlin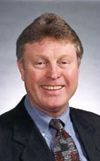 School of Planning, Design and Construction
Professor - Emeritus, Urban & Regional Planning; Former Senior PhD Prof. of Public Administration, Babes-Bolyai University, Romania
Area of Expertise:
Fiscal/regional planning, economic development.
---
Degree:
Bachelors: Bachelor of arts in economics from Hamilton College.
Masters: Masters of regional planning from Syracuse University.
PhD: PhD in economics and public administration from Syracuse University.
---
CV: File Download
Roger E. Hamlin, PhD, is currently professor honoris causa and associate dean of international programs at Babes-Bolyai University. He served as professor of urban planning and public policy at Michigan State University, where he began as an assistant professor in 1974. He directed several projects for the School of Planning, Design and Construction, and the Institute for Public Policy and Social Research (IPPSR) at MSU. Hamlin served as associate director of IPPSR, resident fellow, director of International Programs, and was director of the Urban & Regional Planning Program for 11 years. Prior to joining the faculty at Michigan State, he was administrator of the Community Planning and Development Program, and assistant professor of Political Science in the University of Georgia System at Columbus State University. He also served as a visiting professor of Architecture at the Tokyo Science University in Japan. He worked on projects to build governance capacities at the sub-national level both in the U.S. and around the world. Hamlin earned a PhD degree in Economics and Public Administration from the Maxwell School of Citizenship and Public Affairs at Syracuse University. He worked for the Senate and the Office of Planning Services of New York State, and lived and worked in South America, the Caribbean, Asia and Europe.
Hamlin authored several books including: "Using Entrepreneurship and Social Innovation to Mitigate Wealth Inequality: Developing Entrepreneurs and Communities of Support" ( De Gruyter ), "Financing Small Business in America" (Praeger), "Creating an Economic Development Action Plan: A Guide for Development Professionals" (Praeger), "Economy without Walls" (Praeger), "Strategy for a Global University" (MSU Press), "Design for the Delivery of Human Resource Services," and "Preparation for Work in a Changing Economy" (Middle Cities Education Association). He has earned the White House Achievement Award, The Nelson Jack Edwards Award for "the Greatest Contribution to Metropolitan Detroit" and the Illinois Foundation Award. Hamlin has earned national awards from the American Planning Association and the American Institute of Certified Planners. He was also awarded "Honoris Causa" from Babes-Bolyai University in Romania. Hamlin was a CIC Academic Leadership Fellow and an American Council on Education Fellow Finalist. He has been listed in the "Who's Who in America," "Who's Who in the Midwest," and "Who's Who in Finance and Industry."