Timothy Miles, Ph.D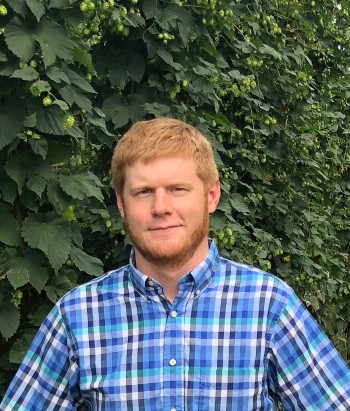 Department of Plant, Soil and Microbial Sciences
Assistant Professor / Extension Specialist
Telephone: 517-355-3964

Small Fruit and Hop Pathology Laboratory
578 Wilson Road, 105 CIPS
East Lansing, MI 48824
Follow on Google Scholar for a complete list of publications.
Follow on Twitter to see current information and up to date extension.
Visit our website for information about the Small Fruit and Hop Pathology program at Michigan State University.
Education:
B.S., Western Michigan University, Biology
Ph.D., Michigan State University, Plant Pathology
General areas of expertise:
Focused on diseases of hops, blueberries, grapes and other berry crops. Topics of study currently include: mycology, genomics, population genetics, pathogen detection, molecular diagnostics and host resistance.
Recent publications (2017-present):
Purayannur, S., Miles, T.D., Gent, D.H., Pigg, S., Quesada-Ocampo, L.M. 2020. Hop downy mildew caused by Pseudoperonospora humuli: a diagnostic guide. Plant Health Progress 21:173–179.
McCoy, A.G., Miles, T.D., Bilodeau, G.J., Woods, P., Blomquist, C., Martin, F.N., Chilvers, M.I. 2020. Validation of a preformulated, field deployable, recombinase polymerase amplification assay for Phytophthora species. Plants 9:466.
Belise, R. J., McKee, B, Hao, W., Miles, T.D., Adaskaveg, J., Manosalva, P. 2019. Phenotypic characterization of genetically distinct Phytophthora cinnamomi isolates from avocado. Phytopathology 109:384-394.
Crandall, S.G., Rahman, A., Quesada-Ocampo, L., Martin, F. Miles, T.D. 2018. Advances in diagnostics of downy mildews: lessons learned from other oomycetes and future challenges. Plant Dis. Feature Article 102:265-275.
Miles, T.D., Glass, B.W., Sysak, R.W., Schilder, A.M.C. 2018. Post-plant strategies for management of black root rot-related decline of perennial strawberry fields. Crop Protection 104:78-85.
Rahman, A., Miles, T.D., Martin F.N., Quesada-Ocampo, L. 2017. Novel approaches for development of biosurvellance tools for the cucurbit downy mildew pathogen Pseudoperonospora cubensis. Canadian Journal of Plant Pathology. 3: 282-296
Rojas, A., Miles, T.D., Coffey, M., Martin, F., Chilvers, M. 2017. Development and application of qPCR and RPA genus and species-specific detection of Phytophthora sojae and Phytophthora sansomeana root rot pathogens of soybean. Plant Disease 101:1171-1181.
Miles, T., Robideau, G., Martin, F., Bilodeau, G. and Coffey, M. 2017. Systematic development of Phytophthora species-specific mitochondrial diagnostic markers for economically important members of the genus. Plant Disease 101:1162-1170.