Yuan Wang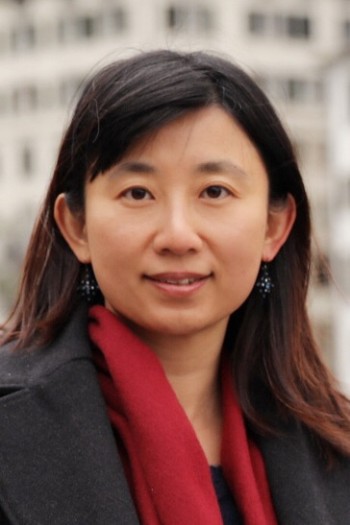 wangyu81@msu.edu
Telephone: 517-353-1416

Department of Animal Science
Assistant Professor
Room 3017
Interdisciplinary Science and Technology Building
766 Service Rd, East Lansing, MI 48824, USA
Area of Expertise:
Stem Cell Biology & Developmental Biology
---
Degree:
Bachelor in Medicine, Shangdong Medical University, China
MS, Chinese Academy pf Preventive Medicine, China
PhD, Boston University, USA
Post-doc, Harvard Medical School and NIEHS
---
Affiliations
Reproductive & Developmental Sciences Program
Research
My main research focus is to dissect mammalian genetic programs that govern germ cell development. I am also interested in the regulatory events that affect pluripotency and differentiation of stem cells. Empowered with iPSC (induced pluripotent stem cells) technology, in vivo mouse knockout models, and long-term in vitro culture system of spermatogonial stem cells, my laboratory aims to understand underlying pathology of human male infertility.
Laboratory: Stem Cell Biology
Selected Publications
Gong X, Chao R, Wang P, Huang X, Zhang J, Zhu X, Zhang Y, Yang X, Hou C, Ji X, Shi T & Wang Y*. (2016) Interplay of transcription factors and microRNAs during embryonic hematopoiesis, Sci China Life Science Epub of print.
Zhang J, Wang Q, Wang M, Jiang M, Wang YS, Sun Y, Xie TR, Wang J, Tang N, Song H, Chao R, Chen X & Wang Y*. (2016) GASZ and MFN-mediated mitochondrial functions are crucial for spermatogenesis, EMBO Rep 17:220-34
Chao R, Gong X, Wang L, Wang P & Wang Y*. (2015) CD71high population represents primitive erythroblasts derived from mouse embryonic stem cells, Stem Cell Res 14 (1):30-38
Chu M, Wang L, Wang H, Ni T, Zhu J & Wang Y*. (2014) A novel role for CDX1 in embryonic epicardial development, PLoS ONE 9 (7): e103271
Zhang X, Li B, Li W, Ma L, Zheng D, Li L,Yang W, Chu M, Chen W, Mailman R, Zhu J, Fan G, Archer TK & Wang Y*. (2014) Transcriptional repression by BRG1-SWI/SNF complex affects pluripotency of human embryonic stem cells, Stem Cell Reports 3:460-474
Wang Q, Liu XQ, Tang N, Archambeault D, Li J, Song H, Tang C, He B, Matzuk M & Wang Y*. (2013) GASZ promotes germ cell derivation from embryonic stem cells. Stem Cell Res 11(2):845-860
Wang Y, Yabuuchi A, McKinney-Freeman S, Ducharm, Ray M, Chawengsaksophak K, Trevor Archer & Daley GQ. (2008) Cdx gene deficiency compromises embryonic hematopoiesis in the mouse, PNAS 105: 7756-61
Wang Y, Yates F, Naveiras O, Ernst P & Daley GQ. (2005) Embryonic stem cell-derived hematopoietic stem cells. PNAS 102(52):19081-6.
Davidson AJ, Ernst P, Wang Y, Dekens MPS, Kinglsey PD, Palis J, Korsmeyer SJ, Daley GQ & Zon LI. (2003) Cdx4 mutants fail to specify haematopoietic progenitors during embryogenesis and can be rescued by multiple hox genes. Nature 425(6955): 300-6.