Jeff's Summer Road Trip 2019: Farming in District 10
Author:
Michigan State University Extension
On the first stop of his road trip to visit all Extension districts in a single summer, director Jeff Dwyer talks to farmer Dave Rupprecht about tradition, succession, and evolution on the farm.
October 7, 2019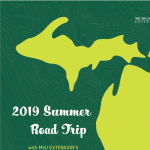 ---
Jeff's Summer Road Trip 2019: Farming in District 10 Transcript
Jeff Dwyer: The Michigan Department of Agriculture and Rural Development estimates that Michigan is home to 10 million acres of farmland and more than 52,000 farms. Today I'm on one of those farms, 7,500 acres of Zwerk and Sons Farms in Michigan's Thumb. I'm Jeff Dwyer, director of Michigan State University Extension, and this is Partnerships and Peninsulas.
Intro: This is Partnerships and Peninsulas, and just like the state of Michigan, this podcast is filled with stories of amazing people who are doing wonderful work from Marquette to Monroe. Sit back and discover everything you didn't know about Michigan State University Extension. Here's your host, Jeff Dwyer.
Jeff Dwyer: Dave Rupprecht is a farmer, an active member of the agricultural community, and a member of our MSU Extension District 10 council. He's also one of the owners of Zwerk and Sons Farms. Welcome to Partnerships and Peninsulas, Dave.
Dave Rupprecht: Thank you very much. Appreciate it.
Jeff Dwyer: So Dave, this has been a terrific afternoon out here on your farm. I have learned a ton about crop farming, and the conversations we've had about technology and many other things; it's just amazing. Can you tell us a little bit about your farm and its history, and how it's grown in the last decade or so?
Dave Rupprecht: My grandfather, Arnold Zwerk, started the farm in the early '40s. He settled here, and it was a cash crop farm/hog farm at that time. They had some livestock. And eventually the livestock went away and it turned to just a true cash crop farm. My father-in-law Larry Zwerk, and his brother Mike, worked on the farm for a number of years. In the early 2000s, is when myself and my two partners, Marty Zwerk and Jeff Schluckbier, my two cousins, we bought out my father-in-law and uncle and took over. And as of today, we're farming about 7,500 acres and also have a couple other sideline business with some trucking and working for some local elevators.
Jeff Dwyer: One of the issues in farming today is succession planning and succession of farms. Tell us a little bit about the next generation you have working with you and the planning you're doing.
Dave Rupprecht: My son, my oldest son, who is 29, has been with us now for probably five or six years. Went to school and became a welder fabricator is what he went to school for, and now is back here on the farm, and so that's his expertise that he brings to the business and we're happy that he has that talent. And then Marty's son Landon is back on the farm with us, also, after a couple years, went to school and received his business degree, business management degree. So we've got two young guys that are coming up that we hope are going to take over, as well as we do have a great group of young guys that work here, and a lot of our guys that work here are family friends of ours. They're from local families around the area that we've known for a long time, and so a lot of those are very close kids to us, as well, so I think we're going to have a great opportunity to pass on the legacy and have my son and Marty's son take this over someday. And so that's certainly what we're working for.
Jeff Dwyer: Well, that must be pretty exciting for you, and frankly for your whole family, to watch that happen, and walking around the last couple of hours, it's quite a wonderful atmosphere around here. Let's talk a little bit about your crops. What do you grow and what kind of rotations do you work, and how have you found that to work best for you over the years?
Dave Rupprecht: Yeah, our rotation as far as crops go hasn't changed a whole lot since the inception of the farm. We grow wheat, corn, soybeans, sugar beets, and different classes of dry, edible beans. Mainly the beans that we grow are either navy, small red, or black beans. Those have been the typical varieties that we've grown. Most of our corn is kept here locally and is produced into ethanol at Michigan Ethanol up in Caro. So that all stays here locally. We're members of the sugar co-op, obviously, so we grow about 1,500 acres of sugar beets. Our soybeans that we grow are a food-grade type soybean, so they're a high-protein bean that goes for different tofu products overseas, and then our wheat, most of that, again, stays locally. We have a local mill in Frankenmuth, the west milling that most of our wheat goes to for different bakery type products. So those are the main crops that we grow, and our rotation is basically a four-year rotation, mainly. We go from a corn crop to a dry bean crop or soybean crop, that would go to wheat, and then we try to follow up with our sugar beets on our wheat crop. And so that's a pretty typical rotation for our farm.
Jeff Dwyer: I think you told me earlier that you have storage capabilities for about 1.2 million bushels, if I recall correctly. What does that do for you, in terms of working with the markets and planning and that sort of thing?
Dave Rupprecht: That's a great benefit to have that facility, the storage facility, and our own drying facility. Obviously, at harvest time we're not in the lines down at the elevators like a lot of people have to be, and so it makes us more efficient. We can pretty much harvest at our own pace, if you will. So from that standpoint, it certainly makes us more efficient, but from a marketing standpoint is where it's a real necessity. We're able to store our crop until the market is right enough for us to sell it, and so that's a huge bonus for us.
Jeff Dwyer: That's terrific. So you've worked with MSU Extension for a long time. I'm sure your predecessors did, too. Could you talk a little bit for our listeners about how you've interacted with Extension and some of the things you think you've benefited from?
Dave Rupprecht: I've been involved with Extension even as a young, young boy in the 4-H program and have seen Extension support a lot of those programs, so been involved with them for a lot of years. From a business sense, we've been involved with Extension since I've been here on this farm, and even when I grew up on our dairy farm where I was raised. Extension is a wonderful resource for agriculture, for sure. We've been involved in a lot of different type of programs, doing different type of yield check on different varieties out in our farm, to see what type of varieties maybe are performing better than others. We attend a lot of their meetings that they have, with different issues they bring up, whether it's disease control or weed control in certain crops. So a lot of different things that we've used Extension for that have benefited our farm, for sure.
Jeff Dwyer: Well, I'm really pleased about that, but also grateful, Dave, that you're willing to participate with us on the District 10 advisory board. Our advisory board members are critical to what we're doing. You keep us, I think, attentive to the things that we need to keep doing, that you've always appreciated, but also to the things that we need to be doing that might be rather new. And we look forward to that from you.
So a few years ago, you became a Michigan Agriculture Environmental Assurance Program, or MAEAP, verified farm. What has that meant to you, and why is it important?
Dave Rupprecht: That's a great program, and quite honestly, a lot of the things that we were doing here on our farm already met the requirements of MAEAP, so we feel that we were ahead of the game a little bit in trying to make sure that our farm is sustainable. And we're trying to do the right things, whether it's making sure our chemicals are stored properly, whether our fuel is stored properly, whether we're doing the proper things out in the field to try to contain runoff or just be good stewards of the soil. And so I think that's a great program and everybody should go through it. Wonderful program, and we're happy to be a part of it.
Jeff Dwyer: So one of the things you and I had a chance to talk about a little bit ago in your shop was just how your business, your farming operations, are impacted by technology. And you walked through the planter and showed us a number of things, and just the precision way you're able to drop seeds, soon you'll be able to make that variable by moisture, as you described to us, and those kinds of things.

One of those new areas that you and I talked about that maybe MSU Extension needs to be thinking about is how we help you make use of the data that's coming out of all of that. I know you get a lot of that support from companies who do that and are excellent at doing that, but we're looking forward to working with you around big data and other sorts of things, and seeing where we might be able to fill a niche for you that would be helpful.
As you are well aware, Michigan State University does things across the board. You've benefited mostly from agriculture, also work in child and youth areas. We of course work in 4-H and at the fairs, and community resource development and that sort of thing.

Can you think of, as you look into the future, maybe not just on your farm but your community and the whole Thumb area, what are some things that you think you worry about, that you think about that we need to be planning for that we might be able to work on together?
Dave Rupprecht: In any business, I think one of the concerns is maintaining that business, and whether it's a family business or not, everybody wants to see that legacy carried on. And so if there's a way to help families with succession planning, whether it's in ag or other, I think is extremely important. And just keeping our small communities thriving. We've lost a lot of industry in some of the small communities up here, and so we're seeing that being revived. We're seeing a lot of small business come back, and new businesses pop up, and I think Extension certainly can be a big part of that. Everybody realizes that they're dedicated to the ag industry for sure. When people think of Extension and realize that it's part of Michigan State, they automatically think it's an agricultural type sideline, if you will, but I think there's a lot of other businesses that could benefit, the public that could benefit, from the resources you have available, and that's I think part of what we've been tasked with on this committee that I'm on, that we're going to try to find new ways to use Extension to help other areas of our industry, not just agriculture, but other industries, as well, and help the public.
Jeff Dwyer: We certainly look forward to working with you on that. This is Partnerships and Peninsulas. My name is Jeff Dwyer. I have the privilege of being the director of Michigan State University Extension. My guest today has been Dave Rupprecht. Thank you very much for being with me here today, Dave.
Dave Rupprecht: Thank you, Jeff. I appreciate it. Thanks for coming out.