Summer Road Trip 2019: Transforming Communities through Community College in District 6
Author:
Michigan State University Extension
On the tenth stop of his road trip to visit all Extension districts in a single summer, Jeff visits with Christine Hammond, president of Mid Michigan Community College, to talk about empowering lifelong learners and building lasting partnerships.
December 9, 2019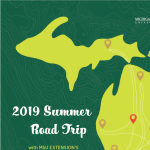 ---
Summer Road Trip 2019: Transforming Communities through Community College in District 6
Jeff Dwyer: There are more than 30 community colleges in Michigan. Sometimes when you think about community colleges, you might only think about students pursuing certifications and degrees, but did you also know that many community colleges provide training and programs that enrich the entire community? That's what makes MSU Extension and community colleges such great partners. I'm Jeff Dwyer, director of Michigan State University Extension and this is Partnerships and Peninsulas.
Intro: This is Partnerships and Peninsulas. And just like the state of Michigan, this podcast is filled with stories of amazing people who are doing wonderful work from Marquette to Monroe. Sit back and discover everything you didn't know about Michigan State University Extension. Here's your host, Jeff Dwyer.
Jeff Dwyer: In 2017, MSU Extension and Mid Michigan College announced a new partnership focused on community engagement and expanded lifelong learning opportunities for the community. I'm pleased to introduce our friend and partner and state council member, Dr. Christine Hammond, president of Mid Michigan College, with a location in Harrison and two now in Mount Pleasant. Christine, thank you very much for being here with me today.
Christine H.: Thank you, Jeff. It's a pleasure to join you and to be able to talk about MSU Extension and Mid Michigan College, two of my absolute favorite topics.
Jeff Dwyer: Well, I sure am looking forward to it and I've had the chance to get to know through our conversations a great deal about Mid Michigan College, but for our listeners, tell them a little bit about what makes this place so special.
Christine H.: Well, we probably don't have a podcast long enough to talk about all the things that are special at Mid Michigan College. It is a remarkable place that serves a wide variety of individuals, citizens from across the middle region of our state. Our students come from 72 of Michigan's 83 counties and we know that they go back to their communities enriched by what they learn here. So the mission of Mid is that we strive to empower learners and to transform the communities we serve. I can't think of a better alignment for what MSU Extension does. All of us are committed to finding the best ways to promote learning, to do what Spartans will do, no matter where we are, and to help our communities grow and thrive in a hundred different ways.
Jeff Dwyer: Well, I couldn't agree more and I know you've been providing amazing leadership here at Mid Michigan College for six years, I believe. And when I started in my role three-and-a-half years ago, I think one of my first meetings was at the Doherty Hotel in Clare with Shari Spoelman, our District 6 director, and with you talking about what we might do together more than we were already doing, so we started this more formal partnership in 2017, and maybe you could talk to us a little bit about what that partnership is about and what made you think it would be a good investment.
Christine H.: Yes, we did start in 2017, but we had those conversations, I think, for several months in 2016 leading up to that. Shari and I have shared our aspirations with each other. That's been fun to see how each of us approaches our work and wants to see the staff members who work with us grow and develop. And one of the fun things that we've seen over the last three years is that we've had staff members who have gotten to know each other and have built programs that maybe they didn't think were possible. So we know that when we say we empower learners, we mean empower learners across their lifetime. Not just people who are 17 to 22 years of age, not just a certain demographic but young people. And so we think about the young people and the young families that come to the Winter Blast and the Science Blast and the Summer Fest that Extension and Mid have partnered on, on our Harrison campus.
We think about the adult learners who want applied learning that Extension has and brings to applied learning such skill and expertise. So I think about the forestry programs that we offered this past year and how many people learned what the options were for managing the woodlands on their home properties. And we actually were able to have people participate in that program from the college. Our Harrison campus has about 560 acres, most of it wooded, and so we were able to learn as well what we should we be thinking about as citizens about our own homes, but about our campus home as well. And we think about the programming that we're anticipating doing in our new facility that we anticipate a life hub facility over on Pickard street using the building that Mid has owned for quite some time to do programming that will attract lifelong learners, especially those who might be empty nesters or senior citizens beyond those traditional college years.
Jeff Dwyer: Well, it's really fabulous what you're doing and it was a thrill for me to, a few minutes ago, be over at the Pickard campus. In my opening I mentioned the Harrison campus and now too in Mount Pleasant to include that, and the plans that you have for the health club-oriented wellness and art environment there is really quite exciting. And you deserve a lot of credit for the creativity that goes behind all of that thinking and that work that you've been doing, but that's only one of many projects that you have going on right now. Could you talk to us a little bit about the renovation going on at the Harrison campus and the other improvements that you're making in the Mid Michigan Community College environment?
Christine H.: Yes, so Mid is a member of the National Association of Community College Entrepreneurs, and that's an appropriate group for us to participate in, because here at Mid, we have a lot of people who work hard to bring innovative programming to our campus. Some of that has to do with the way that we utilize the facilities, the physical assets, that we have here at the college, and so we have undertaken an almost $13 million renovation project on our Harrison campus. And when that project is completed in December of 2019, it will make Mid in Harrison the most energy-efficient campus of the community colleges, public community colleges, in the state. And we are very excited to lead the way in protecting our ecosystem and preserving our resources and making sure that those resources are sustainable for decades to come. Even before we complete that project, we will complete a new outdoor education center on the Harrison campus, in which I believe we'll have MSU Extension programming on a regular basis as we take the opportunity to make the most of those natural resources on that campus and teach people about that.
The outdoor education center will be named for the Poet family, which is connected to Jay's Sporting Goods. They've long been supporters of our college. That's another great example of Mid fostering and respecting a partnership over many years. Many of your listeners may have attended Mid's Northern Tradition event every spring at Jay's Sporting Goods, so we are pleased to recognize that family as we open the outdoor education center -- probably in the middle of August of this year, with a grand opening in the fall. And then as you mentioned, we are rehabbing a 56,000-square-foot building in Mount Pleasant on Pickard Avenue, to create lifelong learning, wellness opportunities, health-related opportunities, in that building for citizens of all ages. And that probably will be not that traditional for-credit model that people think about when they think about going to college, but will be much more of a membership model where you as a citizen, as a mom, a dad, a husband, a wife, a partner, will be able to join with others in learning and in exercising and in staying fit as a member of our community.
So we're very excited about all of those opportunities. That's the physical facility part. Mid's online programs are also growing and we are strengthening the opportunity for students who cannot get to any of these physical communities to still take classes and advance their degrees. We have, as you know, in Michigan a number of over 5,000 people who have some college, no degree, and Mid is very committed to helping those folks get over that threshold and get that postsecondary certificate. So we're excited about those options as well. Mid serves a swath of the center of the state, largely through dual enrollment programs. And dual enrollment enables our high-school students to get that jumpstart on college and we are in Mecosta and Osceola, as is MSU Extension. We're in Isabella, Gratiot, even out into the thumb in Huron and Tuscola, in addition to the Clare-Gladwin Service District that has been our historic home.
Jeff Dwyer: Well, the reach of Mid Michigan College under your leadership, president Hammond, is really quite remarkable. I don't know how you have time to do all of the things you've just described, but then I know that you partner with us in other ways and you're a member of our state council and we're certainly grateful for how we benefit from that role that you play with us. A couple of in-person meetings a year and then other opportunities to get together via video conference and telephone, but we're grateful for that commitment that you make to us. Tell me a little bit about why you think it's worth your time to be on something like the MSU Extension and AgBioResearch state council and what you get out of that experience.
Christine H.: Yes, so I'm able to do all the things you have given me credit for at Mid Michigan College because we have a great team of people here. Just a wonderful team of people who want the college to succeed for the betterment of our students and our communities, and we're all very fortunate to have that. I think it is very important that community colleges stay connected to the communities we serve. And serving on the district board and on the AgBioResearch council gives me the opportunity to learn about things that are important to citizens in our state that I wouldn't otherwise have the chance to do, not to mention the fact that there are so many other interesting people on those boards. Every time I go to a meeting, I meet somebody, I talk to somebody, and I think, "Oh, I never knew about that before. Oh, I could think about that. Oh, the people in our tech and trade program should know about that. Oh, the people in our health programs could be a part of that initiative." How cool is that? It's a great opportunity and well worth any investment of time.
Jeff Dwyer: Well, we thank you very much for the investment that you make in us in that way and we're looking forward to seeing you, I think, up in Marquette in October. So we're trying to get that group around the state and so we're looking forward to that as well. So as we wrap up here, we've shared a lot of information about Mid Michigan College. I'm certain that many of our listeners would like to learn more, many community members that might be listening would like to know more, so what's the best way for them to reach out and to find more information?
Christine H.: Well, we try to be out in our communities as much as we can, but I would certainly encourage folks to take a look at our website, that's midmich.edu, and we look for the new projects that are happening, look for our academic programs and our community education programs. You'll see links right on the website for community education, and certainly stay tuned to watch in the media for announcements that are coming down the pike.
Jeff Dwyer: Thank you. This is Partnerships and Peninsulas. My name is Jeff Dwyer, and I have the privilege of being the director of Michigan State University Extension. My guest today has been president Christine Hammond. Thank you very much for joining me today.
Christine H.: Thank you, Jeff. Keep up the good work, go green.
Jeff Dwyer: Go white.