Why Veterans Matter
Author: Jeff Dwyer, Director of
Michigan State University Extension
Guest Adam Ingrao, a former US Army soldier, devotes his life to making sure no veteran is left behind through MSU Extension services.
November 4, 2018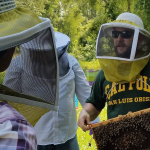 ---
Michigan is home to more than 630,000 military veterans. When you count those who serve with them, their spouses, their partners, their children, their parents, that means that more than one in four Michiganders is a veteran or closely connected to a veteran. We rank number 11 in terms of overall veteran populations per state.
Our guest is Adam Ingrao, a fourth generation US Army soldier who served honorably following the Sept. 11 attacks as a Patriot Missile Fire Controller. Following a career ending injury, he was medically separated from the Army in 2004. His life's goal is to make sure no veteran is left behind.
Partnerships and Peninsulas, Episode 1, Why Veterans Matter w/ Adam Ingrao
Transcript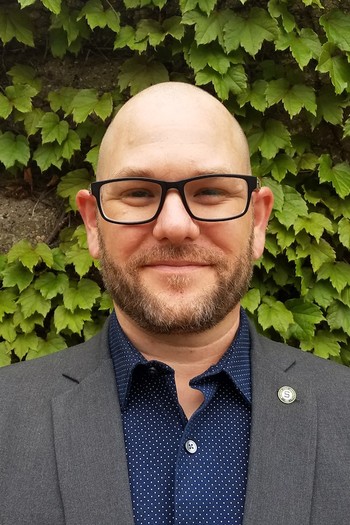 Jeff Dwyer: Here's something I didn't always know. Michigan is home to more than 630,000 military veterans. When you count those who serve with them, their spouses, their partners, their children, their parents, that means that more than one in four Michiganders is a veteran or closely connected to a veteran. We rank number 11 in terms of overall veteran populations per state. What I did know is that veterans have made great sacrifices for our country and as they transition back to civilian life, they often have unique needs that deserve our attention. I'm Jeff Dwyer, Director of Michigan State University Extension.
Today on Partnerships and Peninsulas, we're going to talk to Adam Ingrao, a fourth generation US Army soldier who served honorably following the 9/11 attacks as a patriot missile fire controller. Following a career ending injury, he was medically separated from the Army in 2004. His life's goal is to make sure no veteran is left behind. I was so impressed with Adam's dedication to helping his fellow veterans assimilate and find purpose that we recently hired him at Michigan State University Extension. After he finished his PhD in entomology, Dr. Adam Ingrao became the MSU Extension veteran liaison specialist. Thank you for joining me here today, Adam.
Adam Ingrao: Thank you, Jeff, for having me.
Dwyer: Adam, you and I first got to know each other around a program you and your wife began a few years ago called Heroes to Hives. Tell me a little bit about that and the impact that it's had on your fellow veterans.
Ingrao: Well, Jeff, Heroes to Hives really was a product of my own personal experience with beekeeping and how it helped me transition from my military service. Like a lot of veterans, as you transition from the military, finding a career opportunity that is rewarding and still allows you to feel like you're serving your country is something hard to come by. For me, when I went back to school after leaving the military on my post 9/11 GI bill, beekeeping was one of the first courses I took as an undergrad. Up until that time, I had really struggled to find my place. I had really wanted to continue to serve. I didn't plan on leaving the military. That's something I had planned on doing for a career.
But just like many other veterans, our service oftentimes is interrupted by injuries. So, when I came back and I found that beekeeping class my first quarter there at Cal Poly, I really started to see this healing capacity for beekeeping and also this opportunity to really have a rewarding career by serving my country by protecting the most important pollinator on the planet, honeybees. So, Heroes to Hives was really a product of that experience of my own. My wife and I moved here to Michigan in 2014 for me to come to MSU and we had started a small farm just off of MSU's campus, about a mile away, called Bee Wise Farms.
We had had a discussion about how can we start to give back to our veteran community here in Michigan? We were new transplants and we wanted to get involved with the community. So, we came up with this idea to offer this program called Heroes to Hives, which is essentially a nine month beekeeping education program for military veterans and their spouses. What we do is we essentially take those veterans through an entire season of beekeeping in Michigan. They go from everything from basic biology to management all the way to overwintering practices. Then we couple that with therapeutic training.
So, that program started with five veterans on our own farm. Those individuals, a couple of them that are still beekeeping today successfully, completed that program. At the time, we thought, well, this is a great program we can continue to offer at our farm, something that's fun to do. But we were approached by The AT&T Foundation to basically help us scale up the program. Fortunately, Dr. Meghan Milbrath here at MSU, a good friend of ours, worked with me to bring that over here to MSU. Now the program resides in MSU Extension as, again, a nine month beekeeping education program.
Ingrao: But we have really increased the scale of that program. Now we are currently in our 2018 program, which is our second year here at MSU. We have 108 students enrolled in this program, veterans and their spouses from all over the state that are participating with each other to learn how to become beekeepers and developing a strong veteran community to support them once they get out of the program.
Dwyer: It's a really terrific program and I think our listeners already can tell how brilliant we are to have asked you to join us at MSU Extension because you bring the kinds of traits and experiences and leadership abilities that we need. That reminds me, I think you and I met three or four years ago at a couple of Vets to Ag-related events that were really eye opening for me and really a terrific opportunity for me. But I remember us talking about two things.
So, one is that I remember, even though you had been involved in Extension through Heroes to Hives, I remember you saying you really weren't very aware of what Extension did outside of agriculture. So, I know you've only been on the job here a handful of months, but what do you know differently now about what Extension might have to offer to all residents of Michigan, but particularly, the veterans community?
Ingrao: Jeff, what I really found is that not only does Extension offer a suite of services in the agricultural realm, including 4H services, which are part of those services that are really important to military families. But what I've really found is that it goes well beyond just that agricultural respect. We involve ourselves in education programs around things like marriage and relationships, with understanding how violence prevention can be incorporated into that, we work in areas, particularly one of the areas that I'm really excited about is the area around health and nutrition, particularly around supplemental nutrition assistance benefits, SNAP benefit, through the federal government.
One of the things that is striking for me, especially with veteran communities, is we have a lot of veterans that struggle with homelessness, with poverty, and a lot of those individuals struggle with those issues because of service connected disabilities. So, being able to provide them with healthy food through SNAP benefits is a really, really important thing to be able to do and really lifts those individuals up by providing them the food and the nutrition that they need. But it just doesn't stop there. Not only can you think of Extension as veteran services, so services for veterans specifically, but you can also think of Extension as services for those families, and I talked about a couple of those things, but also for veteran-owned businesses.
Veterans, they are a part of this culture. When we come out of the military, the leadership training that we receive in the military is really second to none. So, when those individuals discharge, a lot of them are thinking, "I might want to go into a business on my own." There are a lot of veteran-owned businesses here in the State of Michigan. One of the things that I think is really exciting about Extension that we offer are these business-related services like the Product Center, allowing us to be able to take an idea with a value added product and bring that to market. That's something that's very powerful and very, very beneficial for veteran-owned businesses.
So, I think that what I've learned overall is that Extension offers a tremendous reach as far as these services that we provide. Like I said, I like to think of them as not just services for veterans, but for their families and for their businesses. So, we've got all of these potential services coupled in these categories that veterans can take advantage of. We actually just came out with a fact sheet here just recently about veterans' resources, particularly related to those specific areas.
So, veterans that are listening to this program or individual service providers that are participating in listening to this podcast, one of the things that we need to understand as service providers, as veterans is that we should be looking at all the possible avenues for assistance. I think that Extension offers a suite of assistance services that really cover a lot of areas that are relevant to veterans and their families.
Dwyer: Well, I couldn't agree more. You and I have talked about this several times, but you did touch upon the second thing I recall talking about that first day, which is if I as a leader of an organization or others are looking to bring talented people with leadership skills into an organization, why wouldn't we look to veterans? Because they have those traits. They have that experience. I think that's certainly reflected in you. But I think that's something that we're looking to do together too in the coming months and years. I think another part of Extension that fits here is the Great Lakes Leadership Academy-
Ingrao: Absolutely.
Dwyer: ... and the opportunities to work with you and work with others and the veterans community to see, how can we help in those leadership transitions and how can we help find opportunities and help them gain entrée into other civilian opportunities that would take full advantage of their leadership experiences. So, you and I talk often about, and I've said in my two and a half years in my role as the Director of Extension, that the two things that I still find is one, the number of people who have no idea that we exist and number two, often people know us for one thing like agriculture, but then don't know other things.
So, not long ago, I had the privilege of attending and speaking at a veteran's assistance day up in Iron Mountain. I know you've done similar in Sault Ste. Marie and other areas. I remember in Iron Mountain asking people about 150 people in the room to raise their hand if they knew about Extension and either five or six hands went up. Then I talked about you and talked about why we wanted so much to bring you into the organization as we've done. I said, "My goal would be that when I'm here next year that every hand goes up."
I think that that's part of what we want people to understand. We know that veterans and their families have used Extension services across all of the categories in which we provide opportunity. But frankly, we've never intentionally looked to make ourselves available to that group. So, it has been a concern to me and I know to you that there are veterans and their families who have needs that we may have because we're in every county. Because we have 700 people all over the state in youth and child development and health and nutrition and agriculture and agribusiness and community resource development, we may have what they need literally around the corner in some cases.
But we're a rather humble lot and we don't talk about it enough. So, I'm really thrilled that you joined us and you can help us to make these connections and I envision a world where not too far down the road, we have many more veterans. We do currently have veterans in Extension, but we have many more who are helping us grow and accomplish the things we need to do. So, now with a few months under your belt, how can veterans get ahold of us, either indirectly or directly through you, and what kinds of things might we be able to talk to them about?
Ingrao: Well, we can definitely talk about the suite of different services. One of the things that I'd like to say, Jeff, before we jump into what we can offer them is that I take the approach with each veteran individually. So, as veterans contact us, and they're welcome to contact me at I-N-G-R-A-O@msu.edu through email or they can get us on our website at msue.msu.edu as well to find those veterans' resources, but one of the things that works for me really is working with these individuals on an individual basis.
So, I like to get to know the veteran that we're working with. I like to understand what the dynamics are going on in their lives. Then we associate those dynamics with the services that we provide here at Extension. So, it is a case by case basis. Overall, for veterans in general and veteran service providers, the type of outreach effort that we're trying to do here at Extension is really not reinventing the wheel. It's really just connecting individuals with existing services and us as providers, as Extension, trying to understand how those services meet the needs of veterans.
Now, veterans have a lot of different needs and oftentimes when we're dealing with veterans, we're also dealing with associated disabilities, oftentimes post-traumatic stress disorder, traumatic brain injuries that can lead to some challenges in working with individuals. So, one of the things that I think is important for us at Extension and one of the things that we'll be pursuing this year is training our staff on how to actually work with veterans, how to understand these disabilities, and how to work within them. I think that it's those types of partnerships within Extension and outside of Extension with other service providers and with veteran communities on their own that will inform us as to how best to serve those veterans.
But currently, we have a suite of services to offer and I will be happy to help those individuals navigate those services that best fit their needs. One of the things that I don't like and one of the things that I learned early on working in this space with veterans, the last thing you want to do is tell a veteran that, "Okay. You called me. I'm your point of contact. You contacted me and I'm going to give you an 800 number to contact somebody else." That's not how I generally like to operate.
We take a very, very close look at veterans and their needs and then try to associate those services with those needs. So, I'm not going to send you to another 800 number. We are a one stop shop and we've got a lot of services to offer. So, I'm very excited about connecting those veterans with our services.
Dwyer: Right. Well, and I'm very excited about the fact that you joined more than 700 talented, experienced, well trained professionals across many different areas. And I can't imagine us doing anything more important than making more of that talent and more of that experience available to veterans and their families in the State of Michigan.
Ingrao: Absolutely. We have a tremendous pool of talent. The knowledge base that we have at Extension is tremendous. So, if it's something that you're looking for as far as assistance from a veteran perspective, we more than likely have someone on staff who's an expert in that area. So, we really do have a tremendous amount of resources. I've worked in the nonprofit realm for the last five years working with veterans. One of the things that I always struggled with was not having all of those experts on hand. But even in that time, MSU Extension was always the organization that I came to to tap those experts.
Really, within Extension, there is a willingness on the part of educators, specialists, and staff to want to work with veterans. They genuinely want to help those individuals. So, it's really our responsibility to bring them into the fold so that they can access those services. This campaign of getting around the state and letting veterans know that we're here and we have a whole bunch of services available, that's part of that and really just getting the word out. I couldn't be more excited about what we have to offer here at Extension for veterans.
It is an exciting time for veterans in Michigan. There's a lot going on as far as veteran support services, and I think that Extension taking the lead on this by offering just the suite of services we have, having a dedicated individual to veterans is really a great start for moving that forward as far as the opportunities for veterans here in the State of Michigan. Really, just my main goal is making sure that every veteran has the opportunity to succeed.
Success looks very different for many different people. But ultimately, these are the men and women who served our country. When no one else was willing to stand up, they were the ones. In my opinion, making sure that those individuals have every opportunity to succeed when they come home, that is our ultimate responsibility as citizens of this country.
Dwyer: Well, I couldn't agree more. We owe veterans and their families a great deal.
Ingrao: Absolutely.
Dwyer: We can, in a small way through you, provide more and better services. It's really wonderful for us. So, thank you very much for being willing to join us.
Ingrao: Couldn't be happier about that.
Dwyer: So, let's one more time tell people how they could get in touch with you directly and then also, if they want to, I'll give you in a minute here an opportunity to give your email address. But they can also get more information and get you through msue.msu.edu and put veterans in the search box or just go to any search engine and put MSU Extension veterans and they'll get there as well. But your email address again is?
Ingrao: Is I-N-G-R-A-O-A-D@msu.edu. Then for those individuals that are interested in the Heroes to Hives program, they can locate that page directly by putting in www.heroestohives.com.
Dwyer: Fantastic. This is Partnerships and Peninsulas. My name is Jeff Dwyer. I have the privilege of being the Director of Michigan State University Extension. Thank you very much for being here today.
Ingrao: Thank you very much, Jeff, for having me.