Recipe: Cold Beet Salad with Raspberries
---
This beet salad with fresh raspberries will brighten any plate.
---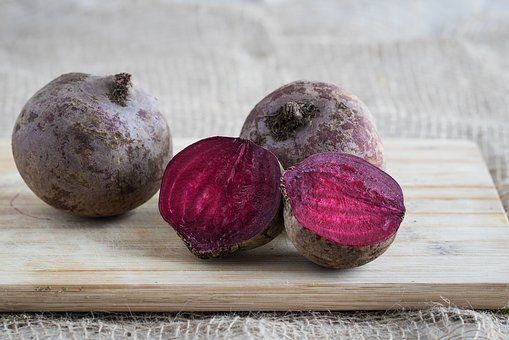 Number of Servings: 61 1/4 cup servings
---
Ingredients
10 pounds raw beets
6 tablespoons vinegar
1 cup olive oil
1 teaspoon salt
1/4 teaspoon ground black pepper
2 cups Michigan raspberries
1 tablespoon fresh chopped mint leaves
---
Instructions
Cut off all but 1 inch of beet tops. Wrap beets tightly in aluminum foil and bake at 400°F for one hour or until tender. Remove beets from oven and cool. Slip off the skins and slice into thin rounds.
Whisk together the vinegar, oil, salt and pepper. Drizzle over beets. Let marinate in refrigerator for at least one hour.
Before serving, gently fold in the raspberries. Garnish with mint.
Recipe provided courtesy of Sartell-St. Stephen Public Schools from Now We're Cooking! A Collection of Simple Scratch Recipes Served in Minnesota Schools